How to Add a Scheduling System for Coach on WordPress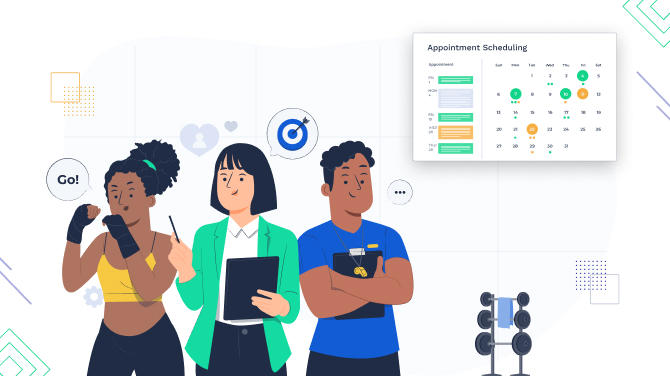 Are you curious how to take your coaching to new heights? You've landed on the perfect page.
If you've chosen WordPress to bring some automation to your schedule and plan on integrating the booking plugin, we'll guide you through the many benefits of having an online booking system, and show you exactly how easy it is to get it up and running
Let's talk about how you can in no time add a powerful coach booking widget to your WordPress installation and optimize it to work for your business.
Let's get started.
Sell one-to-one coaching or for groups, accept payments, and more benefits
So why include an appointment scheduling system for your coaching website? It's a no-brainer. By doing so, you'll be freeing up precious time, minimizing errors, and elevating the level of service you provide.
In this tutorial, we are going to talk about how you can do just that by embracing the power of the BookingPress WordPress appointment scheduling plugin for a coaching business.
Are you organizing coaching sessions for groups? The BookingPress plugin for coach booking has got you covered.
Here are some key benefits of our solution you'll enjoy:
Allow customers to book an appointment for more than one person.
Organize offline or virtual meetings.
Accept online payments.
Fully tweak service pricing.
Integrate various third-party apps and tools for increased productivity and customer satisfaction.
Manage your business as one coach or a team.
And there is much more to it.
Time to take a closer look at the plugin's tools and settings and touch on even more advantages.
Add coaches
Whether you're a solo coach or part of a team, having a clear schedule is a must, it will maximize your coaching efficiency thanks to setting up automatic availability.
Teams have the added advantage of managing their bookings in individual accounts with user-friendly visual calendars and tools for updating client information.
To get started, each team member must be added as a WordPress user.
In their individual employee accounts, it's possible to add contact details of every person, assign services, display a calendar of appointments, payments, and customer information.
Add your coaching services and specify their duration and cost
First of all, you need to create coaching services you are going to offer and sell as hourly appointments. BookingPress makes it a breeze to add and manage all your services from one screen in the backend.
Each service can belong to a specific category and be customized with details like duration, price, buffer time, capacity, description, image, and assigned staff members.
When clients make a booking on your WordPress website, they'll be able to choose from a selection of services tailored to their needs.
Once again, if you work with a team, you can differentiate service pricing and the service capacity based on each coach.
Customize your schedule with working hours, days off, and more
Get the most out of your coach schedule by adding regular working hours, holidays, and other days off.
Adding a break or time off is quick and easy, and your colleagues can even do it themselves in their individual accounts.
Of course, all the days off added to the schedule will be blocked in the real-time availability widget on your website, where clients choose the time to make a reservation.
Automate payment processing by turning on the needed gateways
BookingPress is one of the most powerful plugins when it comes to accepting payments online since it offers a huge range of gateways you can integrate with button clicks.
For example, you can use PayPal, Stripe, Mollie, Skrill, Authorize.net, 2Checkout, and more.
You can tailor your coach booking system even further by activating extensions for added functionality.
For example, you can require a deposit before the session, offer discount coupons to your clients, send automated invoices, and even add tax charges.
Use 33+ free add-ons for calendar integration, Zoom, SMS, and more
There are tons of options you can choose from and enable via free addons, without any extra charges.
Based on the specifics of your coaching business, you can choose to integrate even more tools with BookingPress for a variety of purposes, some of them include:
Retain and engage customers with email marketing via Mailchimp.
Integrate Zoom for online virtual sessions.
Easier send customer notifications via SMS and WhatsApp.
Sell extra services with a dedicated extension.
And many more premium features you get for free with the BookingPress WordPress booking plugin.
Customize the session booking widget and add it to your site
BookingPress is suitable for any WordPress theme, including popular ones like Astra, so you might need to make the booking widget look more appropriate to your current website design.
Thanks to the customization settings offered by this reservation plugin for coaches, you can easily customize the color scheme, fonts, field labels, tailor some layout parts of the widget, and more.
After you've chosen the appropriate skin and make the needed changes, add the booking widget to your WordPress site using a booking form shortcode that will instantly output the booking widget to the page. For example:
You can see the wizard in action by launching its demo and facing a client role.
Manage bookings in a calendar mode, see a list of clients, edit appointment details
As a person who has access to all the admin tools, you will be able to manage clients, sessions, and bookings in one centralized account, with handy tools, thus, get a clear and comprehensive understanding of your business with just a few clicks.
Here are some of the tools that will help you stay on top of your coaching business:
A visualized calendar of all upcoming bookings.
Track the performance of your business with ease thanks to the built-in data-driven analytics and reports menus.
Edit client and booking details.
Needless to say, we've made just a very brief walk-through of the main tools, you'll be sure to discover more, including email notifications, various booking rules and conditions, reports, and other solutions once you try it. But hopefully, we've given you the idea.
To conclude
It's no secret that automated session scheduling helps streamline your workflow as a coach and grow your business. In WordPress, you can do that without pricey solutions.
We've just explained how the booking widget by BookingPress will eliminate the need for manual scheduling, give you more understanding of your business performance, and let you stay more focused on improving the quality of your coaching service. So why not get better today?