10 Reasons Your Employees Will Love BookingPress Plugin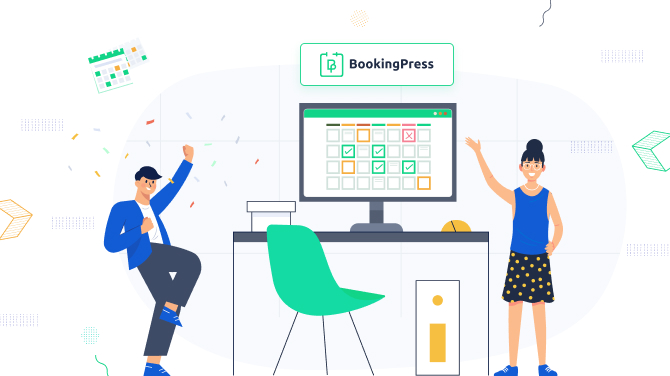 Whether you manage and run a photography studio, clinic, or beauty salon, it's essential to remember that there are multiple sides to the business, such as clients and staff members.
While it's important to focus on providing convenient booking software and services for your clients, it's also crucial to consider the management convenience for your staff.
Your staff members are the ones providing the actual services and are often the backbone of your business.
Ensuring that they have the necessary tools and resources to efficiently perform their jobs can lead to increased productivity and satisfaction, ultimately resulting in a more successful business.
In this post, we talk about BookingPress, the appointment booking software for WordPress that helps your staff members be productive with the modern digital tools it offers.
What is BookingPress, first of all? 
BookingPress is a specialized booking WordPress plugin designed specifically for appointment-based businesses.
It offers an array of features to make it convenient for service business owners, including a booking widget, payment processing, client and reservation management tools, and staff accounts all in one.
The plugin has been used on thousands of websites and is built on the power of WordPress technologies for user management, database structures, customization tools, and security layers.
But is it any good for your staff members too? Certainly. And here is why.
10 Reasons your Employees will Love BookingPress
To understand these reasons, let's take a quick walk-through of the admin panel for staff of the BookingPress WordPress plugin for appointments and walk in the shoes of your regular employee.
As a website manager, you'll be able to create an individual account for every staff member. You can have unlimited staff members.
Plus, setting up these accounts is a breeze for you using WordPress user roles and providing each employee with their own login details.
1. An independent, individual staff member account.
Allow each employee to have their own login and schedule, making it easy for them to manage their own appointments and clients.
This eliminates the need for a central scheduler and allows staff members to take control of their own schedules, upcoming bookings, client information, and more tools leading to increased productivity and less confusion.
2. Clear and handy dashboard to manage bookings and clients.
An account is designed to be easy on the eyes and easy to navigate, making it simple for your staff members to stay organized and on top of their work.
With clear, easy-to-use interfaces, your staff can quickly view their upcoming appointments, adjust timesheets, and more.
The dashboard is well-structured, clean-looking, and powerful, making it easy for your staff members to quickly find the information they need and make the most of their time.
3. Staff members can add appointments themselves without a middleman.
Imagine a regular client calls in a staff member, wanting to schedule an appointment with their favorite personale.
With BookingPress, staff members can easily add appointments themselves via their personal account's interface, eliminating the need for a middleman.
For example, when a staff members needs to select the time for the appointment, the slots are categorized by the periods of the day for quicker search (e.g. afternoon), the database of customers also allows them to simply select the person (or add new if needed), and many more handy tools are there.
This feature not only makes the scheduling process more convenient for your staff members but also allows for better communication and customer satisfaction as clients can directly book with the staff member they prefer.
Your staff members will love the autonomy and efficiency it provides.
4. Calendar view of all appointments color-coded with statuses.
With a clear and easy-to-use calendar, staff members can view all of their upcoming appointments in one place and quickly identify the status of each appointment with color-coded statuses such as approved, rejected, and pending, as well as see details of each booking in a single click in a calendar.
This feature allows staff members to stay up-to-date on their schedule and manage their appointments effectively.
5. Send clients an instant link to the booking form.
Although this tool is available in both staff and admin accounts, it can be particularly beneficial for the staff members who have regular clients.
Staff members can easily send their clients a quick link to the booking form on your site, allowing clients to choose the services they need and see available time slots, that is, to go through the booking wizard step by step.
This feature not only saves time for busy staff members, but also provides a more convenient and efficient booking experience for clients.
No doubt your staff members will love the time-saving and hassle-free booking process that it provides, allowing them to focus on providing top-notch service to their clients, instead of worrying about manual scheduling.
6. Quickly edit customer & appointment information, and save it instantly.
No more fumbling through stacks of papers or searching through clunky spreadsheets.
With just a few clicks, staff members can easily update a customer's contact information, appointment details, and more via the Customer's and Appointments menu on the BookingPress dashboard.
This feature is a game-changer for those moments when a client calls in with a last-minute change.
7. An insightful data-driven dashboard with total revenue, the number of customers, and more.
BookingPress ships with an insightful data-driven dashboard with total revenue, the number of customers, approved and pending appointments, and more. Employees can in clicks filter this information by a certain period.
Access to this data right on the welcoming screen in their accounts allows staff members to easily track their performance and see how their efforts are impacting the business.
This feature provides valuable insights into areas where improvements can be made and helps staff members to better understand their role in the success of the business.
Plus, it's a great way to keep tabs on how much money they're making, which is always a bonus.
8. It's easy to check if a client has already paid for a service.
Your employees can quickly and easily check if a client has already paid for a service, eliminating any confusion or uncertainty about payment.
This feature can be a lifesaver for those "oh, did they pay?" moments and will help your staff members feel more organized and in control of their current appointments with clients.
9. The ease of adding holidays and breaks to their timesheet
Your employees will love to have an easy tool at hand to add the time off they need to rest and recharge.
Needless to say, this feature allows staff members to have more control over their schedule, and helps to prevent overbooking and double-booking.
With the ability to easily add and manage time off, staff members can have peace of mind knowing that their schedule is in their control.
10. They can customize their profile to make it more attractive to customers.
It's not so much information that staff members can add about themselves, but, for example, uploading a profile photo will definitely help your staff members to catch the eye of a prospect.
These photos are displayed in the booking wizard on a step of choosing a specialist. It's a small step, but it can make a big difference in the booking process.
To conclude
By giving your staff members the flexibility and autonomy that BookingPress provides, you can help the former be more productive and efficient in their duties, which ultimately leads to a better customer experience and increased revenue for your business.
With BookingPress, you can streamline your scheduling and client management processes, while also providing your staff members with the tools they need to succeed. So why not make your staff's lives easier and your business more successful?