8 Popular Studio Scheduling Software to Use in 2023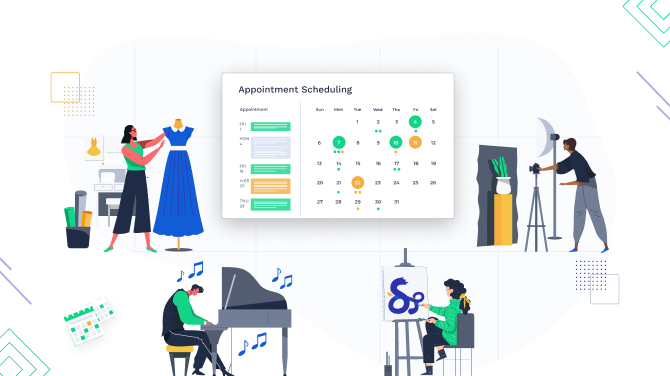 Regardless of the service type you sell, whether you rent out music studios or give online music lessons, relying on the automated studio scheduling software is like having a personal assistant who never calls in sick or takes a vacation.
Using such software, you can offer your clients to schedule sessions in a few clicks, with instant payments or the ability to pay later.
And let's not forget the money side of things. The built-in invoicing and payment capabilities allow music studios to effectively manage their financial transactions without the need to switch between different platforms.
There are various types of studio scheduling software available based on features they provide and the way they work, for instance:
Multiformat appointment bookings systems (like, you rent out your studio space).
Complete studio management software.
Class scheduling software, which in addition to providing classes or studios, can help track the attendance and progress of students.
Some of them can be optimized to a specific type of website, for example, WordPress or Drupal, others require you to create an account and manage your services, availability, staff, and more from an external account.
Finding a service provider that not only gives you scheduling software but also includes website-building tools, all in one package, is also quite possible.
Let's now jump to popular studio scheduling software providers you can start using today.
BookingPress
BookingPress is an extremely popular WordPress booking plugin for appointment-based businesses, can simplify your studio scheduling needs as well.
Whether you are a music recording studio or a multi-use studio space, BookingPress allows you to place a studio booking widget on your site, accept bookings with a payment, and store/manage all the information about your clients and reservations.
Key Benefits:
Unlimited bookings and clients, which means no price tiers, and just one cost to pay.
Real-time availability of your studio, and space booking in a few steps from any screen.
All essential integrations with messaging apps, payment gateways, and marketing tools.
Pricing: prices start at $69 per year
CozyCal
While some booking software solutions might be pretty much multiformat, CozyCal is a scheduling software designed specifically for studios, such as music or photography, in particular for effortless self-scheduling of studio space.
The app promises the setup process will not take more than a few minutes.
Key Benefits:
Customizable booking forms and automated email reminders.
Integration with a variety of payment gateway, including Stripe, and other apps, such as Basecamp, Google Analytics, Google Maps, etc.
A user-friendly interface and real-time availability calendar.
Pricing: plans start at $15 per seat per month
Omnify
Omnify is an all-in-one platform for music studios, with a focus on workflow optimization for both admins and customers.
Compared to other solutions, this one might be of interest for budget-minded people since you can start with a free plan, which includes up to 2 team members yet limited communication and integration options.
Key Benefits:
Stripe and PayPal to help you accept appointments online.
Integration with Google Analytics to track website traffic and conversions.
Automated email reminders to keep customers informed and reduce no-shows.
Pricing: premium plans start at $99 per month
Skedda
Skedda is a studio scheduling software popular for its customer-facing functionality, offering a ton of apps, waitlist management, client portal, site widgets, automated emails, and more.
It's beautifully designed and has earned multiple awards.
Key Benefits:
No lack of tools you'd expect from a scheduling solution: online bookings and real-time availability calendars.
Detailed statistics and reporting to help music studios understand their customers and optimize their schedules.
A user-friendly interface and easy integration with other platforms.
Pricing: plans start at $50 per month
StudioSuite
StudioSuite is a studio scheduling software packed with powerful financial tools, CRM, and equipment tracking.
It might be relatively expensive when compared to other offerings, but since it's able to adapt pricing to the needs of businesses and ships with unparalleled tools, it can be a good value for money.
Key Benefits:
Scheduling and resource management tools specifically tailored to the needs of music studios.
Financial management tools such as invoicing and expense tracking.
CRM and equipment tracking features to help music studios manage customer relationships and keep track of their inventory.
Pricing: prices start at $189 per month
Teachworks
Teachworks is a scheduling software that is specifically designed for educators, such as music teachers, and it provides a variety of features that are tailored to the needs of the education industry.
Additionally, it has a user-friendly interface and easy integration with other platforms, which can be important for educators.
Key Benefits:
Scheduling and resource management tools specifically tailored to the needs of educators.
Automated billing and payments, to streamline the process of collecting tuition.
Attendance tracking, lesson notes, and progress tracking.
Pricing: prices start at $16.50 per month
EasyWeek
EasyWeek is a scheduling software with a diversity of apps such as appointment scheduling, invoicing, and CRM.
They are very creative and helpful in the knowledge resources, for example, posts on how to use the software for personal time management, and how to use it for team collaboration.
Key Benefits:
A variety of scheduling and resource management apps, each with a specific use case.
User-friendly interface and easy integration with other platforms.
Insightful tools for the client base, such as stats on purchases, loyalty programs, etc.
Pricing: not clear until you create an account and specify your requirements
GigaBook
GigaBook is a studio booking software that allows your clients to book appointments directly through your website, which might be powered by any site-building platform, including WordPress, Wix, Weebly, and more.
Once a client books an appointment, it will be added to your calendar and you will receive a notification.
Key Benefits:
Keep track of your clients, their appointments, and their interactions with your business.
Tools for developers such as APIs, webhooks, and widgets.
Positive feedback from customers, with many praising the software's user-friendliness and ease of integration with other platforms.
Pricing: prices start at $15 per month
To conclude: Why start automating your bookings with studio scheduling software?
Looks like more and more customers are getting the memo that booking services online is the way to go. And that includes music lessons and studio time.
Even more so, the COVID-19 pandemic helped speed things up a bit and forced many music studios and teachers to take their services online, so you should definitely think about how to get a software with financial, scheduling, and payment instruments all rolled into one.
We hope our list of some most used, multipurpose studio scheduling software will help you have a few good options at hand.
If you enjoyed learning about the popular studio scheduling software options, you may also find these related articles informative: