8 Best Open Source Scheduling Software to Use in 2023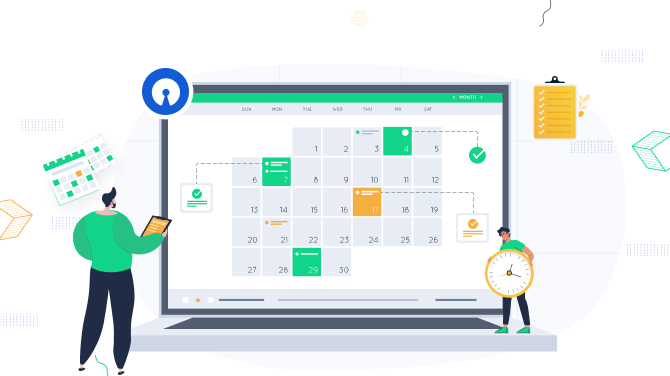 As a small business, you might be looking for more ways to automate scheduling needs for webinars, appointments, or sessions.
No worries, you have a whole slew of options when you need to find the best open source scheduling software to use in 2023.
In this post, we'll be also talking about different types of the scheduling software, such as appointments, team schedules, events, and more.
Before we go any further, what should you look for in the open source scheduling software? Some of the most prominent features usually include:
Integration with multiple calendar apps/other useful services.
Time-zone detection.
Mobile-friendly interfaces.
Account tools for customers and staff members.
Flexible schedule settings.
A mobile app for in-app bookings or purchases.
Automatic meeting and appointment reminders.
Let's see what we've prepared in our list of the best open source scheduling software tools, WordPress and non-WordPress, free and premium, that you can use in 2023.
List of Best Open Source Scheduling Software
BookingPress, as many WordPress plugins, is an open source software for easy appointment scheduling. It's an absolutely flexible solution for creating a schedule for your salon, school, or other service business and then selling your offerings automatically via the appointment scheduling widget on WordPress.
Thanks to the stats tools, you are allowed to dive into details about the number of bookings you generate and the clients you work with. Used by thousands of customers, this open source scheduling software is all you need to launch and grow your business.
Pricing: free to prices start at $69 per year
Features & Benefits:
One handy dashboard for employee scheduling and booking management.
Automated notifications and reminders.
Online payments via PayPal, Stripe, 2Checkout, and 10+ more methods.
Acuity Scheduling
It's a popular cloud open source scheduling software you can use independently of WordPress. Acuity Scheduling delivers a clean-looking, easy-to-use software for appointment scheduling in the first place.
The software allows your customers to easily cancel & reschedule appointments themselves. It supports automatic appointment reminders, calendar-sharing tools via social networks or websites, and calendar sync for all popular apps.
Pricing: prices start at $14 per month
Features & Benefits:
Customizable booking widget.
Auto-adjusts for client time zones.
Online payments are supported via Stripe, Square, or PayPal.
WP Amelia
WP Amelia is another popular WordPress plugin that allows your customers to make a booking online, with instant notifications via SMS, email, or Whatsapp. It's a trusted, perfectly designed booking app optimized and tested for various kinds of booking businesses.
You can integrate this WordPress open source plugin with a range of payment systems, including WooCommerce, PayPal, Stripe, Mollie, and RazorPay.
Pricing: prices start at $59 per year
Features & Benefits:
Upleveled user experiences in the booking wizard app.
Google Analytics tools and other integrations.
Event and booking calendar views for website bookings.
SimplyBook.me
This open-source software is designed to work effectively for all types of appointments. The software delivers optimized mobile apps for both customers and admins.
Moreover, you can use the solution to also build a website with the booking widget integrated, so it's pretty much an out-of-the-box solution for multiple business types.
Pricing: from free to prices start at €8.25 /month
Features & Benefits:
A handy mobile app that allows clients to book, reschedule, cancel, and view upcoming appointments.
Automated notifications and reminders.
Multiple payment methods: PayPal, Stripe, cash, or card on site via POS or even offer cardless checkout.
BirchPress
It is a multi-use scheduling WordPress plugin made to help you effectively work with hourly appointments and bookings. It's been on the run for a long time, so it can definitely be trusted.
You can access different types of features based on what plan you choose, for example, to get your availability synced across calendars or run group bookings, you'll need to go with either of the Business plan editions.
Pricing: prices start at $99 per month
Features & Benefits:
The fully customizable working schedule for your team of service providers.
Email notifications and reminders on reservations.
Payments via PayPal and WooCommerce.
Easy Appointments
The Easy Appointments open source scheduling software makes it easy to create a schedule for multiple workers in various locations, as well as receive unlimited bookings with or without online payments.
This WordPress plugin for appointments is a really decent value for money if you need to go PRO with either of the offered 'Extension' packages.
Pricing: free to prices start at $39 per year
Features & Benefits:
A responsive appointment form and a powerful admin calendar.
Pro versions support various integrations with calendars, SMS, WooCommerce, and more tools.
Native integrations to WordPress.
Bookly
Bookly is an extremely popular freemium WordPress open source scheduling software tool. You can safely use it to offer clients a step-by-step booking process.
This tool lets you coordinate your service business starting from a customizable booking widget for a website to staff schedules and client management. Since online payments, an unlimited number of staff members and services are not supported in the free version, this plugin shows its true power in a premium solution.
Pricing: free to $89
Features & Benefits:
Fully responsive, beautifully designed step-by-step widget.
SMS and email reminders.
Supports Elementor and WordPress blocks for customization.
Rally
Rally is a scheduling software solution for group meetings in the first place, such as webinars or training sessions. This open software app is designed to prioritize easy collaboration and fast meeting scheduling.
Pricing: the project runs on donations
Features & Benefits:
Easy to schedule one-on-one meetings, classes and other appointments for groups.
It's made to be run on your own server.
Participants must agree to the available meeting time in a poll format.
Conclusion: How to choose the best open source scheduling software?
The right appointment scheduler helps you get events, meetings, and appointments systemized under one dashboard and onto your calendar quickly and efficiently.
First up, you should decide on what type of appointments need to be automated, meetings with someone you know, group appointments of always-new customers, or one-to-one service provision? The more specific tool you choose, the better it will meet the needs of your business.
The next thing is of course to define the number of integrations, flexibility, and value for money. We hope we managed to give you a few good directions in this sense.
If you enjoyed reading this article about the best open source scheduling software, you should read these as well: