WordPress Booking Systems with Payment Gateways Integrated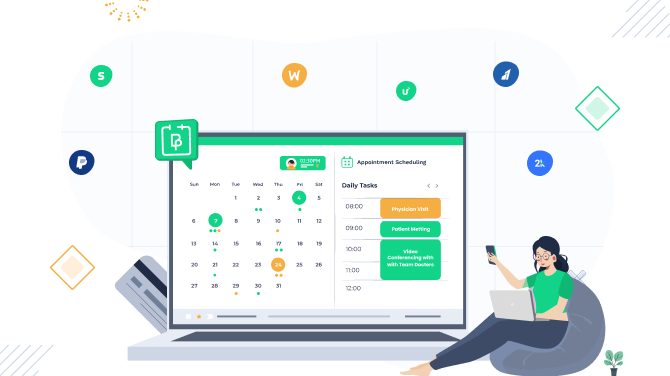 If you have already performed some research, you should know by now that almost all premium WordPress booking plugins for appointments have at least a few payment methods on offer.
That means that the most number of plugins in question are ready to help you accept payments from your clients online, on your WordPress website, via various payment gateways, both international and local.
The obvious benefit of it is that you can automate appointment scheduling, allowing clients to secure their place by payment. This a win-win scenario for a service business and their client at the same time.
So the point of our article today is to define which WordPress booking system can be really called best in terms of offering payment options, including whether it's a good value for money. We are talking about pitfalls. What's that?
Well, some plugins might offer you a really good choice of payment gateways, but you'll need to pay for each and every extension to simply add one gateway. As a result, you'll need to pay more for mere gateways, let alone other essential features that are also often offered as paid extensions. Even on an affordable plugin, you might end up with enormous expenses on addons, so choose wisely.
We've also included support for the WooCommerce category into our list since this feature allows you to connect any other payment methods available through the most popular plugin for e-commerce.
Namely, if the booking plugin you choose lacks any gateway, the integrated WooCommerce support makes it easy to connect any. The extra cost will most likely be involved when you'll need to purchase gateways as addons through WooCommerce.
So in any case, the more gateways are available for free in the booking plugin itself without dependencies, the more money you can save.
BookingPress
BookingPress is a versatile booking solution for service businesses, including clinics, beauty salons, tutoring services, to name a few.
It offers you the most needed set of tools to add a booking widget to your site, enable customers to make a booking, view reservations in your WordPress dashboard, provide employees with individual accounts, and more powerful tools required for running your business.
At the moment, this appointment booking plugin is one of the most generous when it comes to offering various payment methods for free within its premium version.
Once you start using the plugin, you'll see that many payment gateways are offered as extensions inside it, but all of them are free, so that you can add only those that you really need to your WordPress website.
To add even more to the payment flexibility, you can use both full and deposit payments to charge your clients.
Gateways ready for use: PayPal, Stripe, Mollie, Square, Razorpay, Braintree, 2Checkout, PagSeguro, Skrill, Authorize.net, Paystack, PayUMoney, PayFast, WorldPay
The cost of gateways: $0
Support for WooCommerce: yes (free)
Plugin price: starts from $69
Amelia
Amelia is another popular WordPress plugin you can use to build a service booking website. It ships with both free and paid versions allowing you to choose a set of tools you need.
There is unlikely you won't find any feature in this plugin, it has all the flexibility for managing big teams, various locations, unlimited appointments, all types of integrations, and more.
As for the payment methods, there are many offered for free in a paid version, and although the variety is not the biggest on the market, it can still be satisfying for many businesses.
Gateways ready for use: PayPal, Stripe, Mollie, Razorpay, Braintree
The cost of gateways: $0
Support for WooCommerce: yes (free)
Plugin price: starts from $79
Booked
Booked is a simple yet powerful WordPress booking plugin you can employ if you want to add a smart customizable widget to your website. It doesn't lack any essential features usually used on booking websites, so you can be safe to use if you like the design, price, and most needed integrations, such as Google Calendar sync with employees' calendars.
Although this plugin supports payments only via WooCommerce, it might be still a good solution for businesses that already have a running WordPress website with WooCommerce installed.
Gateways ready for use: any only via WooCommerce
The cost of gateways: check the cost of the needed payment gateways via the WooCommerce website
Support for WooCommerce: yes (free)
Plugin price: $49
BirchPress
BirchPress is one more well-known solution for booking appointments on WordPress. It also supports payment options, primarily via PayPal since for many businesses it's the bread and butter, and quite often the only needed gateway.
However, if you need more local payment solutions, you'd need to refer to the integrated WooCommerce solution and most likely pay for every other addon (to be more clear, some are free, others premium).
As for the essential core, this booking plugin will satisfy any needs thanks to the flexible booking rule system, notifications, integrations, and other tools.
Gateways ready for use: PayPal
The cost of gateways: $0, but since you need to connect the vast number of gateways via WooCommerce, consider the costs of the individual Woo addons
Support for WooCommerce: yes (free in the Business edition, $199)
Plugin price: $99 is a basic plan, but to get PayPal and WooCommerce support, the Business edition ($199) is required
Salon Booking
Salon Booking is another established appointment booking plugin that deals well with payment options. And not only them, needless to say; the plugin levels up to other top-popular representatives, offering a fully-fledged booking system with a booking wizard, employee management tools, integrations with calendars and SMS solutions, marketing apps, etc.
Gateways ready for use: Stripe, PayPal, Takepayments, PayU, Cardcom, Bancontact, Square, Paystack, Verifon, Mollie, Viva Wallet, Mercado Pago, Cardconnect, Swish, Boipa, Wordpay, RedSays, Paytrail, PolyPay, Walle, Payengine, Przelewy24
The cost of gateways: only PayPal and Stripe are free, the cost of every other addon ranges from €35 to €249,00
Support for WooCommerce: yes (paid addon, $69)
Plugin price: $69 is the basic plan with PayPal and Stripe; if you need the ability to connect other gateways, the Business plan ($99) is required
Conclusion: Compare WordPress Booking Systems with Payment Options
No matter whether you are a WordPress developer or a business, having a really good, growing list of payment methods in your booking plugin is always a benefit. Don't forget to compare the number of gateways with the plugin's cost, and the flexibility of the payment system itself (such as support for deposit payments, taxes, WooCommerce, etc.). We hope our solutions presented in this article will be of assistance in finding the best plugin for your business!
Automate your scheduling needs with BookingPress
Don't do it by hand, automate your appointment bookings today!
Automate your availability and bookings to streamline your business management on WordPress with BookingPress. Easily organize your clients, transactions, email notifications, reservations, schedules, and more to keep it all centralized and up to date.
Browse the BookingPress features to see how you can boost your service business!