9 AI Tools for Appointment Scheduling Websites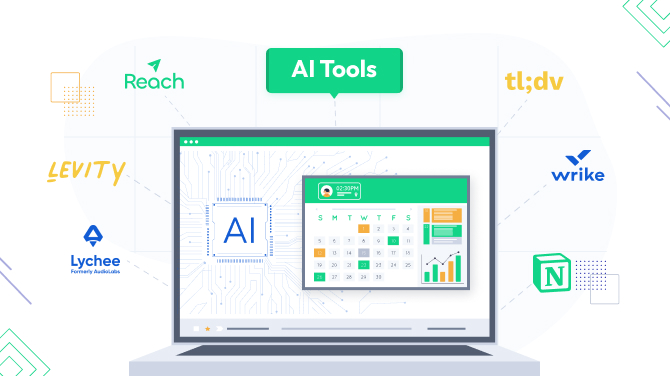 In the current stage of development, artificial intelligence (AI) technologies are rather controversial, some are very popular and useful while others are just taking baby steps in their progress. Additionally, certain technologies merely capitalize on trendy AI terminology to promote themselves.
However, Expedia is using ChatGPT to help travelers plan their next vacations. Google releases AI-powered ads. Amazon uses AI to personalized product recommendations. Schwarzkopf introduces devices that personalize shampoo formulas.
Needless to say, we're watching Youtube videos chosen for us by AI-powered algorithms! There are just a few signals that big companies find AI helpful in optimizing their business processes.
But is it also going to work for small businesses like fitness trainers or clinics, hairdressing salons, or makeup artists?
As a service business, how do you know if it's the right time to try implementing AI tools into your workflow? Which tools to use? How to test them? The short answer – you don't know! Until you start investing your time into them and testing things out.
As we continue to develop the booking software for appointment scheduling, we are eager to share numerous marketing and technological tips and insights that we have acquired along the way. And we are here to support you as you commence this journey.
Today, we are here to help you enhance your service-selling website by examining the artificial intelligence tools (AI) for appointment scheduling websites – to help you see and decide what you can use right away.
Things to keep in mind before embracing AI
Before we jump right in, why not take a closer look at things to consider before using any AI on your service website? Here we go:
If you find a solution that catches your eye, make sure to book a demo or try a free version. AI takes a lot of experimenting and you surely don't want to pay each time just for a try.
Powerful AI tools are very often complex things that require a dedicated expert in your team. Don't be scared, however, such tools are created to provide the most value to any business since they try to adapt to your business context.
Don't try to haphazardly install all possible AI tools. Firstly analyze areas where you really want to fix or automate things, cut down expenses or improve your business.
9 AI Tools for different appointment scheduling websites
There are numerous aspects where you can implement AI – human resources, accounting, customer support, and more.
We'll briefly focus on multipurpose as well as very specific AI tools for appointment-scheduling websites that will come in handy.
TLDV
Perfect for: Automatically take notes on your Zoom and Google Meet meetings.
If you sell courses or lessons and provide coaching or consulting services, we are sure you use virtual video conference apps for online meetings. The TLDV solution is an AI-powered assistant that will help you take notes on your lessons or consultation sessions while you are talking and enjoying your time with clients or students. It will help you intelligently summarize your calls with customers and the team.
Further reading: How to build a dental clinic website on WordPress?
Perfectcorp
Perfect for: AI tools for beauty salons – virtual try-ons, skin analysis, and more.
This software offers several AI-powered beauty salon solutions, for example, the AI skin diagnosis tool analyzes a customer's skin and recommends the most suitable products for them. Or, it helps choose face or hair makeup virtually.
Wrike
Perfect for: AI-powered task management solution.
Every service business needs flexible and smart task management software. If you still don't have one, consider the Wrike Work Intelligence AI tool that goes beyond organizing your daily tasks. The Software offers a range of functionalities, such as step suggestions, real-time risk projections, and outcome predictions. It also ships with great collaboration tools and personalized prioritization lists for every person.
Levity.AI
Perfect for: Automate outreach responses.
Levity provides a simple-to-understand training mechanism that will help you automate and analyze multiple tasks. For example, you can analyze your Gmail inbox responses and create a better outreach strategy to boost your marketing efforts. Sort your emails, get the most out of the customer feedback, and more.
Lychee
Perfect for: Improved video content marketing.
AI can be truly beneficial in marketing, especially if you want to decrease marketing expenses. As a professional AI-empowered video editor, it helps you intelligently create short-term clips from your day-to-day or promo videos and spread them across popular social networks, such as TicToc or Youtube. The tool is leveraged by OpenAI's GPT-3 together with their own data to indicate the most engaging moments from your content.
Are you Tired of the Hassle of Managing Appointment Bookings Manually?
Say hello to BookingPress – your ultimate solution for automating the entire appointment scheduling process!
Automate your availability and bookings to streamline your business management on WordPress with BookingPress. Easily organize your clients, transactions, email notifications, reservations, schedules, and more to keep everything centralized and up-to-date.
Excited? You should be! Experience the convenience and efficiency of BookingPress, just like our global community of over 60,000+ satisfied users worldwide. Give it a try today and see the difference it can make for your business!
Reach
Perfect for: Improved email marketing.
Reach is an AI personalization assistant to help you improve your email marketing routines. It's basically a browser extension, which makes it easy and flexible for anyone to use, which collects data from different resources, including your website or Linkedin activities. Based on that data, it creates so-called ice-breakers you can add to your emails in just a few clicks to accelerate and improve communication with your clients.
Notion AI
Perfect for: Writing assistance in project management, website content, and client communication.
It's a multipurpose solution for boosting your internal task management processes, while Notion AI is an intelligent writing assistant. Among its great AI-powered functions are summarizing existing content, helping in brainstorming ideas, assistance in writing a draft, fixing spelling and grammar, as well as translating content.
Further reading: 15 Best small business WordPress themes
Recombee
Perfect for: AI-powered service recommendation.
Got a lot of services on your website and want to help customers choose the most valuable ones? The Recombee is an AI-powered software that will help you integrate personalization features for different types of products, services, and content. It's a popular 'recommender engine' with multiple integrations and real-time analytics.
Replier.AI
Perfect for: Automated professional responses to client reviews.
It's a great AI-powered tool to save your time on online reputation management. It's an advanced solution that is trained to reply to reviews based on their content. It will nail brand-specific, context-optimized, and fast-generated reviews that your customers leave on different platforms.
Final remarks on using AI tools for appointment scheduling website
There are several areas where you can automate your workflow and enhance your services today. They include workflow automation, marketing enhancements, revenue optimization, and improvements in customer communication.
This is how we'd sum up: test AI-powered software and don't give up on experimenting. AI is maturing and will continue to provide new opportunities for service businesses to cut expenses on marketing tasks, automate everyday workflows, and build long-lasting customer relationships.
If you enjoyed this article about AI Tools for appointment scheduling, you may also find these related articles informative: