7 Best WordPress Live Chat Plugins for 2023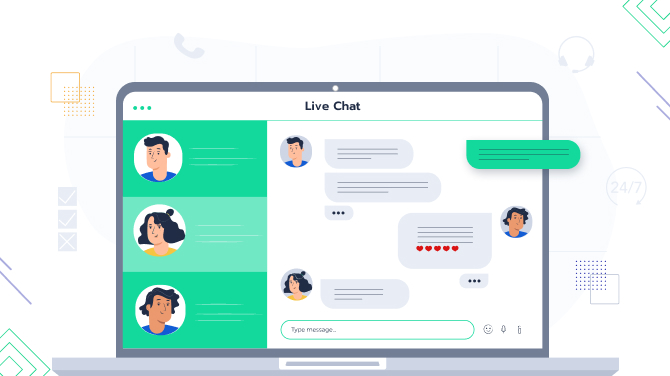 You can find a lot of free WordPress Live chat plugins on wp.org. But the fundamental thing to understand about them is that these plugins are only the middleman, the integration/connection solutions with the third-party SaaS companies that provide the live chat functionality.
On the consumer's side, that means you'll need to pay for the service. This will depend on the pricing plans offered by the third-party SaaS companies providing the live chat functionality.
Another crucial thing is that some of the best live chat plugins for WordPress we're going to list differ in what they might offer: some are mere live chats, other services are complete CRM systems with a live chat only as a feature, others integrate popular chat messengers, etc.
Finally getting to the essence of our topic… What makes the best live chat plugin for WordPress?
Here is a brief checklist of features you might want to consider:
Send targeted/triggered messages.
Offline messages + the ability to sign up clients to your mailing lists.
Chat history.
Brandable chat box.
An unlimited number of free conversations.
Mobile apps.
Integrations with other WordPress plugins and CRM platforms.
Add yours!
So let's now take a look at a few popular, widely used solutions to help you choose the best live chat plugin for WordPress.
Find more plugin lists and comparisons below:
LiveChat
The LiveChat plugin is an all-in-one solution for communicating with clients and addressing their requests offline via tickets. It encompasses a neat chat widget, an AI-powered chatbot, a ticketing system, and a knowledge base platform. If you are okay with the pricing, you'll never need to give it a second thought after you go with this plugin.
Key features:
Provides widgets for Elementor, Divi, and other builders for seamless integration with your preferred builder.
Fully customizable chat window.
Customers can leave feedback and grade chat agents.
A mobile app for iOS and Android to chat with customers on the go.
Pricing: the integration WP chat plugin is free, but you can use the service starting from $20 per month. A 14-day trial is available.
Tawk.to Live Chat
It's another perfectly profound solution for integrating a live chat widget into your site. A great thing about this solution is that it's free for businesses, but when will you need to pay for Tawk.to Live Chat? If you want to remove their branding features from the chat widget or even hire their trained support team to answer your clients' questions on your behalf on your site, then some small fees apply.
Key features:
You can make colors and layout changes to the widget.
Free mobile apps.
Easy to use for multiple agents and websites from one dashboard.
Pricing: free.
Smartsupp
Smartsupp is a fully featured live chat plugin for WordPress that is widely used even by tech companies that themselves make WordPress products. Since it's a third-party application, this WordPress plugin simply provides the integration process with your WordPress website. Unlike some other plugins, it provides a chat widget, chatbot, and video recording of your clients' behavior on your site.
Key features:
Focus on e-commerce websites.
The option to power up live chats with chatbots.
Mobile apps.
Pricing: free; from $19.50/month; a 14-day free trial.
Crisp – Live Chat and Chatbot
Crisp Live Chat is a user-friendly and easy-to-implement chat solution for WordPress. It's an all-around thing that includes a chat widget, chatbot helper, helpdesk, marketing tools, and more. It's regularly updated and tested with the latest versions of WordPress.
Key features:
A mobile app for popular operating systems.
The ability to see what your visitors are typing in real-time.
Various stats data about those in chat: location, full name, and browsed web pages.
Pricing: free; paid features start with € 25 per month; 14-day free trial.
Olark
Olark is one of the old stand-bys on the WordPress market for online chats that under the hood had tons of unique marketing, integration, and analytics features. It comes with a powerful chat widget that supports file sharing in various formats, easy chat transfers to other agents, visitor page tracking, and more useful features you'll find essential in day-to-day chatting with clients.
Key features:
Smoothly integrates with the most popular software, such as WooCommerce, Mailchimp, Google Analytics, Slack, and more.
Automatically assign chats based on visitor details.
Complete chat team management and great chat automation features.
Pricing: $29 per month.
Are you Tired of the Hassle of Managing Appointment Bookings Manually?
Say hello to BookingPress – your ultimate solution for automating the entire appointment scheduling process!
Automate your availability and bookings to streamline your business management on WordPress with BookingPress. Easily organize your clients, transactions, email notifications, reservations, schedules, and more to keep everything centralized and up-to-date.
Excited? You should be! Experience the convenience and efficiency of BookingPress, just like our global community of over 60,000+ satisfied users worldwide. Give it a try today and see the difference it can make for your business!
Tidio
Tidio provides a comprehensive customer support solution that goes beyond offering a chat widget for WordPress. It unites a chat tool, helpdesk, and other features, which depend on the plan you select and the associated cost. You can also keep in touch with customers on the go with a dedicated mobile app.
Key features:
Integration with WooCommerce, Google Analytics, ActiveCampaign, various CRM systems, and more.
Pre-built chatbots to help you easier move forward with sales.
Chat history and ticketing system.
Pricing: free (up to 50 conversations); premium plans start from $16/month; 7-day free trial.
Chaty
The Chaty plugin turns any of your favorite messengers or platform (WhatsApp, Facebook, Slack, etc. 20+ in total) into chatting experiences on WordPress. Although customers will recognize the social media icons, you can still change the way the widget looks by editing its design and colors.
Key features:
A wide range of social media channels (or a simple contact form) you can integrate into WordPress.
The option to use multiple agents on the same channel.
A 'click to call' button that allows you to accept calls from customers.
Pricing: prices start from $49 per year.
Conclusion: What is the best live chat plugin for WordPress?
Let's quickly sum up our review of the best live chat plugins for WordPress that people choose.
LiveChat is a perfectly designed chat interface for your WordPress. It's powerful yet lightweight and beautifully designed.
Tawk.to wins the competition as the most affordable solution since with some restrictions, you can use it for free forever.
Smartsupp is focused on shopping experiences and provides you with tons of data-driven insights in addition to the live chat widget.
Crisp is a full-scale, well-designed live chat plugin that will help you take care of life conversations, tickets, and other important things.
Olark is a decent live chat for WordPress and WooCommerce.
Tidio is an affordable solution that provides seamless integration with various WordPress plugins.
Chaty takes precedence as a unique integration tool with multiple social media channels and messengers.