Must-have WordPress Plugins for Appointment-based Websites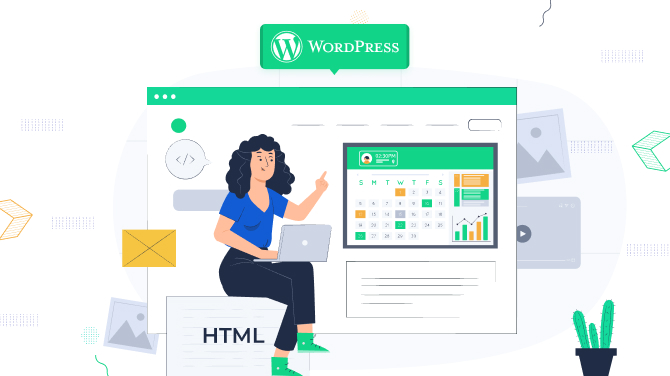 Starting a service business and launching a website on WordPress? Great choice. Let us help you take it to the next level by optimizing engagement with a few great plugin ideas.
In addition to some multipurpose functionality plugins that will help you optimize the speed of your site or SEO, there are also service business-specific tools you should pay attention to if you want to serve your customers best.
So what WordPress plugins are simply a must-have for an appointment-based website?
We've curated mostly free plugins, which are a great value by themselves but also have paid versions if you need more tools.
BookingPress: Add a Book Now button to your site
Automate your service scheduling with the best WordPress booking solution for both your customers and staff.
The BookingPress plugin is the perfect solution to add a user-friendly reservation system to your WordPress website, allowing customers to easily choose a service, staff member, and available time. They can also make quick and convenient payments for the services they select.
Key benefits:
Multiple payment integrations for efficient payment processing.
Centralized analytics dashboard for comprehensive data tracking.
Additional features including coupon codes, PDF invoices, and more.
Easy testimonials: Add credibility to your site
Add credibility to your website with powerful social proof and testimonials.
There are several ways to showcase the positive experiences of your customers on your website. Whether you add them yourself or allow customers to submit their own testimonials, it's important to display them in a way that effectively showcases your services and business in general.
The Easy Testimonials plugin is a great option that makes it simple to create an attractive testimonial slideshow to place anywhere on your site.
Key benefits:
Versatile options for adding the testimonials block to the sidebar, page, or post.
25 professionally designed themes included for your testimonials.
Plenty of customization options for the testimonials widget to fit your brand and style.
Site Reviews: Allow customers to rate your services
Take your website to the next level with a robust reviews system with a handy Site Reviews plugin.
In addition to traditional testimonials, adding a review system can greatly enhance the credibility of your service-based website, whether it's for a salon, clinic, or studio.
Customers appreciate the opportunity to leave a review and love to read about others' experiences before making their own decisions.
Key benefits:
Easy integration of reviews through blocks, shortcodes, and widgets.
Login options for customers to leave their own review.
Over 200 hooks and functions for those with technical knowledge to customize the plugin.
Smash Balloon: Display Instagram photos of your service business
Bring your website to life with stunning photo and video galleries, and get closer to your customers with an Instagram widget.
Having a photo or video gallery is an absolute must-have for a service and appointment booking website, but you can take it a step further by adding an Instagram widget to showcase real-life images and videos straight from the popular social network.
The Smash Balloon plugin is a proven solution that makes it easy to display a live Instagram feed on your WordPress website in an attractive way.
Key benefits:
Effortlessly connect to Instagram with no need for technical assistance.
Customize to fit your website with flexible options for width, height, number of photos, number of columns, image size, and background colors.
Follow on Instagram button included for increased engagement.
Business Hours Indicator: Show your location & hours
Although it may seem like a small detail, having your business hours and location clearly displayed is crucial for a service and appointment scheduling website. Ideally, this information should be presented in an easily understandable manner, such as with an interactive map.
The Business Hours Indicator plugin takes things a step further by offering dynamic features, including real-time displays of your business hours and multiple format options.
Key benefits:
Special days and vacations are supported.
Counts down to your next opening and closing times.
Available in multiple languages.
Gallery Plugins: Showcase your work
Don't forget that images are your most convincing weapon. Show that you are real, professional and creative. There are multiple gallery plugins in WordPress you can use to display your images and videos, so our list of recommendations can get really long here.
Furthermore, you can easily use standard blocks by the block editor, they are pretty diverse in this regard. Below are some of the key tools of the Gallery block.
Key benefits:
Several alignment and style options.
Change the number of columns and crop images.
Add your own CSS to edit it further.
WP Job Boards: Find talents for your team
For service-based businesses with multiple staff members, a job board can be a valuable tool for finding new hires and demonstrating to customers that you are always on the lookout for top talent.
The WP Job Boards plugin provides a clean and organized job board, with options for unlimited filtering and customizable email templates and notifications.
Key benefits:
Choose from two job board layouts.
Unlimited filtering options.
Customize email templates and notifications to fit your needs.
Add an FAQ plugin to answer customer's questions
Clients are always looking for quick answers to their questions, so you just can skip this part and must add an FAQ section to tell more about your services, prices, discounts, and more.
In WordPress, there are multiple ways to add and customize an FAQ section to make it look like a natural part of your design.
We can recommend such free WordPress plugins as the Responsive Accordion and Collapse and the Ultimate FAQs for adding interactive FAQ sections.
Conclusion: How WordPress plugins for appointment websites will make your business more professional online
To run a successful service and appointment business, having the right tools is crucial when you are just starting out, or there might be areas where your site needs improvements.
WordPress plugins can offer a wide range of functionality, from automating scheduling to showcasing your work, and we've just listed a few ideas for such solutions.
The BookingPress plugin is an excellent solution for automating your service scheduling, allowing customers to pick services, staff, and available times, as well as make payments online and receive notifications. For adding social proof and testimonials, the Easy Testimonials plugin is a good choice, offering professionally designed themes and flexible customization options. And of course, to showcase your services and projects, both the Smash Balloon Instagram plugin and the default gallery WordPress block offer several options for displaying images and videos.
No doubt, all of these plugins can greatly enhance your service and appointment business website, making it user-friendly, interactive, and professional.
If you enjoyed this article about Must-have WordPress Plugins for Appointment-based Websites, you may also find these related articles informative: