7 Best Free Cleaning Business Software That's Worth Using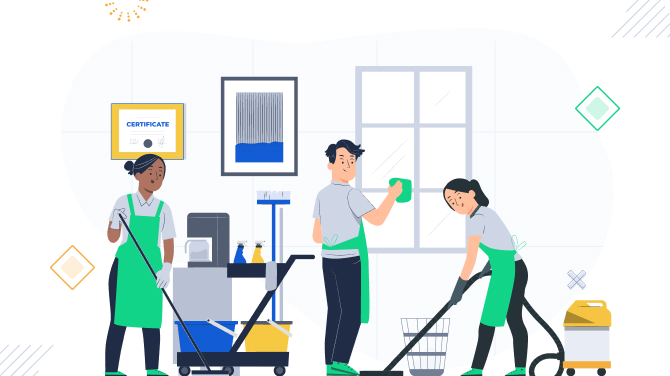 If you're on a budget and looking to start your cleaning business, a dedicated software for scheduling cleaners, managing availability, and services on the go is an excellent way to simplify all of the operational processes for your business and showcase your convenience to clients.
No secret, if you need to scale your business and integrate multiple platforms, most likely you won't get by without a paid feature. Let's face it, developing and creating software takes a lot of resources and manpower.
However, some free cleaning business software for scheduling can provide you with enough tools to get started.
For example, some solutions we've curated for this post are generous, offering unlimited bookings and service items, multiple employee calendars, online payment methods, and integrations with third-party services – all for free!
So let's dive into the list of popular free cleaning business software.
BookingPress
BookingPress is specifically designed for the WordPress platform. Among other popular business areas it's ready to serve, the plugin allows cleaning businesses to easily manage appointments and reservations through their WordPress installation on any theme.
BookingPress offers a free version that can be used to test the features and functionalities before you even consider upgrading to the Pro version.
Key Benefits:
A handy dashboard for appointment, client and staff management.
Accept payments online through various methods, via PayPal and many more options in Pro (Stripe, PayPal, 2Checkout, Authorize.net and other local methods, plus WooCommerce for more).
Add a booking widget that functions as a booking wizard for clients and works on any device.
Picktime
Picktime is a scheduling software that allows businesses to manage appointments with their customers. Appointments can be scheduled in a variety of ways, including online booking through the website, phone, or email.
On a free plan of this cleaning business software, you can have up to 3 team members, and 2 locations yet receive unlimited appointments, integrate PayPal for payments, and employ up to 8 powerful integrations.
Key Benefits:
Customers can also book recurring appointments or cancel/reschedule existing ones.
A variety of features to manage staff schedules, client information, and appointment reminders.
iOS and Android apps to manage services on the move.
CleanGuru
CleanGuru is a software specifically designed for cleaning companies so it can boast a really full-featured package of instruments for cleaning companies, including invoicing, scheduling, timekeeping, contract supervision, etc.
The features that are truly loved in this software are a powerful CRM for organizing, handy app interface for clients and service providers, and cross-platform availability. CleanGuru is available for iOS and Android devices, as well as for web browsers, providing businesses with flexibility in terms of access and usage.
Key Benefits:
Drag-and-drop scheduling and instant employee messaging.
A full-featured CRM database.
Handy tools for generating invoices and accepting payments online.
Bookly
Bookly is a multipurpose WordPress plugin for appointment businesses, which makes it absolutely reliable for businesses that provide services such as commercial cleaning or custodial services.
According to the official website, Bookly has more than 60,000 active installations, making it one of the most popular WordPress plugins for appointments and bookings.
Key Benefits:
Accept payments and deposits, using multiple methods for online payments.
Send automated appointment reminders to clients.
Helps you reduce last-minute cancellations and no-shows.
ZenMaid
ZenMaid is the ultimate cleaning software created specifically for the needs of cleaning companies. It seamlessly integrates with popular services such as Google Calendar and Stripe to streamline scheduling, invoicing, and payment for your cleaning business.
To use it for free, you need to sign up for a free trial first, which allows you to test premium features and then, when you already have a ZenMaid account, to downgrade to a free plan.
Key Benefits:
Free version gives you access to the dashboard, calendar, employee management, recurring scheduling, and more tools.
Keep in touch with clients through ZenMaid's messaging system and easily manage client information, including preferences and contact details.
A mobile app by ZenMaid allows you to manage appointments, communicate with clients even when you are on the move.
Zoho Bookings
ZohoBookings is a software for cleaning services that offers features such as real-time availability calendar, and Automatic time zone conversion for customers
A free version of this software is limited to one staff person but you can accept unlimited bookings and offer unlimited services. Zoho Bookings has a lot of features to run a one-person business like a pro.
Key Benefits:
Easy booking canceling and rescheduling.
Two-way calendar synchronization is supported via Zoho, Google, O365/Outlook.com.
Supports online meetings and notification emails.
SimplyBook.me
Being one of the top-choice cloud software providers, SimplyBook.me is being used by over 100,000 businesses worldwide and it offers a flexible pricing model, allowing businesses to choose a plan that fits their needs and budget, including a free one.
On a free plan, you can have up to 50 bookings and one staff member with an availability calendar.
Key Benefits:
Mobile apps for both clients and service providers.
Access to the booking widget and the ability to host your booking website.
A wide range of customization options, such as the ability to create custom forms, design custom email templates, and more.
What is the best free cleaning scheduling software? Three suggestions.
Starting a cleaning business website on a budget can be a daunting task, but with the right tools, it can be made much easier.
One essential tool for any cleaning business is a dedicated software for scheduling cleaners, managing availability, and services.
When it comes to free cleaning business software, there are several options available that can provide you with the necessary tools to get started. One such option is BookingPress. This plugin is specifically designed for the WordPress platform and allows cleaning businesses to easily manage appointments and reservations, and even accept payments on a free version.
Another popular software is Picktime. This scheduling tool offers pretty much on a free plan: 3 team members, 2 locations, unlimited appointments, PayPal integration for payments, and 8 powerful integrations.
Lastly, CleanGuru stands out as the ultimate solution for cleaning companies. As a software that is specifically designed for the cleaning industry, it offers a comprehensive package of tools that are tailored to meet the needs of any cleaning business. From invoicing, scheduling and timekeeping, to contract supervision and more, CleanGuru has got you covered.
You might also find useful these tutorials we've previously covered: