Appointment Confirmation Text: Examples and Writing Tips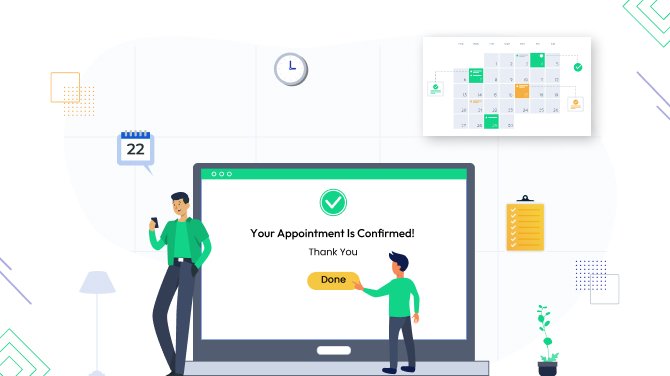 Aiming to write a catchy and informative appointment confirmation text? That might sound easy at first glance, but the task might get tricky in nuance.
Our aim today is to help you with both the sample messages and text details worth paying attention to.
In this post, we're inviting you to take a look at a few appointment confirmation sample emails and then consider the tips of writing a perfect one.
Remember that if you are working with BookingPress, there are already confirmation email templates ready to be used or edited!
We have a plenty of articles created specifically for different appointment scheduling business areas. They are made to help you launch your booking website faster and improve it at multiple aspects:
We keep some of them simple and minimalistic. In contrast, others with more extra details and instructions, so you have a good choice of options. So let's start with examples and then proceed with the tips.
Appointment confirmation text for beauty services and salons
Example 1
Hi, Alica! Thank you for booking a Fringe Trim at the Booth Street Salon. Good choice!
See you on Date at Time.
Want to reschedule? Let us know by replying to this email or calling our salon: Phone Number.
Example 2
This is Mike with the Manchester Beauty Studio. Nice to see you made a booking on our website!
I have scheduled you for a Wash & Blow Dry service on Date at Time. Take a little time out for yourself!
Should you have any questions, let me know.
Example 3
Hello, John! You've just booked a Grey Coverage Tint service in Tai Salon.
Waiting for you on Date at Time.
We are located in a glass-fronted building (close to the Tube station). Please note that only the second floor is operating now. 
Call or text Phone Number to cancel or reschedule your appointment.
Appointment confirmation text sample for fitness and sports instructors
Example 1
Jim, you've successfully scheduled a session in the Nova Gym Studio. 
Your fitness appointment sessions will take place on the second floor of our gym, room 15. Please check the date and time: Date and Time, and let us know if you want to change it.
To attend the appointment, you must have a valid pass ID.
To reschedule the session, go to our Website and choose a preferable way to contact us.
Example 2
Get ready to meet your personal coach, Sonia! I've just scheduled you for Yoga Class on Date at Time.
My address is: Your Yoga & Fitness Studio
Reply to this email if you need help.
I'm excited to see you soon! 
Example 3
Hi Liam, it's Robert with the Sports Studio. I just wanted to let you know that you are scheduled for a class on Date at Time. Our trainers are eager to help you!
Please reschedule if any information is incorrect.
To read more about our services, locations, and contacts, visit our website.
Appointment confirmation text message for coaches, tutors, and consultants
Example 1
Dear Anna,
It's great to see you've enrolled in our course and booked the first class on Date at Time. Find us at Address.
You'll receive a call from our office if we change the time. Please let me know if you have any questions.
Best wishes,
Jake with the Spanish Classes Center
Example 2
Hello, Sarah! You have a consultation scheduled with Maria Roynads on Date at Time. 
You are eligible to reschedule or cancel your appointment with the coach. Please call or text us at Phone Number to do so.
We hope to meet you soon.
Example 3
Nora, we're pleased to inform you that you are scheduled for a tutoring appointment with Mr. Crann for Topic on Date at Time.
The duration of the class is Duration.
Please bring course materials and a preferable device.
Talk soon!
Universal appointment sample texts
Example 1
Dear Client,
Just confirming your booked consultant's visit for Time on Date.
If you need to cancel or reschedule, please visit our website or call us: Phone Number.
Fill in the form before the visit.
We are here: Location
Example 2
Dear Customer, 
We'll see you on Date, at Time at Missouri Eye Care for your consultation.
Click the link here to confirm your availability: Link
Local Clinic
Example 3
Hi, Sandra! We're meeting at Location, on Date, at Time. It's very soon!
Please bring a valid ID to attend the meeting.
For additional help, please call our number: Phone Number
Feel free to copy and change these sample templates for approved appointment scheduling!
10 Simple tips for writing an appointment confirmation text
A few things might not be that obvious, but they are crucial for writing an effective, informative, and catchy appointment confirmation email or SMS message template:
Time, date, and location information should come first and be visible at the top of the email.
Give clear instructions on how clients can cancel or reschedule an appointment.
State your business address. Provide extra descriptive information on how to find you if required.
It's okay to include your business name only, but adding a real name of a staff member will add a better personal touch to the email.
Remember about the brand voice to decide if you want to sound more or less official, hence, stick to the more relevant word choice and style.
It might be necessary to include the duration of the appointment, not just the beginning time. It can be also reflected in the time format, so it includes the beginning and ending times.
More is less: cut down the unnecessary information. In other words, if you can remove a line from the appointment confirmation template and it won't influence the way the client can find you or interact with you, feel free to delete a redundant sentence.
In some cases, it's okay to add a friendly and motivating phrase, or even something simply memorable to encourage your clients to act.
If needed, include calls to action, which are intuitive and clear.
And finally, don't worry if you can't write a perfect template from the first go. Listen to the feedback of your clients and don't be lazy to alter your appointment confirmation email template according to that feedback. And then it'll be perfect.
To conclude
Creating pre-appointment experiences is just as important as serving your client in your salon or clinic. An appointment confirmation message is one of the most fundamental ways to build a bridge with your customer and shows you're always one step ahead in understanding client needs, reducing no-shows, and optimizing your business workflow.
The examples provided in this article are very flexible. You can use our appointment confirmation samples as they are, edit, or combine different ones to achieve the best result that suits your needs.