How to Build a Website for Private Tutoring on WordPress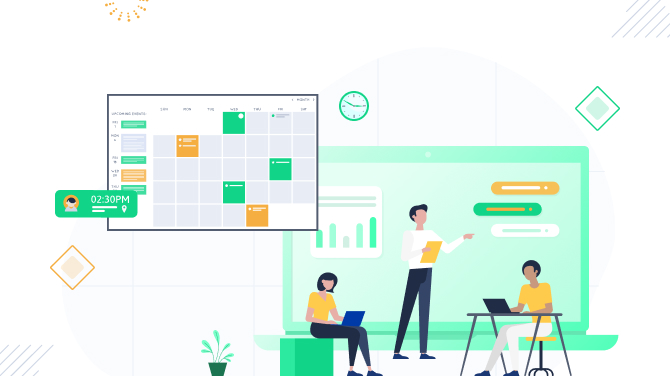 In this post, we're going to share with you key points of what it takes to build a website for private tutoring on WordPress.
If you are a teacher or coach, the most essential parts of your website are a perfect portfolio and the actual ability to sell your services, whether these are packages or classes.
If you want to just take calls or emails, it's okay to have a portfolio with your contact information, so you don't really need to wreck your brain on techy things.
But why do just that if you can actually earn money from selling your tutoring services online on WordPress with a mobile-friendly appointment scheduling widget? More on this later in the post.
You can search for numerous tutorials on how to choose to host and buy a domain name for WordPress, but we won't stop on that now because we aim to cover a different topic here.
So here are the crucial points you need to consider when building a website for private tutoring on WordPress.
Get a memorable domain name
What would be a good domain name for a tutor or teacher website? That depends but we have a few time-tested recommendations:
If you already have an established brand name that is unique (a proper one, not general), it makes sense to include it in the name/address of your website.
Stick to short and memorable names that are easy to repeat quickly without much thinking.
Do your research as to what extension (e.g. org. or com.) is suitable for your type of business.
Choose a dedicated tutoring WordPress theme
Of course, you can get any type of WordPress theme, not necessarily this one.
But from our experience, a theme that has pre-designed blocks and entire pages with your business in mind will save you a lot of time and resources on the customization needs. Owning such a theme, you'll just need to replace the content with yours, with less fuss.
Get a perfect expertise showcase
Testimonials and social proof are of very high importance for service websites, teaching ones in particular.
If someone is going to buy your time, they want to be sure they can trust you even without knowing you in person. Try to put as many trust signals as possible:
Feature real testimonials and add an option that allows people to write new ones (this way it's more trustworthy).
Get a separate page that tells your story in particular, your bio, your certificates, your participation, etc.
If you have any digital badges from online academies, make sure to post them somewhere in the footer as well, or in any other section that is always visible on the site.
Automate class bookings
There might be tons of various software solutions for classes and coaches but on WordPress, it's much easier and affordable to use just the same powerful WordPress alternatives.
With solutions such as the BookingPress plugin for appointment booking, you can get all the needed tools to run automated bookings and manage clients.
You can add your schedule with the needed level of flexibility, for example, add vacations and days off to let your students know when you're unavailable.
The plugin will generate a well-designed, intuitive booking widget that allows students to schedule a meeting with you in a few steps. They can even pay online if you turn on PayPal or choose from other methods available.
Actually, it's not that it's suitable for just one aim but you can optimize it for different ones:
Sell classes of different duration.
Sell initial consultations as appointments.
Schedule various types of extra workshops.
As you see, as a tutor, you can find loads of ways to automate your schedule or even generate some ancillary revenue from creative ideas of how to sell your hours and services.
Maintain consistency in your blog section
We understand that you're just starting a website for private tutoring, but still, we insist that you think over a good amount of blog posts.
Those should be articles related to the specifics of your business, inspiring or educational content, of course, with your specific local keywords.
Such blog articles won't just boost the authority of your domain name, but also give your new site a more trusted look. Regularly updated websites are always better trusted!
Get creative about your bio
For a private tutoring website, it's highly important to get really smart about presenting yourself.
We'd recommend keeping a balance between showing your professional achievements and a bit of personal life (e.g. if you are a teacher of any language, it's okay to add a small image gallery with you on a tour to that country, where this language is practiced).
It's also a good practice to add a small section with your bio on a home page with a link to an individual website page, where you can add more details.
Integrate an extra learning management system (optional)
This is suitable for those who want to also provide some sort of self-education options on their website.
This should not necessarily be a full-scale premium course or something but at least some educational content in a well-structured and clear manner. You can use it for some extra income or just offer it for free in terms of building your authority online.
WordPress offers you a good range of this type of plugin (they are called WordPress LMS plugins) so no worries you'll be able to find and integrate one without technical help.
More general recommendations for private tutoring websites
As a rule, if you stick to a pre-made industry-specific WordPress theme, loads of content sections will just need to be filled in with your custom content.
But still don't forget to make sure the following things are alright:
Contact information, such as your phone number and email address, should always be visible (footer or header sections are fine). That's what people are constantly seeking first.
Stay away from heavy media files on the front page since they can affect the website's loading time and user's experience on your website.
Think over the locations you are targeting with your tutoring services and make sure to optimize your content to local keywords.
Remember that through the careful use of images, storyboarding, narrative, and video you can convey all the needed information much quicker.
Final words
We hope we helped you to identify some crucial moments in building a website for tutoring and teaching on WordPress. As you might see, a lot of things depend on what is the main purpose of your website; but in any case, we always vouch for implementing as many useful functionalities as possible, especially those that help you earn extra money!
And remember that starting a tutoring website is just the beginning of big work and a long journey, so get ready to move to the next steps of implementing marketing strategies.
We hope you find this article helpful for building a website for private tutoring on WordPress.
If you enjoyed reading this article, you should read these as well: