Beauty Salon Booking Website Ideas to Boost Your Performance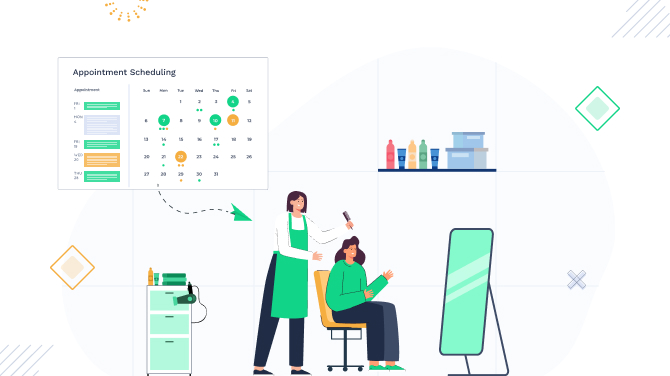 A wedding hairstyle or Halloween makeup video? A book appointment button or an instant call me widget?
What will better help you boost your business and website performance if you operate in the beauty, sports, or health industry? Let's find out with a few beauty salon booking website ideas aimed to improve your site.
In this post, we're trying to highlight a few classic and not-so-obvious tips that might dramatically change the way you deal with your clients by means of your salon business website.
Without massive expenses!
These tips might be especially handy for those who are just going to launch a beauty salon website, using WordPress in particular.
With a few useful WordPress website improvements, you can add more tools capable of:
Providing more booking convenience to your clients
Simplifying the understanding of your services
Accelerating the decision-making process
Building more trust with your services
Optimizing website processes to save you more time in managing your business
Boosting your overall website usability and performance.
Get better at all these things to eventually generate more income!
Add a salon appointment booking system
It comes top of our list!
If you still don't have a book button on your website, you must know that it's an absolute necessity, because:
1) Your clients need a quick and easy way to secure an appointment with you.
2) You as a business will be able to optimize and automate the way you sell hours.
Get the BookingPress salon booking plugin that offers flexible schedule settings, availability setup, online payment gateways, and more tools that will help your client self-book an appointment.
Start accepting bookings online and you'll see that a working salon booking widget will add to the sustainability of your business like never before.
Learn more about the best practices of accepting bookings on your website.
Add your certificates
Demonstrate your value with certificates or any other kind of proof of your expertise. This is the best way to show your services are approved by third-party authorities.
The more certificates and real testimonials you manage to show, the more trustworthy relationship with your audience you'll be able to create.
Run a workshop on beauty or health-related topics
This can be a live or online workshop, but the most crucial thing is that you can gather people, share some useful tips, and build stronger relationships with your clientele.
You can do that via social networks, video hosting platforms, or any video conference app if you do it online.
This is a great strategy for word of mouth, too. If you have a client who is ready to attend the workshop, there is a chance they can bring a friend with them!
Add a day-in-the-life video
We're great advocates of video content on salon booking websites. Those might be informative video tutorials on different topics, that is, educational content, which will help your clients and prospects see that you have a great deal of experience in your industry.
Or, even more, productive and effective, you can create a day-in-the-life video of your salon. They work magic because people simply love consuming lifestyle content.
If you host those videos on hosting platforms, such as Youtube, you can further create more ads for your videos and promote your beauty salon services outside the website.
Add story story-led, aspirational content
It can be any content format, from blog stories to videos and images, but the most important thing is that they are narrative and inspirational.
Storytelling is the leading marketing approach today, which works for almost every industry, especially beauty.
Less product-focused content always shows your effort beyond just selling something with blatant ads.
The fundamental thing here? Develop a consistent schedule for releasing new content – and it should help you maintain the regular increase in the number of website views, hence, better SEO rankings and visibility of your website in the search engines.
If you have a rather big audience, you can add live streams of your live events to increase the opportunity to invite even more people and get a chance to increase your audience.
Add a sales countdown timer
If you provide any discounts for your services, don't forget to focus on them by adding a sales countdown timer!
Although we don't recommend having it on a permanent basis, you still can benefit from setting up sales countdown timers from time to time when you have promo campaigns running.
The sense of urgency added to this tool will help you accelerate the service booking process for your customers!
Sell gift certificates
People love to exchange presents!
And a gift certificate to a beauty, spa, nail, or any other type of salon is a very common type of gift. This is one of the classic approaches to generating even more income and also spreading the word about your business among the friends of your clients. On WordPress, you can sell them online with any eCommerce plugin.
So get ready to increase your audience and find more fans of your services!
Polish and perfect your design
A beauty salon should have a beautiful spirit everywhere, your website is not an exclusion. People don't consider ugly websites professional, so don't neglect a chance to consult a designer as to whether your site needs some refreshment.
If it doesn't sound like a suitable thing for your budget, you may find a lot of tips on the internet. Armed with this knowledge, you can build even more beautiful designs for your online presence.
Offer downloadable materials for free
A few good instructions on healthy dieting or seasonal makeup suggestions will help you provide your clients with great educational tips.
Seek inspiration from Youtube videos, lifestyle bloggers, or even your own daily practice! With a nice call-to-action button, people will download your free materials, where you can leave links to your social networks or website.
Submit your website to third-party platforms and forums
This might sound too much of a rule of thumb, but we want to highlight it once more. External links to your website will over time grow the domain authority of your website, as well as drive more eyeballs and clients.
For example, those can be social networks, dedicated forums, as well as aggregator platforms where people want to book an appointment (but to be eligible for the last one, your website might need to meet some technical requirements).
Final word
What are your favorite beauty salon booking website ideas?
To conclude, we see three most important areas where you can make significant improvements:
Appointment booking automation.
Inspiration and educational content creation.
Build your brand identity on a regular basis.
Save time and improve the effectiveness of your salon business website on WordPress with the tips you find really applicable to your site. And your salon booking website will surely talk to your audience better!