How to Manage a Gym: 4 Tips to Manage Your Gym Business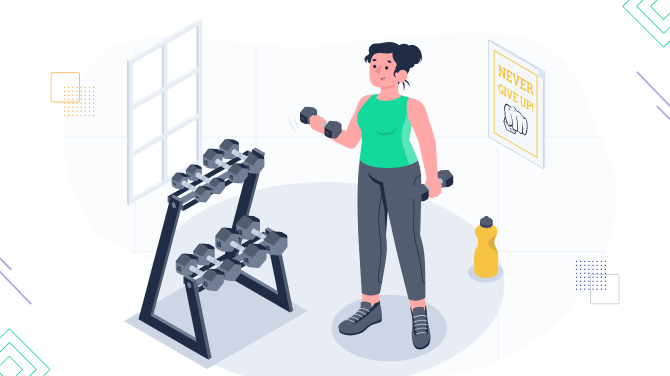 Managing a gym is a unique field, but it's also a business that operates under the same market economy as countless other businesses worldwide. If you're looking to make your gym more efficient, rewarding, and profitable, we've got some tips that can help.
By following our advice, you can significantly improve your gym business and discover new opportunities for it.
Customer service & operations
We can't stress this enough: a successful business is one that puts its customers first. Without customers (and happy customers, at that!), no business can survive. That's why excellent customer service should be your number one priority in your gym business.
Take care of the welcoming, risk-free space
Let's not forget that ensuring general and personal safety (which we're sure you already know), having friendly and conflict-free staff (yes, even security!), and maybe even having a medical professional on-site are all crucial to the success of your gym.
Hospitality is also key to customer satisfaction. When you combine hospitality, safety, and comfort, you'll have the ideal gym that caters to your customers' needs.
Hire competent staff
Hiring competent and highly qualified individuals. Don't be stingy when it comes to paying these qualified specialists a good salary, along with bonuses, interests, and additional payments.
To ensure that you hire the right people, it's crucial to conduct thorough interviews and background checks. You might even want to involve a specialist, such as a psychologist, to help you evaluate their competencies. It's also essential to check their qualifications by verifying their documents.
Get to know your members
To truly be customer-oriented, it's crucial to have some understanding of your customers, right? Take the time to speak with them personally – a good business owner knows that they shouldn't distance themselves too much from their own business.
You could also conduct a survey to gain a better understanding of their gym needs and preferences, but be sure not to bother anyone. It's also essential to ensure that your administrators are in tune with the needs of your clients. Encourage them to communicate with customers and listen to their thoughts and feedback.
Technology
Even though a gym is not Elon Musk's company or a soda machine, there are still ways to apply modern methods to the way you run your gym. Hint: you can address all the needs we list below with a single appointment scheduling software.
Automate session scheduling on your website
If you haven't yet created an official website, it's time to get cracking! And if you do have a website, kudos. But are you still relying on customers to email you to book a session? That's so yesterday.
You need to optimize your website for online booking ASAP. It's the modern way of doing things, and it's so much more convenient for both you and your clients. Why hassle with back-and-forth emails when you could have clients schedule their gym sessions with just a few clicks?
Imagine the ease of simply having clients secure their spots in advance for a fixed fee. All you need to do is provide a simple, intuitive way for them to book online, with real-time availability.
Provide team members with productivity tools
To maximize the productivity of your staff, advanced appointment booking software is also a must.
By enabling your team members to manage their own schedules through personalized accounts, they will have greater flexibility to make necessary updates and changes. Empowering your team members with this level of control over their schedules can lead to a more efficient and effective approach to customer interactions, ultimately benefiting your business as a whole.
Automate notifications
Clients of your gym may forget that they have made an appointment. That's quite common!
That's why your business needs a system that sends automated, action-driven messages across multiple platforms. Automatic sending of SMS, automatic sending in messengers, automatic sending to email – automate all your notifications, and save your time and resources.
Marketing strategies for Gym business
Successfully running a business requires both art and science. It involves mastering both theoretical and practical aspects to enhance the efficiency of your operations.
Get personal in customer support
Don't hesitate to communicate with your administrators and managers to gain insights into your customer's preferences, which can enable you to provide personalized services that create a lasting impression.
One way to attract new customers is by offering a trial membership format, such as half-price or free classes. This flexible approach allows potential customers to experience your gym before committing to a full membership.
Focus on member retention
Building a sense of community within your gym is essential to retaining customers and fostering loyalty.
By offering discounts, hosting presentations, and festive events, and providing educational opportunities like interesting lectures and master classes with renowned trainers and consultants, you can create a dynamic and engaging atmosphere that keeps customers coming back.
Build a community
Building a strong community within your gym goes beyond social media presence. It involves creating meaningful connections between administrators, trainers, and clients who share a common passion and purpose.
By offering opportunities for your community to spend time together through holiday events, workshops, and social activities, you can foster a sense of unity and belonging that transcends the gym environment. Encouraging your social media community to share their ideas and contribute to the development of your gym can also create a shared vision and sense of ownership.
Industry knowledge
Continuous learning and development within your industry are also critical for growth and staying relevant in the modern business landscape.
Cultivate a mindset of ongoing learning & development
By committing to continuous learning and self-improvement, you can enhance your skills as a professional in the gym industry and as a well-rounded entrepreneur. To stay up-to-date on the latest trends and advancements, it's important to read relevant literature, watch videos, and attend workshops in your field.
As a gym owner or manager, it's crucial to stay current on new equipment and techniques that can improve the quality of your services and enhance customer experience.
Take part in events
To improve your skills and expand your network, we highly recommend participating in master classes, attending thematic conferences, organizing your own master classes, and even hosting conferences.
Don't be afraid to learn from others and share your own experiences – this is how you can build meaningful relationships with like-minded individuals and grow your support system
Stay up-to-date with gym business trends
To stay ahead of the game in the competitive world of the gym business, it's important to stay updated on the latest trends – from new equipment and training methods to even interior design (believe it or not!).
By incorporating current trends into your gym, you can not only improve your business but also attract more customers.
Conclusion: How to manage a Gym business
To effectively manage a gym business, first and foremost, prioritize the hospitality and safety of your customers – this is the foundation of a customer-oriented business.
Secondly, invest in hiring highly qualified staff and paying them fairly. It's also important to learn more about your customers and their preferences, as well as automate certain aspects of your gym's operations such as online booking and staff scheduling.
Additionally, consider offering personal customer support and trial memberships, as well as making the gym experience interesting and varied for your customers.
Building a community of friends and allies in your field is also crucial, as is constantly staying up-to-date with new products and developments in your industry.