How Online Booking System Helps Doctors Manage Appointments?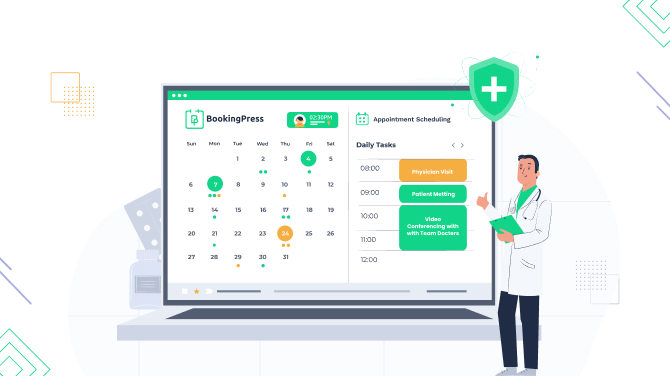 As the population of the world is growing continuously, so has the need for healthcare services increased. This demand for healthcare services has increased the number of patients seeking care at various medical facilities such as hospitals, physician's practices, wellness centers, etc. With the increase in the number of patients, the current medical structure is quite inefficient in handling this. Also, with the advance in technology, medical facilities, especially doctors, are trying to seek out alternatives that serve them best in handling patients.
Out of all these alternatives, there is a huge increase in demand for online booking systems. All medical practitioners are looking for a unique solution that will handle appointment bookings, pre-required information gathering, automatic scheduling, and eventually increasing employee efficiency. The manual booking process is good, but it is pretty complex in scenarios such as appointment cancellations or appointment shifts.
An online scheduling plugin is a software tool that can be easily integrated into your existing website within a few clicks. It enables patients to book appointments within a glimpse of seconds from any internet-connected device.
Let us see some of the benefits of an online booking system that can help doctors manage appointments in the best way.
Focusing on the customer service
With the front office staff relieved of the duties like billing, administrative tasks, and answering phone calls, they can now concentrate on the customer service tasks. They can connect with customers who are not happy with the clinic's services. Encouraging existing patients for appointment booking is also an important part of this activity. This can increase the getting review for the clinic and generate more ROI in the long run.
Attracting more patients
The traditional process of booking appointments using phone calls is gone; patients prefer websites or an app when it comes to booking an appointment. This has resulted in an increase in appointment booking, especially for new patients who are looking for a new doctor. New patients are more attracted to those doctors who are providing online booking, as they get more freedom when booking appointments—resulting in increasing the business of the practices.
Reducing the number of empty appointment slots
Empty appointment slots are one that results in the loss of revenue for most doctors. By using the Online Booking system, doctors are more likely to easily fill empty appointments. Patients on the other hand can book appointments on the same day or the next day easily and quickly at their own convenience of time. Along with that, patients can also check the doctor's availability and book an appointment that suits them.
Round the clock availability
With a traditional appointment booking system, patients only had an opportunity to book appointments during a clinic's working hours. An online appointment booking system will allow patients to book appointments by easily logging on to the clinic's website at any time of day or the week. Patients can just check the doctor's schedule and make an appointment at their own suited time.
Managing patient data effectively
Online Booking systems not only make appointment booking easy, but they also help in managing patient information in quite an efficient way. Doctors can easily track the details of the patient visits to the clinic. Some appointment booking systems also provide an option of saving the patient's health records.
Online payment method
Most patients who book appointments online are less likely to miss or avoid their appointments. Even if some patients try to do that, doctors can make online payments for each service they offer. Special discounts and offers can be given to patients who are booking appointments online.
Marketing opportunities
With an online appointment booking system, clinics get the details of patients including phone numbers and email addresses. These details can be used for promotional events such as free campaigns or packages offered by the clinic. This can lead to an increase in visits by not only existing patients but can also get new patients through references.
Final thoughts
The online appointment booking system offers a wide range of benefits, especially for doctors and their clinics. It enables doctors to improve their clinic's services by providing a system that can manage everything in a smooth way. Doctors can devote more of their time to providing quality patient care instead of focusing on other tasks.
If you like this article, you should check out this one about Why Do Millennials Prefer Online Appointment Booking for Medical Services?