How to Increase Customer Lifetime Value with Appointment Scheduling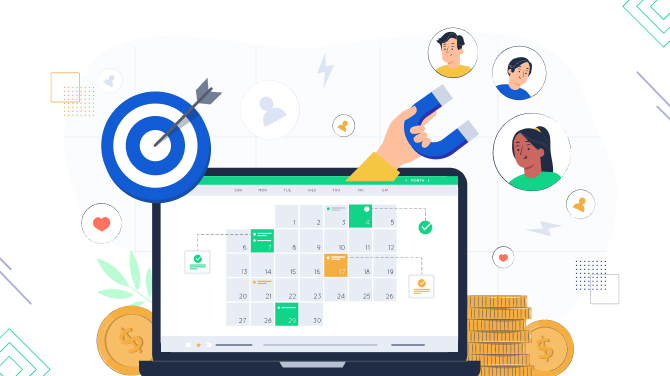 Customer lifetime value (CLV) is a crucial metric for businesses that strive to build and strengthen their long-term potential.
CLV provides a comprehensive understanding of the value a customer brings to a business over their lifetime by determining the expected revenue from a single client.
By carefully implementing and measuring CLV strategies, you can significantly optimize your efforts and make informed decisions to improve customer satisfaction and drive growth.
For the appointment-based business, CLV is especially vital. By tracking the value of each appointment/client, businesses can gain insights into their most valuable customers and develop targeted strategies to:
Determine ineffective processes in your relationship with customers and fix them.
Grow the appointment rate of your business.
Increase the customer base.
Even if you run a solo-therapist business or a private clinic without a big marketing team, you can still harness the power of CLV.
This is what our post is about – to help you take a few straightforward steps to increase your customer lifetime value and grow your appointment rate.
Why is Customer Lifetime Value so crucial to your appointment scheduling business?
Imagine you own a beauty salon and you have two customers, Sarah and Mark. Sarah visits you once every six months, while Mark visits you once a month. Now, think about the revenue they bring in over time.
You might be surprised to find that even though both clients are staying with you, Sarah comes in less frequently, Mark's frequent visits add up to more revenue in the long run.
By calculating a CLV, you get the information crucial for your appointment scheduling businesses because it allows you to understand which customers bring in the most value and prioritize your efforts to retain those customers.
You can also learn how to increase that value by analyzing competitors. Let's exemplify that too.
Let's say you run a coach consulting business and you're scratching your head wondering why your fellow coach has twice as many registered clients a week.
Instead of asking your colleague directly (and potentially risking some awkward moments), you can use the power of CLV to find out what's going wrong. The results could be eye-opening, to say the least.
For example, you might discover that you've been neglecting your social media accounts and missing out on valuable clients you could retain. Or, perhaps you haven't kept up with the latest payment technology and visitors to your website are frustrated with the booking process.
How to increase Customer Lifetime Value (CLV) for your service-based business?
You need to test various strategies to find out what works best with your customers in terms of improving a customer lifetime value.
But let's give you a few suggestions.
Improve Website User Experience by adding a functional booking widget
Investing in technology and software pays out. Because that means automation for you and convenience for clients.
Your website is the main touchpoint of a customer experience. You should not only create a positive first impression but also offer your clients the convenience of scheduling bookings effortlessly, with the mature level of modern digital tools.
For an appointment booking website, that definitely translates into a handy online booking process, which ensures clients can book time and date they need, thus securing themselves an appointment.
Solutions like BookingPress, which powers a thousand websites, is a great example of WordPress software that adds a beautifully designed booking widget to the website and enables clients to make a booking from any device, in a few steps.
Incorporate a customer loyalty program and offer discounts
Сustomer loyalty is a simple concept for boosting repeat appointments in your service business. Provide incentives such as discounts, freebies, or other benefits to encourage customers to continue using your services.
With the BookingPress plugin, it's also absolutely easy to create personalized coupons to grant your clients.
Here's why this strategy works so well. People love to feel valued and appreciated, and a loyalty program is a great way to show them that you care.
Additionally, it can help you stand out from the competition and create a strong bond with your customers. And, as a bonus, loyalty programs are a cost-effective way to drive repeat business and increase CLV.
Add payment gateways to simplify purchasing experiences
Not only for your time-based business every second counts, your clients also value their time and want to pay immediately to secure their appointment.
That's why making the booking experience as smooth and quick as possible is key to keeping customers happy and coming back for more. And that's where adding payment gateways comes in.
By offering multiple payment options, you're making it easy for customers to do business with you. Whether they prefer to pay with their credit card, PayPal, or another option, you've got them covered.
Allow for better interaction of staff members with customers
Whether you are a clinic or recording studio, it's important to equip your staff members with the right tools to effectively deal with the business and interact with customers.
Provide your staff members with powerful accounts with all the calendars, schedules, and appointment information they need to have to better do their job and interact with clients.
Think about it, if your staff members have all the information they need about a customer/working hours/appointments and more at their fingertips, they can provide a personalized experience that will make customers feel valued and at the same time be more productive in their work.
Increase prices of your services (no worries)
There is nothing wrong with increasing prices to better reflect the value your services provide. And that definitely will bring value to your CLV.
But your clients must understand why you did that. If you communicate the reasoning behind the price increase effectively, customers are more likely to be understanding and willing to pay a little more for your services.
Create targeted content in social networks and on the website
By understanding your target audience, you can craft messages that resonate with them and build trust and engagement with your clients or prospects. The main objective is to engage your repeat customers and increase your customer lifetime value (CLV).
There are various methods you can use to achieve this, such as creating content for social media, offering e-books, designing freebies, producing podcasts, or any other relevant strategy that aligns with your service business niche.
How to measure customer lifetime value?
Once you performed the optimization steps, no doubt you want to know if you did a good job and measure its effectiveness. Luckily, for almost all business metrics there are measurement tools.
Since we promised straightforward steps, before listing any formulas, we can suggest using a specialist calculator to measure CLV, for example, Webfx or any other you can find.
Such calculators allow you to measure the value each client brings to your appointment business over the course of your relationship with them.
There are also a few popular formulas that allow you to manually measure it, you can find many on different resources, while the simplest one, Simple CLV, calculates the average revenue per customer multiplied by the average customer lifespan.
CLV = Average Revenue per Customer * Average Customer Lifespan
Conclusion
Incorporating CLV into your marketing plan is a smart move for businesses looking to achieve their long-term objectives. With our ideas for improving CLV for your appointment scheduling business, you can significantly improve user experiences, take more care of all sides of your business, and boost revenue as a result. Why not try to make an effort today?
If you enjoyed this article, you may also like these: