Equipment Rental Services Guide: What You Should Know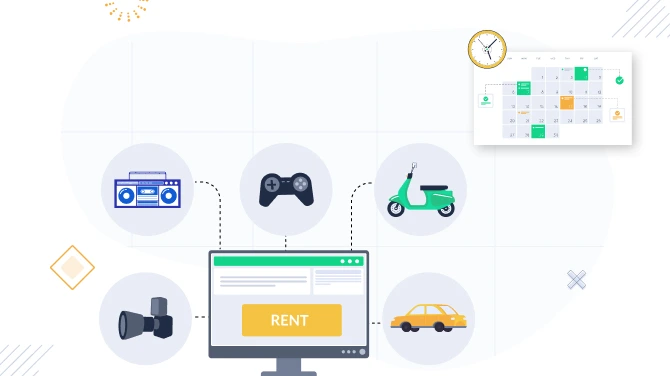 In this article, we'll share a few time-trusted & hot tips on what you should know before you start an equipment rental service company.
The crucial thing is that you need to think about this type of business pretty much in terms of a local business.
Remember about it when you think of both strategies and tactics for launching a rental service business: you should always keep your local area in mind.
There are two aspects that need your attention:
On-website (digital marketing for your equipment rental website).
Brick-and-mortar (real-life things like insurance, accounting, office, staff, etc.)
Taking into account we mostly deal with the online presence of businesses, in this article, we'd be making a main focus on the first point, digital marketing for your equipment rental company.
Even more so, we are pretty sure you've done your research, so no matter what you want to rent out, bikes, kayaks, or music recording equipment, our tips are multiformat and can be of good use.
Read our research on the best Car Rental Software Solutions.
There are many things beyond creating a website with a Rent now button for instant booking. Let's talk about them all.
A business website for rental business is a must
No matter how many extra tools for building your equipment rental business you use, apps, social media accounts, or Youtube videos, a website remains a focal point.
Whether you are in the field of office equipment rental, sports, or car rentals, a brand website is always the most trusted thing. It can consolidate all the links to your apps, social media, or other resources, as well as serve as a basis for all the software you might use.
So our first tip is of course choosing the software you want to host your equipment business website with.
Integrate a booking software to drive fast reservations
Provide online ordering tools and customers will thank you for the convenience.
You'll simply need to choose which software to integrate: that can be native to your website builder tool or external account-based solution. Both are popular and capable of securing your business online.
Integrating a booking renal software will help you:
Save time on managing rental requests.
Provide people with the details of your rental service.
Provide customers with at least 1-2 payment gateways to speed up the process.
BookingPress, designed for streamlined booking experiences and fast payments online on WordPress, is an easy-to-integrate rental software. It has proved to be a good value for money for more than 50K businesses and individuals.
This booking plugin encompasses loads of different tools for the staff, booking, payment, and inventory management in one dashboard, so we definitely recommend checking a demo site.
Think of developing a mobile app
Quick bike rental from a phone app? Using all sorts of apps sounds like an everyday for modern customers, doesn't it?
This is probably the best way to modernize your ecommerce rental processes since for clients it's the most convenient way to rent equipment.
What really matters, providing a booking app for your clients is independent of what type of clients you serve, namely, returning or one-time, an app can play a crucial role for both scenarios.
These are the days when you need to develop an app to not be ahead of other businesses, but to simply stay competitive in your niche. Take into account some rental software vendors offer in-suite apps as well.
Embrace the "Nearby" Google service
Benefit from powerful, world-recognized platforms, since it's really crucial for your business to be easily discovered by local searches.
With a curated list of geographically local results at hand, that Google had adopted in 2013, users can much easier find the relevant rental service, including yours. So it might make sense to learn how to optimize the service to get the most out of it.
Moreover, using these searches, you can significantly boost the traffic of your rental booking website.
Meet your clients across social media channels
You might say that a rental service is not showbusiness to use social media to spark curiosity via another popular short video (which does really work).
Think of social media, however, as one more powerful channel to connect with your audiences, whether they need to ask you a question or at least check if you are up-to-date enough and if your rental services meet their needs.
Engaging audiences successfully in one format usually leads to customers following you in other ways.
Moreover, there are multiple ways to use dedicated functionalities, such as Book now buttons, and advertising opportunities, for example, paid banners, to further engage with customers and spread the word about your equipment rental business.
Pick a CRM software for your equipment rental business
CRM stands for Customer Relationship Management, which means it's another useful piece of software that will help you automate client management.
It's a rare case when you can use it independent from the main booking software, but still here are few established solutions that have succeeded in solving this task:
Booqable
It is a complete, all-around rental website builder for various companies that comes with a built-in CRM system. Since it gives you all at once, including documents, payments, bookings and more, you can launch all business processes with one tool.
EzRentOut
It is another nice equipment rental software that comes with a powerful CRM tool, offering first-class B2B customer management options.
HireHop
It is another good choice with all the tools of equipment rental software with really flexible and advanced CRM.
To conclude: What are the keystones for launching an equipment rental company?
The answer varies depending on the specifics of your rental services, but we are sure to summarize a few key things that will fuel any efforts of the vast majority of rental companies:
Utilize location-based search via Google services.
Get closer to your customer via apps and social networks.
Power your website with the booking software to enable online reservations.
No easy task to get started with the equipment rental company, but at least we tried to show you a few directions.
If you enjoyed reading this article about the Equipment Rental Services Guide, you should read these as well: