5 Tips to Deal with Cancelled Appointments and Reduce no-shows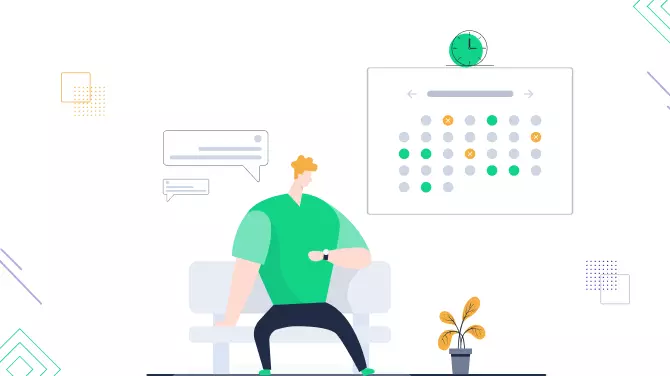 Are you a business owner running a service-based business? If so, you would have come across appointment no-shows and cancelled appointments, most likely. Of course, you know them well. The customers schedule an appointment and fail to show up.
When customers fail to show up for their scheduled appointments or cancel at the last minute, businesses may lose out on potential sales or incur unexpected costs. Right from time wasted on preparation to the lost revenue, a no-show can frustrate a business owner in many ways. Though you cannot eliminate every no-show, here are some proven ways to reduce no-shows in your business practice.
Send Out Appointment Reminders
The clients preferred your business in the first place for a reason. Hence they would want to keep their appointment rather than miss it altogether. They might likely have missed the meeting due to a hectic work schedule, or it just slipped off their mind.
Many times, what people need is a gentle reminder. And they will be on time for the appointment. Hence, sending appointment reminders as text messages, emails, or reminder calls work well. Make sure to mention the date and time of the appointment while sending the reminders. 
Create a Waiting List
What is a waiting list in appointment scheduling?
It is a list of your clients who can't be currently accommodated to the desired appointment or event due to the unavailability of slots or resources. So once all your slots for a certain time and date are booked, new requests are added to the waiting list.
With modern appointment booking software integrating a waiting list is a simple process, normally you don't need to keep an eye on it.
How does the waiting list functionality work in practice?
Let's illustrate it with the BookingPress plugin and its Waiting List Addon that incorporates this functionality. This add-on is available even with the most affordable premium plan so don't neglect a chance to give it a try and reduce the negative effects of cancellations.
On the BookingPress dashboard, go to Services > edit Services > configure the option that says 'Waiting List Max Time Slot Limit'.
This option allows you to set the limit of people that can be added to the waiting list.
If you want to adjust the colors of the Waiting list filed in the BookingPress booking widget, go to Customize > Colors > Forms.
To adjust the field label, meaning to change the default text, go to the Labels section in this same Customize screen. You can adjust several labels related to the waiting list extension.
You also need to customize email notifications associated with the waiting list.
Go to BookingPress > Notifications. Create your email messages that you will send automatically to clients and staff using the On Waiting List & Waiting Slot Availability templates.
Your clients can deliberately add themselves to the waiting list – they see this option in the booking widget. This option appears in the slot if fully reserved at the time of booking.
In the list of appointments on the backend, the ones associated with the waiting list will be marked with the appropriate tags: Active Appointments & Waiting Appointments; the latter are color-coded with the tags 'available' and 'on waiting list'.
When active appointments are canceled or rescheduled, the associated notifications will be sent to the email addresses on the waiting list, which enables customers to pay and book the appointment. Those who pay first, get a booking – first come, first served.
The waiting list helps you fill the gaps in your schedule caused by canceled appointments, so we encourage you to give it a try.
Reduce the Appointment Wait Time
People often tend to remember the appointment booked 5 days before than the one scheduled 3 weeks ago. It's obvious that people forget, plans change, and life happens.
So, try to limit scheduling appointments not more than 2 weeks in advance instead of booking a month before. Hold the appointments for a while rather than booking clients back-to-back. That way, you will also have enough room for your services, and the client also will remember the scheduled date.
Allow Clients to Reschedule Appointments Easily
Always give options for clients to reschedule appointments and keep it simple. No one will prefer following complicated processes like doing multiple calls, writing several emails to reschedule an appointment. But, they will ignore the meeting totally, making you wait.
So, give reschedule options on your website/mobile app precisely. Yes, allow people to edit their appointments directly instead of calling you. The easier the client can rebook their appointment, the less likely they will turn it down.
Indulge in Transparent Communication with Clients
As a service-based business owner, it is vital to indulge in open communication and build meaningful relationships with your clients. Most clients would not want to hurt your business knowingly.
Most often, they just don't know the impact of missed appointments. There comes the need for you to communicate with your clients openly. You can say that every appointment is crucial, and every no-show hurts your business.
So, build rapport with your clients. Though it is an age-old successful business formula, it still stands true. The more close you are with your clients, the less likely they will ghost you.
Create Appointment Deposits
If you observe that some clients are serial cancellers and they don't show up most times, you can consider setting up a deposit system to book appointments. That will encourage them to stay committed to the appointment, and they will show up on time.
However, we would not suggest charging fees for no-shows. That will turn off the clients. And they will often turn towards another business. But, with deposits, the client is using it for their own service. Hence, most of them will make it without hesitation and stay inclined to make it to the meeting without fail.
Final Thoughts
Cancelled appointments and no-shows can be disappointing for any business regardless of its size and industry. But, at the same time, you cannot blame your clients as well. Of course, they have many other things happening in their lives, and they may tend to forget their appointments.
Being courteous, building meaningful relationships with clients, and having open communication with them will solve half of the problem. Feel free to follow the practical and actionable tips discussed here to deal with cancelled appointments and reduce no-shows.
If you liked this article, you might also like this one on the Benefits of Online Appointment Scheduling for Small Businesses.