How to Build a Profitable Service Booking Website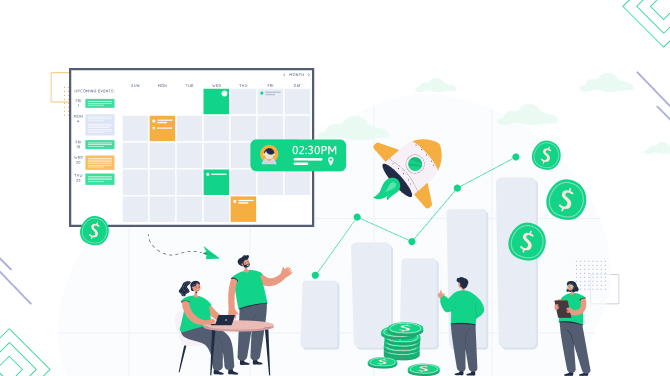 Are you teaching lessons or offering pet-sitting services? This way or another, building a profitable service business is a challenge.
It's a matter of many things, including the realism of your business plan, the quality of your service, and the way you communicate with clients, to name just a few.
But in terms of a website, there are additional things that might help you generate profit and boost your business performance in reality.
And we are here to help you with the latter!
The key idea is that it's essential to improve all touchpoints on your website on the client's path to a booking.
So if your aim is to increase the number of direct bookings and eventually get more money, you'll need to improve your site in different aspects that would result in people making a reservation on your website.
In this article, we're trying to share a few ideas that might help you take a look at your service website once more and find things that can be improved.
Some are obvious while others are not, so don't miss a chance to learn the options.
Bring automotive customer experience to the table
Aim: cut down expenses on managing clients and bookings
We encourage you to look at the way you're accepting bookings now. If you replace the customer's time-consuming call or email with an instant online service booking, you will significantly improve the bookings rate and simplify your daily managing workload.
From the outset, you need a functional piece that is convenient/user-friendly (good for your customer) and cost-effective (good for you since cutting down expenses means increasing profit).
This will help you work less (spend less time on taking calls, for instance), get more (help clients accelerate their decision to book an appointment), and, for sure, increase loyalty and improve communication with your customers.
If you are on WordPress, we already have a hand-picked list of free booking plugins that will help you automate the customer experience of booking a service.
Feature your milestones
Aim: speed up the customer's decision-making process for the next booking
Basically, it falls into the category of better social proof. You must prove your ability to deliver results.
Transform a digital journey of your customers into a brand learning one. Your potential customers should know what you achieved during the period of your practice, some real events, workshops, studies, etc.
For this task, you can use different ways to present content, for example, a timeline, an image gallery, etc. The visual side of it is also of high importance so make sure there are no longer reads, just short tiles, descriptions, and images, images, images!
Build a pleasant and informative website experience and help customers get closer to your brand, thus, trust you more.
Meet customers across channels
Aim: To increase the client base and scale your business
Today you can't have a website alone. Different social networks and platforms will help your customer connect with you better – as well as ensure you more ways to find and reach your customer.
We'd also recommend the following:
In addition to links to your social network accounts, embed the feeds of your most active ones right on the site so that people can follow you without leaving your site.
Maintain consistency in publishing to social networks, that is, do that regularly.
Find a way to collect customers' email addresses through your website and send them news about the next discount (but don't spam!).
Improve your outreach strategies
Aim: increase the authority of your domain name and make your website visible to more people
No matter how perfect and polished your website already is, ultimately, it comes down to whether clients and potential clients can find you. And it takes a lot of time and effort to build connections with other websites that can promote you and give a link to your website.
There is plenty of information on the outreach and marketing strategies on the internet but what we want to highlight and stress with this item – is to invest in marketing and outreach, build connections, and boost the trust in your site for the search engine crawlers.
Boost brand awareness
Aim: increase your retention rate and profit from regular customers
This one is not just about being everywhere but being instantly recognizable.
That means you should work on your design and color strategies, and take them further with leaflets, advertising, your business cards, car, or anything that can care about business branding in reality.
People need to see your branding several times in different conditions to remember it better.
If people trust your brand and know that it's quite popular with others, they will continue choosing you instead of spending the time on finding something or someone else.
Get your customers together
Aim: increase a personal touch with customers and encourage more word of mouth
A service business deals a lot with communication, no matter what type of services you provide.
Which type of getting customers together you can choose pretty much depends on your business type. Here are a few ideas:
Run a workshop and invite people to learn something from you (online is okay).
Get together to hear requests from your customers in real-time.
Run a contest.
Unleash your creativity and think within your business – it might be your case when you can go to the escape room together! Sounds fun, but it makes a great marketing strategy on its own.
Conclusion
Build a profitable service booking website step by step
If you provide quality services, a cleverly built online presence can only help you move things forward, but not vice versa.
So make sure to keep an eye on both things with equal attention and the success won't make you wait.
In the ideas for a service booking website above, we were striving for innovation and convenience, which are super powerful and profitable for both sides, you and your client. We encourage you to never postpone the changes that can boost your service booking website and make it more profitable. Hopefully, our ideas will help you establish credibility and bring in the business!
If you enjoyed reading this article, check out our top beauty salon booking website ideas to boost your performance.