Top 10 Things You Need to Have on Your Therapist Website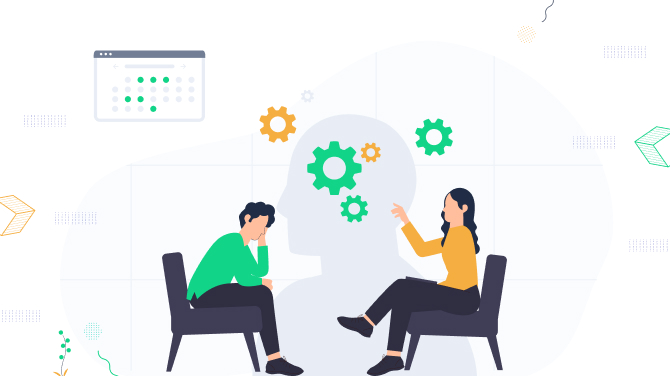 Creating a client-friendly, secure and powerful website for a therapist, psychiatrist, coach or other practitioner is not that time-consuming or costly if you have the right set of tools at hand.
Even if you are a solo entrepreneur and just want to build a professional online presence for your business, be sure it's doable, and we're going to prove that with the checklist of top 10 things for building a professional website for coaches, therapists, doctor or other service-based projects.
It's a manually curated list that adheres to the best modern design and user experience practices for building a service website, no matter the CMS you use (although we mostly work with WordPress, the platform that has the biggest market share in the world of website building tools).
First of all, try to categorize your thinking when it comes to building or improving your website, in particular:
Design (includes a color scheme, typography, font size, etc.) Note that these things should be already in harmony if you buy a pre-designed site template or order a bespoke website.
Functionality (helps your clients to interact with your website and get the best experience and results from it).
Content (messages, calls-to-action, and other types of content can be really essential for creating the desired atmosphere on your website that will build trust with your clientele).
While design and content are very personal things and you can get them really custom and different, there are still very common things that work for almost all therapist websites and can really boost your online presence
You surely know that there should be a Google Map, your phone number, contact details, availability calendars, etc. But what else? So here it goes.
Top 10 Things for Building a Professional Therapist Website
1. Intuitive navigation
A well-thought-out website navigation menu will contribute to the overall user experience on your website, including, intuitiveness of use, the speed of finding the needed information, etc.
Remember that the vast majority of websites have footer and header sections that are just the right spots for placing your contact details, address, and the most prior services information.
2. Therapist session booking widget
Automating your availability is a must. Providing an automated option for booking a session with you is a top priority since it's already a commodity for clients. They want to check if you are available at a particular date and time and book a time with you without too much hassle.
It's not just convenient for the client's side, but it's also going to save you so much time on taking calls, telling about your services, checking your availability, registering clients, accepting payments, and many more routine things that can be easily automated.
Make sure to get the software for online appointment booking, schedule your therapist sessions automatically, accept online payments, reduce no-shows and get ready to set your schedule on autopilot.
3. Evidence of your expertise
Highlight your role of experience with customers: showcase your training and licensing certificates.
Featuring experience and expertise in your field is the way to make people trust your website and entice them to pay for your service or at least call you and ask for details.
Tell more about your performance, client outcomes, supervision, and other details that will help you prove you are experienced in the field. Text and especially image content are very helpful in demonstrating your evidence of expertise.
4. Real client feedback
A good portion of testimonials will help you build real trust with a prospect and turn them into a client. You can do it right by:
Make sure to include a customer's photo.
Provide only authentic testimonials from satisfied clients.
Ensure the provided testimonials are course-specific or field-specific (not in general about you).
Feature a few testimonials on the front page but if possible, also create a dedicated page for more testimonials.
In addition to short testimonials, add longer customer stories or even interviews with people you're helping or already helped.
If possible, add links to social networks or websites of your clients
5. A newsletter subscription box
Although it might sound classic, this feature is highly important for a therapist, coach, or psychiatrist website, since the right email from you can catch your customer at the right moment, in the right mood.
Advertise your up-to-date courses, give tips, tell a customer's story and entice customers to book the next appointment!
6. Online conversation box
If you are a coach or psychiatrist, most likely interaction and conversation are your key skills.
The point is to give your main skills an online shape! A booking widget, email subscription box, and the rest of your contact details are a must but providing a live chat box or at least integrating a Facebook messenger will give your website visitors a feeling of instant support. People love to ask direct questions and get answers right away!
Automate your scheduling needs with BookingPress
Don't do it by hand, automate your appointment bookings today!
Automate your availability and bookings to streamline your business management on WordPress with BookingPress. Easily organize your clients, transactions, email notifications, reservations, schedules, and more to keep it all centralized and up to date.
Browse the BookingPress features to see how you can boost your service business!
7. PDF leaflets
We recommend creating downloadable materials, such as PDF files, be it timetables or just informative leaflets, too, first, signal people you are a knowledgeable person who put time and effort into creating extra materials, and secondly, to show you go an extra mile to help your clients.
Let alone the fact you can use these materials as so-called lead magnets, meaning, you can ask for a customer's email address in exchange for allowing them to download your files! Get an email address of the site visitor – and convert them into customers with time!
8. Image & video gallery
Sounds too simple? We wouldn't be so sure! Professionally made images that show the realities of your business, e.g. your office or clients, can significantly boost the trust of your customers.
People are looking for authenticity, and be ready to create it with images and possibly videos. Such media files contribute a lot to building your brand online.
9. Social media integration
Modern website building platforms provide a lot of instruments to integrate your social networks, and we don't mean only social icons.
Many widgets can fetch the data, for example, Instagram images automatically, so that you can have live feed embeds on your site. With a few clicks and your clients see you as a real person and can follow you on social networks not leaving your website. Many widgets can fetch the data, for example, Instagram images automatically, so that you can have live feed embeds on your site. With a few clicks and your clients see you as a real person and can follow you on social networks not leaving your website.
10. Essential design elements: a Logo, Favicon, and CTAs
You should take special care of branding, which influences how people will remember you and even whether they will trust you.
Here are a few concepts that are virtually crucial for the type of website you have:
Logo: The modern design practices advise us to adhere to simplistic but memorable shapes and up to three complementary colors, so you'll probably need a designer's eye here!
Favicon: It stands for the favorite icon, which is a small image displayed on the browser tab, helping customers visually differentiate it from other browser tabs, thus, remembering it better.
CTAs: call-to-action buttons can not just create a visual balance on your website, they are in the first place helpful for guiding website users to the right site sections. Make sure that the most important buttons, such as Book an Appointment, Check Availability, or See Prices are visible on every page of your website (e.g. with the help of the navigation menus, floating buttons, etc.)
Final word
Increase your therapist's website conversion and usability!
This checklist of things you need to have on your therapist's website is surely focused on helping you increase conversions, trust, and the overall usability of your online presence. Make sure you put enough resources into optimizing all these things on your site and the return on investment won't make you wait.