5 Best Website Builders for Lawyers Compared 2023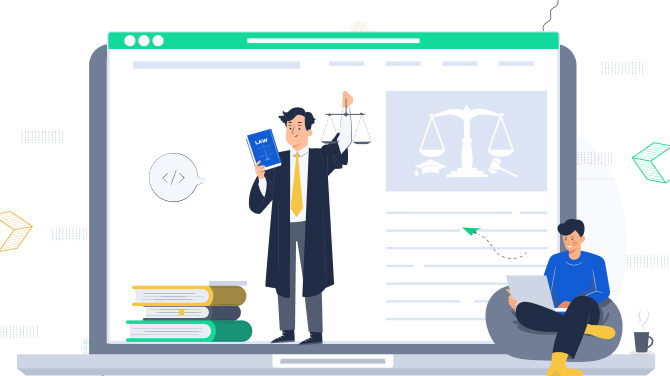 What is the most affordable website builder? Is Wix any good for a lawyer website? Which builder comes with the law practice management software?
We're trying to answer these and other related questions in this research on the best website builders for lawyers.
But let's start with clarifying some functionality aspects.
Law practice management software & lawyer booking software
When it comes to technology a law firm requires, the most common concerns are law software for streamlining the process of managing your practice and booking software for automated appointment scheduling.
While almost any website builder allows you to build a good-looking online presence, you are probably wondering how good they are at integrating these very specific, dedicated tools and features.
If you need to centralize all your legal document management, accounting, communication with clients, productivity tools, and more, the law practice management software solves this task.
The most popular solutions such as Filevine or Clio are cloud-based platforms, which means there is a separate login page, where you can set up and manage everything independently of what website builder you use. So there is no interdependence.
A neat 'Book appointment' button can be integrated with that same law software you choose, a separate one, or even provided by/built specifically for the website builder. In the ecosystem of any website builder, there is commonly a range of extensions that allow you to integrate payment options, shops, booking options, and more. So the choice is yours.
But let's now explore the website builder options for law firms, their pros and cons, and the powerful features they offer you to build a beautiful site.
WordPress
WordPress, as the most used website builder in the world, is perfectly suitable for building an online presence for literally any business, a law firm among them.
You can discover hundreds of dedicated lawyer and solicitor firm templates and easily use them on your site, with a range of crucial pages included (team, services, about, contacts, etc.).
The current version of WordPress (6.1) is quite powerful for any site customization needs thanks to the block editor, which allows you to visually add images, galleries, tables, beautiful page patterns, and more. To edit your website even further, there are powerful and loved commercial plugins, such as Elementor.
As for integrating booking features, previously we have listed the best practices for accepting online bookings on WordPress, so make sure to learn them. If you want to know the differences between WordPress and SaaS for bookings, we also shared our conclusions in this WordPress plugin vs cloud software research.
Key features:
Thousands of designs optimized for law firms, both commercial (paid) and community (free).
Numerous plugins for SEO management, speed optimization, and more.
Multiple booking software solutions built natively for WordPress.
Pros:
It's absolutely scalable, affordable, and easy to extend with any plugin. A great level of competition in WordPress encourages companies to constantly upgrade and improve their solutions, which creates a healthy market of quality products. You can control your storage limits yourself because you can choose any hosting provider.
Cons:
For solo practitioners, WordPress might be not so easy to maintain at times, there is a learning curve (only until you get the hang of it). There are also well and not-so-well-made templates, so get prepared to do your research. Another headache is that you need to manage hosting and a website separately.
Free plan? WordPress is free, but designs and plugins might be paid.
Wix
Is Wix optimized for lawyers' needs? Just like WordPress, the Wix website builder is made to cover numerous business needs. However, while Wix offers a number of templates specifically tailored for law firms, this selection is comparatively limited when compared to WordPress.
Wix is considered to be more user-friendly and easy for beginners, which at the same time allows you to create a professionally-looking law website even if it's a completely DIY thing.
Key features:
An all-in-one platform that consolidates hosting, security, website builder, and apps all in one account.
Powerful and user-friendly website builder.
An app market that allows you to connect various tools, such as analytics, social integration, coupons, and loyalty, including an appointment booking solution.
Pros:
Wix can boast of the AI-powered website creator and editor, which allows you to create a much more personalized website, with minimum effort, visually. Moreover, compared to Squarespace or GoDaddy Website Builder, it has many more ready designs.
Cons:
Some Wix templates are clearly outdated in terms of design, and it's also hard to switch your theme once your website is published. There are storage limits you can't influence.
Free plan? Yes, but some features can be connected only with a custom domain name, which is part of a paid plan. More powerful plans start at $12.50 per month.
GoDaddy Website Builder
The first thing you probably think of when you hear this brand name is a hosting provider, but GoDaddy has developed beyond that, offering people all in one – hosting with powerful website-building tools.
It offers a neat and lightweight design studio, where you can build a modern law firm website in the visual editor, similar to others in this list.
Key features:
A modern, easy-to-use website builder and multiple pre-made designs for a plain start.
Built-in marketing tools.
One-time appointments are included on a free plan.
Pros:
Of course, it's a powerful and trusted big name that developed a feature-rich website builder, which you can get along with the hosting, SSL certificates, and other website management features. Worth trying.
Cons:
You are sort of tied to the GoDaddy platform to get hosting and other things. You can't have a custom domain name on a free plan. Only 100+ pre-made templates.
Free plan? Yes, with limited tools.
Squarespace
The Squarespace website builder has much more in common with Wix rather than WordPress; it's also made for beginners and offers a range of fully editable designs.
It's commonly recognized that Squarespace's approach to designs is better than that of Wix, however, the former is quite often preferred rather by creatives looking to build a portfolio.
Key features:
Professional business designs.
It offers unlimited storage for your website files.
Support for major third-party apps.
Pros:
Truly modern-looking and professional website templates for business, which are much better looking than those of Wix, we must admit. A free domain is included for one year with an annual plan purchase.
Cons:
Your choice of ready-made templates for law firms is small. It's more expensive than its counterparts.
Free plan? No, the monthly cost is $16 to $65.
Clio Grow
Clio Grow is the site builder that comes packaged with the Clio law practice management software. This site builder is completely different from the previous big names above since it's not multipurpose.
Although this site builder is made specifically for law firms, we'd quibble with the statement that it's most suitable for solving law firm business needs, while its customization capability is limited.
Key features:
It encompasses the site builder tools and law management toolkit.
Powerful consultation scheduling widget.
Seamless user experience thanks to polished interfaces.
Pros:
It's made with your business in mind and allows you to easily create and edit the most essential parts of your website.
Cons:
It doesn't have all the bells and whistles other page builders can provide you with, for example, it has limited built-in marketing features or even color editing options. As with any dedicated cloud software, it's much more expensive than its counterparts.
Free plan? No, prices start at $39 per month.
Final remarks: What is the best website builder for lawyers?
Let's break down our conclusions into three logical categories:
All-in-one solutions: Wix, Squarespace, and GoDaddy Website Builder share the same approach to visual designing and hosting your website. While Wix has many more ready designs for businesses like lawyers, Squarespace and GoDaddy Website Builder deliver more polished designs. At the same time, Wix is generally more affordable.
WordPress: As a website builder, WordPress sets itself apart since it's a much more powerful and diverse market of template designs and functionality solutions suitable for lawyers, where the hosting is managed separately. In many aspects, WordPress is a more affordable, flexible, and scalable solution, although with a learning curve.
Clio Grow: This website builder was created specifically for lawyers who want to get all the tools and manage their practice with eyes closed, meaning setting up and controlling their site with minimal effort. On the cons side, its customization capabilities are limited.
If you enjoyed this article about Best Website Builders for Lawyers, you may also find these related articles informative: