SEO for Salon Website on WordPress: 10 Simple Tips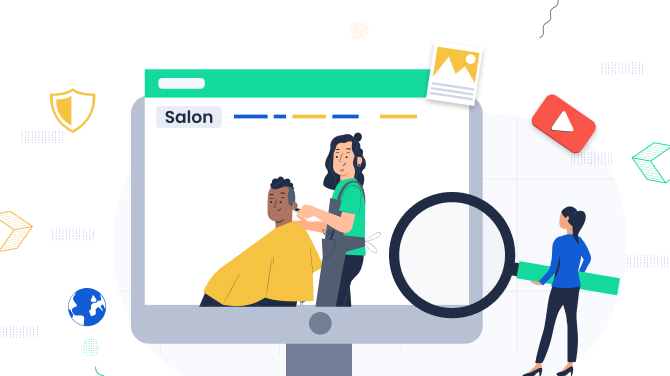 Here is the thing – SEO exists to make your business more money.
The key to successful SEO for salon is generating local leads. In plain language, this involves finding potential clients in your area online, capturing their attention, and establishing long-term loyalty to your salon.
Your website plays a central role in online marketing, and implementing SEO techniques can improve your visibility in the local competition.
And there is one more important concept you need to understand: what is good for people is good for SEO. "Create helpful, reliable, people-first content" is a mantra Google sets you with.
SEO is not about gaming your way on the internet with black techniques or optimizing your site for so-called robots. There is a little bit of 'science' too, of course, but the readers/customers' needs and convenience are always central.
To boost your advertising efforts, we will be listing several organic SEO techniques for salons in this post. These techniques add value to your clients by suggesting appropriate services and simplifying the booking process.
In this tutorial, we list proven hair salon website tips that can be implemented on your WordPress salon website with or without dedicated SEO plugins. Let's get going.
Optimize your salon website for local keywords
Optimizing your salon website for local keywords is the most effective, organic, and affordable way to increase its visibility on search engines such as Google.
However, it is not as simple as it may seem – you can't just add a few keywords related to your salon business to your site and call it a day.
Let's break some SEO for salon basics and essentials of what you should do into a more readable list just below.
Content optimization for local keywords
Use specific tools to find keywords that best describe you and that are not too competitive. Sometimes you can just intuitively make up the right keywords, but it's better to support your ideas with data-driven platforms, such as Ahrefs or Google Keyword Planner. The latter is good at identifying the so-called search volume, competition level, and potential impact of different keywords related to your salon services.
Create unique content for every salon service
To effectively promote every service or offering of your salon, it is recommended to pick the right keyword for each service and create a dedicated page on your website for it. This approach is more effective than grouping all services together on one page. And this way it's not so overwhelming to clients!
Take care of internal linking
This is also a top priority to not just signal to search engines that your website has a cross-linking structure in place, but also to help the readers easier navigate the site and find more relative information.
Publish fresh and evergreen content on your blog
Create a blog page on WordPress, it's super easy. The more useful and organic content you add, the better it will work for salon website SEO efforts, and the more clients you can attract, and build the better domain authority in the long run. Be consistent in this approach and you are sure to make it step by step.
Create image alt text
Your salon website on WordPress needs images, and your images also need SEO-tailored texts! Make sure to submit alternative text for every image, this is helpful for people browsing your site with slow internet connections and search engine bots alike.
There are a few dedicated SEO plugins that can simplify your keyword-optimization routines with some automation. Here are some of them:
1) Yoast SEO – a helpful SEO guide that gives you content optimization tips along the process of adding content to the site. For salon websites, we also recommend considering a dedicated Yoast Local SEO extension.
2) We also like Link Explorer by Moz which will help you in your link-building strategies. It's an SEO company you can trust.
How to find even better and more appropriate keywords for your hair salon website?
See Google suggestions.
Look into related searches.
Use dedicated tools, such as KeywordTool.io or Answer the Public.
Structure data on your website better
Web data across websites is heavily unstructured even though it might look pretty well organized on the page to the casual reader.
When you make an effort to structure it better, it will have a positive effect on the overall website SEO for the salon, making it easier for crawlers and scrapers to extract the needed piece of information from your website and actually read/understand your website better.
Add videos with markup
Regardless of whether you add self-created video content or embed it from third-party channels just to support the information on your blog, don't just embed videos, add them using the dedicated video markup code for structured data. Google will like it!
Keep an eye on your NAP
NAP stands for a name, address, and phone number. For a local business like a salon, you should always remember that your NAP information, first of all, must exist and, secondly, must be up-to-date and consistent across various platforms and websites.
Create a Google Business Profile account to verify your legitimacy
Google Business Profile is one of the most important business directories you are literally obligated to register your salon on in order to get more visibility and build more trust with your customer. This SEO for salon websites technique especially works for hair and beauty industries – you can present your data as a local business. That's useful in multiple ways – get a backlink to your website, increase the trustworthiness of your business, and get one more piece of structured data.
Note that creating a Google Business profile is an easier way for a regular business to structure data than by optimizing it via the 'local business' structured data, but you can try both if you like.
These are just a few examples we found suitable for salon sites. Look through the list of all the structured data supported by Google and see if any applies to the content you share on your salon website. You might also want to pay attention to FAQs and product guides.
Get quality backlinks to your WordPress salon website
Similar to producing content on a regular basis, you should automate the task of acquiring backlinks. You will most likely need a staff member in charge of this task since it requires dedication and consistency in finding partners and websites willing to exchange links with your site.
Where to get backlinks for a salon website? We have a few ideas:
From thematic beauty blogs: you can either offer guest blogging opportunities or submit your site to already existing blogs and round-ups.
From directory/aggregator platforms (for example, Yelp, Best Salon Guide, and even TripAdvisor).
From social media.
Make the website faster & more secure
It's a long story of its own on how to make your WordPress site faster and better protected. But there is a clear effect on SEO for salon websites (it's called technical SEO) – Google takes website speed and security into account when ranking pages in search results.
Below are a few things that can help you protect and speed up your website by default, without extra effort:
Get quality hosting that takes care of SSL and other tools.
Run frequent backups with pre-installed plugins.
Have secure passwords in place.
Conclusion: What is most important in SEO for a salon website?
There are millions of SEO resources and billions of tutorials available for solving any SEO problem. However, our recommendations for salons today can be summarized as follows:
Publish keyword-optimized, relevant content on a regular basis as well as optimize individual service pages for keywords.
Properly convey data about your site by improving the structured data on your site.
Work on getting quality and relevant backlinks to your salon website on WordPress.