5 Best Salon Booking Plugins for WordPress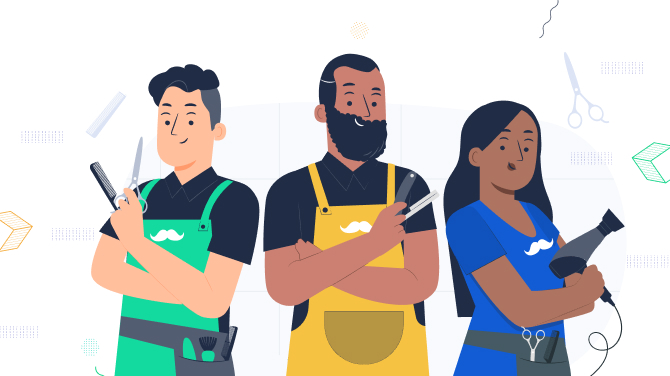 Looking for the best salon booking plugins for WordPress?
Avoid diving headfirst into the first plugin that catches your eye. While many WordPress solutions for beauty salons may offer similar features, there are important differences to consider, such as pricing models, design variations, integrations, and more.
These factors may be of top priority for you and can greatly impact the success of your salon's online presence. So, take your time to research and choose the right plugin that will best suit your needs and help your business thrive. And we are here to help you with this task.
The hand-selected collection of salon WordPress booking plugins listed below are all well-suited for various establishments:
Hair salons and barbershops.
Wellness and spa salons.
Nail salons.
Tanning and massage centers.
Stylist shops, and more.
We'll review each of the popular WordPress salon booking plugins that are highly recommended by clients like yourself. We'll highlight their key advantages and pricing models to make things easier for you.
Let's now get down to the list of tried-and-trusted hair salon booking plugins for WordPress.
Top 5 WordPress Salon Booking Plugins
1. BookingPress
This all-in-one salon booking solution provides seamless assistance in managing various aspects of your business, including service booking, team management, and online payment processing.
Among really productive and unique tools, we can highlight the ability for multiple reservations in one booking, the biggest number of payment gateways that you can integrate for free, and a fully customizable booking widget (change colors, layout, labels, etc.).
BookingPress works smoothly with the vast majority of the popular WordPress themes, such as Astra, and delivers a professional seamless design that you can edit.
Key benefits:
Easily manage staff schedules with customizable days off and greater flexibility.
Supports various appointment types: one-to-one, group, and virtual.
No additional fees for unlimited bookings, payments, and customers.
Set up PayPal, Stripe, 2Checkout, Authorize.net, Mollie, and Skrill; 15+ methods in total are free to use.
Pricing: $69 per year, all key add-ons included.
2. Salon Booking System
The plugin's name is fitting as it delivers exactly what it promises to salon businesses. With its intuitive interface, you can effortlessly adjust services, employees, and other elements to cater to your specific salon business needs.
In comparison to other salon booking plugins for WordPress on the market, Salon Booking stands out with a range of unique features.
These include a convenient mobile app for managing salon bookings and appointments, agile schedule customization settings, a Restful API for developers, user accounts to view reservations, visualized business reports, and many more tools to help you meet various needs.
Key benefits:
Flexible and intuitive booking settings and rules to run a tailored booking system.
All key payment methods (PayPal, Stripe, pay at the venue), with extensions for more.
Smooth integrations with software that automates reminder and notification sending via SMS and email (Twilio, Pilvo).
The plugin ships in a Pro and free version, allowing you to choose what solution to start.
Pricing: $69 once, plus consider the cost of integration addons.
3. Amelia
Amelia is one of the highly acclaimed WordPress plugins, perfect for hair salons and beauty centers, among other appointment businesses.
What sets Amelia apart from other salon booking WordPress plugins is its sleek modern design and a vast array of third-party integrations, catering to all your business needs.
With an extensive range of features, Amelia provides unparalleled flexibility in managing big teams, multiple locations, unlimited appointments, and various payment methods.
Key benefits:
Add and manage unlimited appointments, employees, and locations.
A good bunch of must-have integrations for a salon business: SMS, Google and Apple calendars, Woocommerce, Google Maps, Zoom, Outlook, and more.
Customer panel to allow clients to manage appointments.
Pricing: $79 per year; more expensive plans include more features.
4. Booked
With its intuitive and customizable widget, Booked effortlessly integrates with your WordPress website, providing a user-friendly interface for appointment booking and management.
Despite its lightweight design, Booked boasts all the essential features typically found on booking websites. It's a safe choice for those looking for a sleek design, competitive pricing, and must-have integrations such as Google Calendar sync with employees' calendars.
Booked offers seamless integration only with WooCommerce, without extra payment add-ons, making it an excellent option for those with WooCommerce installed. This feature enables you to process payments easily and securely.
Key benefits:
Well-designed and intuitive booing wizard.
Include only necessary tools in the software, without any excess.
Affordably priced.
Pricing: $49 once.
5. Bookly
Bookly is one of the top choices when it comes to appointment booking WordPress plugins suitable for salons. It can boast 40K+ active customers who run service businesses.
Not only does the core software offer a multitude of options to run your salon bookings smoothly, it easily connects to such needed software as Zapier, Google Calendar, Zoom Google Meet, and more.
Bookly offers a rather non-standard pricing model when some features are available in the core plugin, and others in the so-called Cloud Product, or paid add-ons.
Key benefits:
Completely customizable front-end booking form to suit your salon business.
Bookly Cloud, a solution to grow and automate your business, includes tools, such as gift cards, Stripe payments, SMS notifications, WhatsApp notifications, voice notifications, etc.
Powerful staff cabinet.
Pricing: $89 once.
Conclusions
Let's summarize the key advantages of the best salon booking WordPress plugins.
BookingPress, Salon Booking, Amelia, Booked, and Bookly are appointment booking WordPress plugins that are suitable for salon businesses. All plugins, except for Booked, offer free versions with limited functionality.
Regarding pricing, Bookly and Booked are the most affordable options with a one-time payment of $89 and $49, respectively. However, while Booked offers no paid add-ons, Bookly can become more expensive if you need to purchase extensions. Also, while BookingPress requires annual payments, it won't charge you for basic and advanced extensions and integrations.
Salon Booking and Amelia have a wider range of features and integrations, while Bookly offers a customizable front-end booking form and a powerful staff cabinet. However, Bookly's pricing model includes paid add-ons in addition to the core plugin.
All the mentioned plugins support PayPal and Stripe (although Booked only via WooCommerce), with some such as BookingPress and Bookly offering additional payment gateway integrations like Mollie, Skrill, 2Checkout, and Authorize.net.
Our top resources for salon websites: