10 Holiday Promotion Ideas for Service Businesses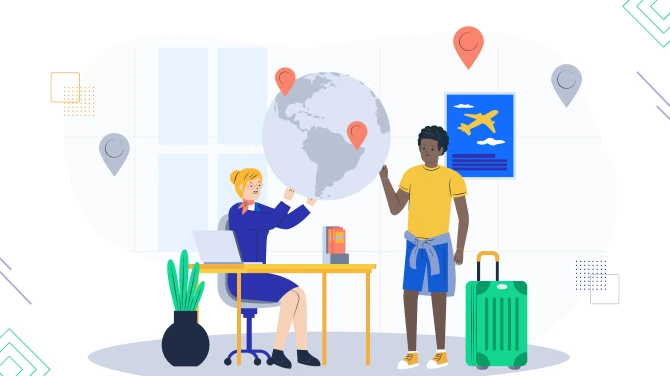 The holidays are a prime time for businesses that sell products, but what about service sectors? It might seem like they are missing out on financial opportunities during the holidays, but that's not exactly so.
Service-based businesses can definitely leverage the holiday season to increase their sales and revenue, but it requires a bit of creativity and strategic planning.
And in this article, we are on a mission to discover holiday promotion ideas that work for service industries.
What is a seasonal promotion, first of all?
Seasonal promotions are basically special deals, discounts, free guides, or products that are only available for a limited time during certain events or seasons throughout the year.
For example, you might run a themed contest around Christmas, or maybe offer cool services that are only available or have the best effect on customer's health during the summer period.
While it's really clear why you should start running a seasonal promotion (because it's about increasing your revenue and customer engagement!), how do you implement and promote your seasonal offerings?
Before we get down to the holiday promotion ideas, here are a few questions you'd want to ask yourself.
Which holiday is most relevant to my service business? Don't allocate more resources than necessary. Identify the holiday periods where you can generate the most effective ideas that are worth implementing.
Are my social media channels more effective than other ways of reaching out to my current clients? Should I connect with them through SMS, email, or by recording a  YouTube short?
What holiday promotions can attract new clients? How much am I willing to spend on advertising?
10 Holiday promotion ideas for service businesses
In the list below, we gathered a few holiday promotion ideas that you can implement in your holiday promotion campaign regardless of the time of the year.
1. Create holiday-themed content
Whether it's on your website, social media, or online ads, adding some holiday cheer to your content can really help your business stand out.
For service-based businesses, it's also important to promote the value of your services during the holidays.
By publishing content that highlights the benefits customers will receive during this time, you can demonstrate how your services can help make their holiday season more enjoyable and stress-free.
2. Offer referral holiday discounts
Offer a small bonus to your clientele as a token of appreciation for promoting your brand without charge and referring prospective customers to your business.
If your service business accepts appointments online via the scheduling software, you can easily automate selling holiday services with referral discounts.
Of course, you need to take care of promoting your holiday coupon codes among current clients.
3. Create seasonal gift sets
Another way service-based businesses can take advantage of the holiday season is by creating gift sets that can make perfect presents. For example, if you are a gym, offer a nutrition consultation session and a personal training session in a bundle that customers can purchase during the Christmas holidays.
To create a gift bundle, you can package your services together with free or low-cost accessories that are related to your services. Once again, you can automate selling services via your website by creating a new holiday category.
A set is surely to be even more appealing if you can include a leaflet that describes your services and how they can help improve people's lives.
4. Decorate your service establishment
Decorating your business for the holiday seasons can actually boost engagement and sales. By adding some festive decorations to your storefront or office, you can put customers in a festive mood and encourage them to use your services in the future.
By the way, online-only businesses can also get in on the holiday fun by decorating their websites and social media channels with holiday-themed graphics and festive banners.
5. Team up with a charity
By reaching out to large audiences of charities, you can achieve two goals at once: spreading the word about your brand and doing a good deed.
By donating a portion of each booking to a charity, not only will you be giving back to those in need, but you'll also be promoting your business in a meaningful way. It's a win-win situation that'll leave both your customers and community feeling grateful.
6. Provide gift wrapping
Customers love the convenience of having their gifts wrapped and ready to go, and it can even encourage them to order more from you. To make your gift-wrapping service even more appealing, consider offering it for free.
By the way, by trying to incorporate your brand colors or logo, you can make your gift wrapping more recognizable and help build your brand awareness further. As a service business, you can even offer this for products bought elsewhere!
7. Offer a holiday-only service
One of the most effective holiday promotions is creating holiday-themed or limited-time services during the holiday season. People love to feel privileged when they are getting exclusive services.
To make the most out of this opportunity, start promoting your holiday service before it's actually available. Email and social media are great promotion helpers here.
8. Feature your holiday offers in your Google Business Profile & Yelp
To attract new customers who are seeking services during the holiday season, it's beneficial to showcase your offerings on popular platforms and services such as Google Business Profile and Yelp.
Whether people are searching for home and garden services for holiday decorations and preparations or a new salon hairstyle for Valentine's Day, there's a chance they will choose websites with holiday offerings and discounts.
The holiday offers that you post on your profiles can entice potential customers to get interested in your services; an informed person can become an interested person. It's amazing that you can use these services for free.
9. Launch a holiday-themed campaign on social networks
We can't skip social networks here. Start creating a holiday promotion campaign in social networks that work best for you – or even experiment with new ones. Posts should highlight holiday promotions, year-end promotions, and other special offers, and should explain why your service is especially relevant for this time of year.
Another great trend is creating a holiday-themed video. It can be funny, heartwarming, or even full of solemn seriousness – the important thing is to create something that resonates with your audience and captures the holiday spirit.
10. Give useful tips about current holidays
Provide clients and potential customers with beneficial insights and details about your services, based on these tips.
It's a great way to promote your brand and increase customer loyalty. Probably this will make them ready to book the next service with you!
Conclusion: What it takes to run a holiday promotion for a service business
As a service-area business, you can find various ways to handle seasonal and holiday promotions, and here are our key takeaways:
Optimize your website for online bookings, it's easy to run multiple seasonal campaigns through the software.
By offering attractive customer loyalty bonuses during a holiday period, you can motivate customers to revisit your business and refer it to others.
Leverage the power of world-popular platforms for advertising seasonal promotions, such as social networks, Google Business Profile, Yelp, and others.
Hopefully, you'll be able to find holiday promotion ideas that work for you!
We have a blog covering related topics that you may also find interesting if you enjoyed this article: