Online Booking System for Gyms and Fitness Websites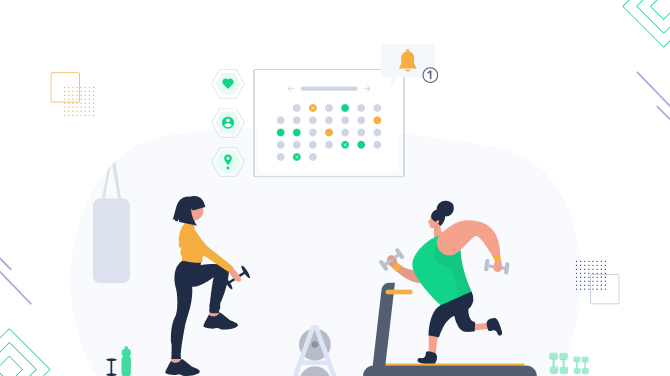 Fitness studios, yoga classes, and gyms have become relentlessly active online during the Covid 19 pandemic. Now, even after the pandemic, people prefer online gyms for their convenience. Right from choosing the timings, to picking the personal trainers to opt for the workouts, fitness websites work the best for people of all ages.
So, how to convert your otherwise remarkable fitness website into a booking website? Hence you can start accepting appointments from your customers. All you need is a WordPress booking plugin to handle your online bookings and manage your fitness business.
But, you will need the perfect plugin that works seamlessly with your WordPress website. No worries. BookingPress is one of a kind plugin that allows your clients to book appointments online instantly.
With BookingPress, you need not track appointments manually as it will manage your bookings with real-time availability. Moreover, it keeps you sending reminders about upcoming bookings, lets you manage your appointments in a calendar view, and its handy dashboard helps you track your business data.
Now, let's see in detail the benefits you can enjoy with this all-in-one plugin, BookingPress.
Easy to get started
Installing BookingPress is as easy as ABC and does not demand any coding skills. One can set up the BookingPress plugin on their WordPress website right away. All you need to do is go to your WordPress admin page and open BookingPress. Install the plugin, add categories, services, and payment methods.
You can even customize the booking wizard's layout, colors, typography, and fields that match your WordPress theme. Plus, you can embed the BookingPress WP appointment reservation form into any site page using a standalone block for the block editor or other popular builders.
Upon installation, the customers can schedule appointments immediately through your booking website. Once you accept the booking, the system automatically adds the booking to your appointment booking calendar.
Scheduling appointments has gone effortless
The BookingPress plugin enhances online fitness booking services and elevates your customer experience. Clients can book your services online without contacting you or your staff. Since your fitness studio is open online for business 24/7, clients can book appointments at their convenient time. Also, the WordPress booking widget is responsive and fits any screen size. Thus, users can book appointments from any device effortlessly.
Customers may have to fill in their details and choose the desired service, trainer, preferred date, and timings. They can pay online via Paypal or pay at the office after they arrive. Customers will receive instant email notifications upon the acceptance of their bookings. Moreover, you can customize the email notifications by adding suitable texts and tags to your business.
Scaling up your business is made easy
When starting with your online fitness studio, you may have fewer customers initially. But the BookingPress scheduler WordPress plugin does not have any limitations and allows you to sell any number of services and receive unlimited bookings.
Yes, you need not pay anything extra for selling more services with BookingPress as you pay for many other booking plugins available in the market. Plus, you don't have any constraints like hourly bookings. You can customize and sell appointments of any duration. Thus, you can scale up your fitness business and get increased ROIs.
Enables you to focus on more business
BookingPress comes with handy admin tools encouraging you to handle various activities and data like managing clients, monitoring payments, and viewing appointments individually. You can even customize your WordPress booking widget and do more from a single dashboard.
Above all, this flexible WordPress calendar scheduling plugin lets you manage your appointments in a calendar view. It facilitates automatically approved bookings, single-touch rescheduling, adding appointments through the admin dashboard, and more.
With BookingPress, you can see the statistics and reports of your business performance in a single-view mode. The system presents readable and precise revenue charts and graphs.
Thus BookingPress takes up all tasks associated with booking, scheduling, and rescheduling appointments. It eliminates the need for phone calls to schedule or queries concerning bookings. Thus, it saves a lot of your time, enabling you to focus more on your fitness business.
Work relaxed as BookingPress takes care of your fitness business
BookingPress comes with various productivity tools like a single-touch repeat for holidays each year, automated emails, pre-selected geo data at checkout, and other tools to accelerate and simplify your daily tasks.
The plugin also encourages you to customize the schedule by adding breaks, days off, holidays, and regular working hours. You can update all changes through a handy and intuitive menu.
Last but not least, the BookingPress plugin comes with in-built spam protection and is also translation-ready. Thus, you can stay away from spam and translate the BookingPress plugin into your language.
Wrapping up
As the world turns digital, fitness centers and gyms are no exceptions. With online gyms skyrocketing among fitness enthusiasts worldwide, you will miss out on a big market if your gym is not taking appointments online.
BookingPress is an appointment booking plugin that facilitates setting up a booking system as per your needs on your WordPress website. Leverage BookingPress to manage the bookings of your fitness website effortlessly and expand your business exponentially.
If you enjoyed reading this article, you should check out this one on How BookingPress Helps to Create Spa Scheduling Website.