How BookingPress Helps to Create Spa Scheduling Website?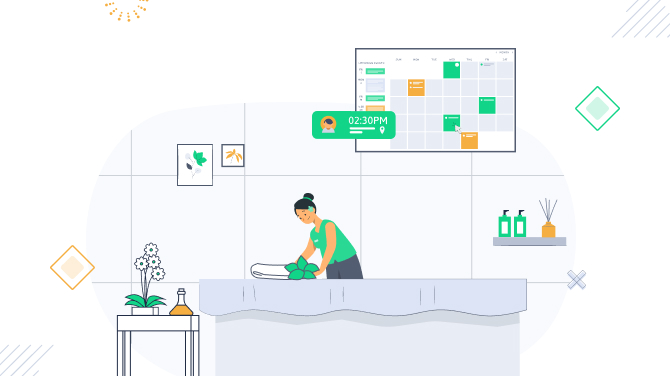 The spa industry is one of the most lucrative yet highly competitive businesses in today's world. Nowadays, new Spas are opening up around in each corner. Most people generally go to spas to rejuvenate themselves in a relaxing environment. Most spas maintain a soothing exterior but internally they suffer from different operational inefficiencies, which make running a spa a huge burden. Managing client appointments is one of the biggest challenges that is faced by most of the Spas.
There are a variety of spa scheduling software solutions available in the market today that can be used to streamline and automate different processes related to the spa business. Now the question would be on, how to convert your existing Spa website developed in WordPress into a booking website? For doing this, you only need a WordPress booking plugin to do so. Among the different plugins available in the market, BookingPress is an excellent plugin that is quite easy to use and integrates with your existing website. In a few steps, your existing website would be converted into an online appointment booking website.
From the real-time availability slots to managing bookings, online everything is possible using BookingPress. Along with this, it is also used to send reminders for upcoming appointments, a calendar view that can be used to manage all the appointments, and finally a dashboard that can be used to manage and track everything related to business.
Let's see in detail the different features of the BookingPress Plugin that make it an excellent tool to use.
Features of BookingPress Plugin
Easy to setup and configure
Setting up the BookingPress plugin on your WordPress website can be done in the blink of a second without much coding knowledge or effort. Just to your WordPress admin page and search BookingPress. Install the plugin by just clicking on it. Then step by step start adding categories, services, and payment methods. You can also customize the layout of the booking wizard, their colors, typography, and fields as per convenience and even match them with your WordPress theme if needed. You can also embed the BookingPress WordPress appointment reservation form into any site page using a standalone block for block editor or other popular builders.
On successful installation of the BookingPress plugin, customers can start scheduling appointments immediately through your booking website. The system will start adding the booking automatically to your appointment booking calendar once you accept the booking.
A seamless way for booking appointment
Using the BookingPress plugin, clients can now book appointments online and get a better experience. The main advantage of using an online booking system is that without getting in contact with you or your staff, clients can book your services online seamlessly. With a facility to book appointments 24/7, clients will be able to check your availability for chosen dates in real time and book an appointment online.
From a GUI perspective also it is quite user-friendly and is responsive, thus it can fit any screen size. Clients just need to provide their details, choose the desired service, choose the desired therapist, preferred date, and timings. All set your appointment is booked. Clients can also pay for services rendered online via PayPal or can even pay at the office at the time of their arrival. Once the appointment is accepted by you, clients will receive an instant email notification.
Unlimited services mapping
Using the BookingPress scheduler WordPress plugin, you can scale up your business by adding any number of services and start receiving bookings. Also, this comes without any extra cost. Unlike many competitors available in the market, BookingPress does not charge anything extra for selling more services. BookingPress also doesn't set any constraints for time i.e. you can have appointments of any duration time as per your convenience.
Empowers your business
The BookingPress plugin comes with groups of handy admin tools. It would enable you to focus on different activities and data, – manage clients, payments, and appointments individually. You can customize the WordPress booking widget and get everything on a single dashboard. With a calendar view, you can manage your appointments easily. You can get insights into your business performance, by seeing the statistics and reports catered in a single-view mode provided by BookingPress. Simple readable and precise revenue charts and graphs are an added advantage.
Increase the productivity of your business by adding breaks, days off, and holidays to the regular working time to your schedule just by a single click. You also set automated emails notifications as per requirement. Finally, the BookingPress plugin comes with built-in spam protection and is also translation ready i.e. you can translate the BookingPress plugin into your language easily.
Final thoughts
In the digital era, having a Spa Scheduling Website is a must. It not only makes a business successful but also makes it in keeping their clients happy. The more the clients are happy, the more the profit business will get you.
For doing so, the BookingPress appointment booking plugin comes into the picture. It facilitates in setting up a booking system as per your need on your existing WordPress website that too with ease. Not only does it manage your bookings effortlessly but it also provides different ways that can make your business grow exponentially.