5 Fresh Spa Marketing Ideas to Boost Your Business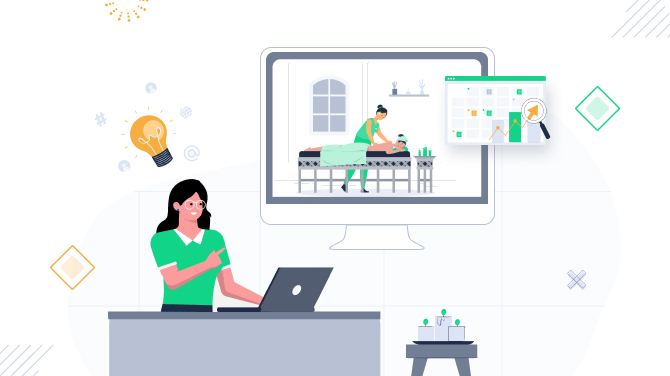 According to a study, there are 20,000 Spa businesses in the US as of 2022 which is an increase of 0.4% from 2021. Having a good Spa marketing strategy can make your business stand out among the crowd.
In this article, we would look into the top 5 latest spa marketing ideas that can help a spa business grow – both immediately and in the long run.
Let's get started then.
1. Get your spa on Google Maps
Having online visibility for a business is a must nowadays. So you need to make sure that your spa business is visible online. It means that when any people are searching for a spa in your area then they must be able to locate and see your spa. Also, most people use Google Maps when they need to find local businesses near them.
For adding your spa business on Google Maps, you must first register your business information on Google My Business. It is free and easy and may just take a few minutes only. Getting a business listed on Google Maps is considered to be valuable.
2. Develop a website for the Spa
One of the best ways of promoting your Spa online is by developing a website for your business. It may happen that more people may visit your spa business online than offline.
If you already have a website, then highlight different photos and videos of your beautiful spa, and provide details on your services and the working hours of your business. You can also answer any queries your customers may have before visiting the Spa.
If you don't have a website, then you can hire someone to build it for you. It may appear to be quite expensive but may provide a good result in the long run. You can also develop your own website. There are many tools available in the market for doing this.
3. Get an online booking system for your spa
Having an online booking system for spa business is considered to be quite important nowadays. If you have not included this in your marketing strategy, it will not only make you lose appointments but your business growth may also suffer.
Also, the easier the process is to book appointments, the more are the chances that you would get more appointments. Not only a spa online booking system may allow the customer to book their own appointment online at their own convenient time but it will also give you freedom from the complex appointment process.
4. Prompt your Spa business on different Social Media Platforms
Currently, about 42% of the world's population is using different social media platforms. Social Media Platforms are not places for sharing photos and videos, but it has turned into a global audience where you can brand and promote your business. This phenomenon is called Social Selling.
Social Selling can be defined as a way of finding and engaging new clients using social media. In this businesses use the content on social media to add value to their products or services. Also, products can become more credible by answering the queries or questions that are given in the comments.
For business, it is not necessary to be on every social media platform. We have categorized three social media platforms where your spa business can be active along with some analysis done to prove that.
Instagram
More than 80% of Instagram users follow business accounts.
It may include a spa business.
This means that these users would use Instagram to search for a business whose products or services they want to buy or visit.
Facebook
Out of the total females(percentage-wise) using social media 75% use Facebook. In the same way out of total males(percentage-wise) using social media 60% use Facebook.
This means that one of the large target audiences is on Facebook.
Having a spa business on Facebook can help in bringing potential customers not only to discover your business but it can also to get to your business.
Twitter
Twitter is considered to be one of the most casual business platforms.
Every day about 500 million tweets are sent, millions of people check new links, articles and brands each day.
5. Getting Offers for holidays
The Holiday season is the perfect time for expanding your business. You start by offering some packages, gift cards, or special discounts during this time. During holidays people spend more on looking their best. Also, some people may gift cards to their friends and relatives. Incorporating this type of offer into your services can boost your sales.
Let's Conclude
The spa business is quite a niche business but still there are many competitions around. Having said that, you can try out the above five spa marketing ideas. It will not only get your required results but will also upsurge your spa business within a short period of time.
If you like our fresh Spa marketing ideas, you should check out this one about how to raise customer attendance rate at your spa.