WordPress Scheduling Plugin vs Scheduling Software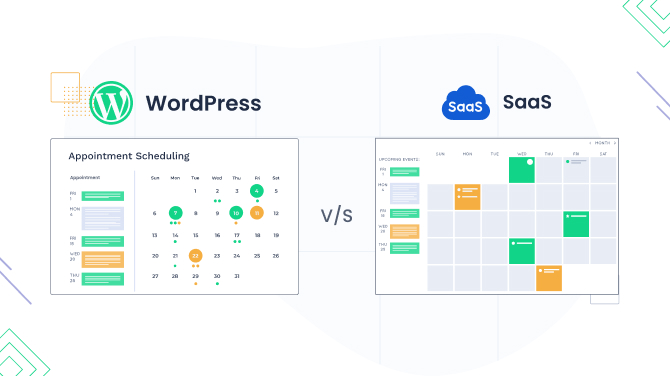 Are you looking to integrate the appointment scheduling functionality for your hairdressing salon, clinic, or music recording studio website?
You have probably come across multiple solutions with various pricing models and systems. It takes time to weigh the pros and cons of choosing software for service providers.
Here on the BookingPress blog, we mainly cover WordPress and appointment scheduling software topics for all possible types of businesses out there, so we are pretty much people in the know and are ready to share a few advantages and disadvantages of using WordPress scheduling plugins over the proprietary software; the latter is often referred as a cloud, SaaS or hosted software.
But first, let's clarify the difference between WordPress and hosted scheduling software to help you choose the option that best suits your service business requirements.
What is the difference between WordPress and hosted software?
With hosted software, people typically register and access the software via their browsers, and installing the software locally on their devices is not required. The sign-up/sign-in process is usually familiar and straightforward.
Well, to sign in to your WordPress-based site, you can also use a normal web browser page. But this time simply sign-up is not enough…
WordPress is open-source software, and for self-hosted wp.org websites, you need to download and install the software on your hosting platform or install it directly within your hosting. Once installed, you can finally add your preferred design (a theme) and the booking plugin of your choice to automate appointment scheduling.
Too difficult? Looks like the first disadvantage of WordPress? Let's not be too quick to judge. While it's obviously much more work to set up the booking plugin with WordPress, it ultimately results in the creation of your fully independent site that you can customize in any direction. In contrast, SaaS software is usually restricted in this sense.
But let's see what other features we can list and name.
Pros of a WordPress scheduling plugin over scheduling software
Let's start with the factual pros of WordPress.
It's crucial to differentiate WordPress as a foundational software from the actual booking plugins, which can vary depending on the provider.
In 99 out of 100 cases, WordPress is more affordable
While WordPress itself as open-source software is free, commercialization occurs in the territory of plugins and themes.
The appointment scheduling software you want to use may be a paid solution, but it's still more cost-effective than hosted software. Simply open any pricing page of any cloud-based software and see the difference.
Proprietary software may charge per item, such as per booking or per assistant manager (staff) in your company, whereas WordPress plugins charge a flat fee once a year or sometimes even once in a lifetime.
WordPress is much more flexible and extensible
Designed with extensibility in mind, WordPress is a global platform. While proprietary software may offer all the bells and whistles you need and expect, you might have to wait a long time to request a feature that wasn't initially integrated into the software.
It's quite the contrary with WordPress. Need one more gateway for your service business? Connect WooCommerce. Want to transform the booking form layout? Ask the developer or even your friend with a head for tech, and viola, it's ready. It might cost you some money, but it is unlikely that WordPress can't do it.
WordPress is here to stay
It is the most widely used website-building software in the world, and its market share is only increasing. WordPress is a stable, secure, and forward-looking platform supported by hundreds of thousands of enthusiasts and developers worldwide. You can feel absolutely safe entrusting your site to WordPress.
In contrast, SaaS software is often run by small teams, and it's hard to predict where the tech world will turn tomorrow and which appointment-scheduling vendors will appear as mere startup bubbles.
There is a global community to address any issues
There is a global community available to help address any issues you may encounter. If you run into any problems on your site or with your booking plugin, you can reach out to a developer who provides support, start a forum topic, or read an article. There are many tech blogs that help break things down for beginners and seasoned developers alike.
Easier languages availability
We are not saying that WordPress appointment plugins, or any other plugins, are available in all languages worldwide. However, it's much easier to translate the interfaces of WordPress plugins, even with the help of crowd resources and platforms.
If you're interested in what you've read, the next step we suggest is choosing the right software for your business needs. We've previously researched multiple WordPress scheduling plugins for diverse business requirements, including BookingPress, for fair comparison:
Cons of a WordPress scheduling plugin over scheduling software
And where are the pitfalls? Time to get to the disadvantages!
WordPress scheduling plugins might not be as robust as scheduling software
It's true that many WordPress companies, plugins, and theme providers, work hard due to the fierce competition in the market.
This can sometimes lead them to spread their focus across multiple projects, resulting in a lack of concentration on any one particular area. As a result, the booking plugin they offer may not have all the essential features and robustness of dedicated cloud scheduling software.
It takes a learning curve
Cloud software providers create a user-friendly interface, making their software very client-oriented. This is something that WordPress plugins might lack.
Sometimes, you might need to learn technical jargon to figure out how things work, which essential plugins are required beyond your booking plugin, etc. This can lead to more hassle and time-consuming tasks, requiring a learning curve.
Customer service? Submit a ticket
Even though it's not always the case, and unless it's a big company, it's not that common in WordPress to provide live chat support or any other quick and smooth way to communicate with clients. So, some companies may make you wait for days to get an answer! However, this will differ from company to company.
To conclude: What to choose and why?
To conclude, here is a brief and readable list of the pros and cons of each option:
Why choose a WordPress scheduling plugin?
It is affordable.
You can easily integrate and connect anything to it.
It is forward-looking, reliable, and secure.
Why choose hosted booking scheduling software?
It might offer more features.
It might be more user-friendly.
Although we are advocates for WordPress and have seen many people switch from pricey SaaS companies to affordable WordPress plugins, we have provided both the pros and cons we have experienced. Ultimately, it is up to you to make the final decision!