How Online Booking Plugin will Help Legal Consultant Firms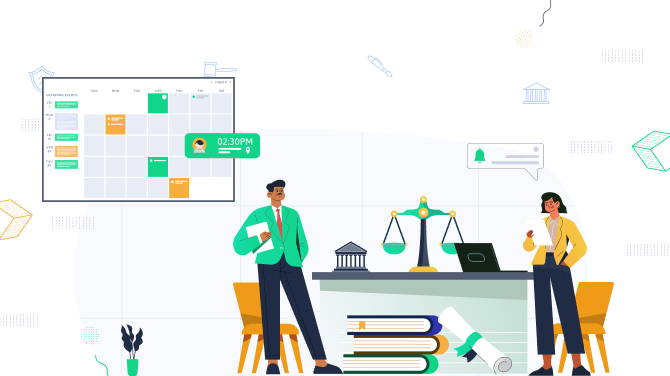 Whether you are tasked with creating an online appointment booking website or just want to firstly learn the benefits of the latter, this is the right place!
In this article, we aim to highlight and analyze the key benefits of integrating an online booking plugin for legal consultant firms.
We are sure that the key pros for both you and your clients are obvious.
You can become highly independent from third-party websites and automate bookings, thus setting the routine workflow on autopilot, cutting down expenses on manpower and at the same time improving all operational processes.
But let's find more potential benefits in three major categories.
1. Automate legal consultations and other types of services your firm provides
Every law firm needs the right level of automation. This will save time and money for your, and in some cases for your client.
Instead of scheduling legal consultation appointments or tutoring services by phone or email, which is super time-consuming, you can integrate secure automation for appointment bookings.
This also means you can ease the communication with clients without losing the quality of service; quite the opposite, make your legal firm look more convenient, professional and modern.
Since with a booking plugin you will also be able to automatically send all related emails, in addition to the booking notifications, you'll also automate your replies from the business owner website.
2. Convey your legal brand as tech-first and client-oriented
Customers don't have to figure out how to contact you or go through the long and boring process of the registration through contact forms (quite often with a feeling of uncertainty if they'll be contacted back).
When you provide a modern, secure and handy way to make a consultation booking, there is guarantee you'll win over your customer's trust and reliance. It's worth mentioning, of your new and existing clients!
In addition to the automated notification, you can connect with customers easier via messengers and other ways, send automatic PDF invoices, integrate third-party applications and more; this is also within the possibilities of the booking plugin.
3. Manage staff, clients, and bookings easier in one place
An online booking plugin gives you multiple features to control all key sides of the legal advice scheduling, including accounts for the staff, client management, as well as the system for bookings.
This will surely help you manage all the business aspects, including the customer database, employee scheduling and other features even without any extra help.
Once again, this will help you save time and concentrate all the key processes under one roof.
Let's now get down to business and see the real features you can use to schedule appointments with the online booking plugin for legal consultation firms.
About BookingPress for WordPress: a top-notch solution for legal consultant firms
Since we have the biggest experience of working with WordPress, we offer the WordPress booking plugin for online appointments, definitely including for legal consulting firms.
The BookingPress WordPress appointment scheduling plugin allows you to manage all your consultations, staff, and clients in one user-friendly platform on WordPress, which will work for a variety of use cases.
So which complex tasks can the booking plugin solve?
Make arrangements with individuals or groups providing legal consultation for anyone, including the ability to offer online and offline consultations.
Integrate a mobile-friendly booking widget into your existing website under the running domain name.
Get paid online even before the appointment, this way securing an appointment for clients and avoiding no-shows for your side.
Always have insights on how well your booking plugin performs thanks to the integrated analytics (how many bookings you get).
Allow clients to choose the legal field and category that they want to get a consultation in.
Intelligently regulate pricing for services.
Have all important consent checkboxes in place (GDPR, spam protection, etc.).
And what exact features can we talk about?
You can adapt the booking experiences to your business and integrate multiple booking tools.
The plugin includes style variations which you can tweak yourself, for example, adjust colors to match your brand colors. This will help you get a tailored booking widget for your law firm and the customization options to help you make the booking widget a natural part of your design.
Earn more by providing extra services that clients can add to cart when booking a legal consultation (e.g. allow them to book specific document forms, or other legal services). It's easy to sell more than one service at a time!
Win even more engagement from clients by selling legal consultation with discounts.
Accept payments online via various payment gateways, including PayPal, Stripe, 2Checkout and more, with the option to offer only deposit payments.
Send automated SMS notifications to be even closer to your customer.
Allow clients to add scheduled appointments to their preferred calendars, including Outlook, Google, Yahoo.
Integrate Mailchimp to set email marketing techniques on autopilot.
Get benefits of connecting Zapier, a multi-app platform for using any extra solution.
Thanks to the support for multilingual WordPress plugins, you can translate the consultation booking widget for your law firm easily.
To sum up, any legal consultant firms can benefit from managing multiple bookings and multiple employees with a set of handy WordPress booking plugin that consolidates all features under one roof.
Conclusion: So How Will Online Booking Plugin Help Legal Consultant Firms?
With an online booking plugin for legal consultant firms, you'll be able to reduce operational costs on legal advice scheduling, that is, to optimize all the client and booking management routines and boost performance of your entire business.
In simple language, you'll be able to earn more and cut down expenses at the same time, proving to customers that your business is tech-savvy, reliable and client-oriented.
Integrating an affordable yet powerful solution by BookingPress, you'll be able to automate booking payments, marketing and communications, which are crucial for any legal firm running a website and accepting consultation bookings online.
Hopefully, we managed to dispel your doubts that investing into a booking plugin will pay off over time. In any case, send us your questions and let's keep this conversation going!