8 Best WordPress Translation Plugins: Compared (2023)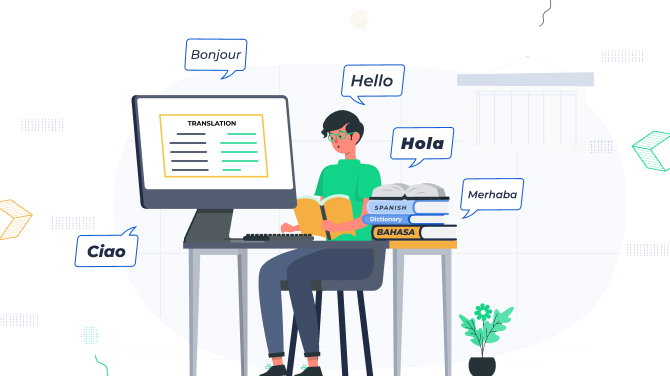 WordPress translation plugins exist to help you create a multilingual website, which might be a must when you need to serve international customers or readers.
Needless to say, you can get started with WordPress in your own language, but by default, it supports only one language at a time.
To be able to translate every page, post, and custom post type (a widget or other functionality piece) to more languages, you need a dedicated extension.
As a rule, translation plugins for WordPress, in other terms, multilingual plugins, allow you to add a language switcher to your website to any visible place and enable visitors to switch a language so that your website is immediately translated.
Since there are many details you might need to pay attention to, here is a quick checklist for choosing the best WordPress translation plugin to keep in mind:
All plugins related to translating your WordPress website boil down to two main categories:
WordPress multilingual plugins (the plugin allows you to add translated content by hand).
Translation plugins for automated translation (machine-generated translation, such as via Google Translate).
It's worth mentioning that some plugins combine both options. We'll be talking about two of them in the post.
For multilingual plugins, If you use any specific WordPress plugins on your website, we strongly recommend referring to the plugin provider/their documentation to find out which WordPress translation plugin they support best. It usually takes extra effort and procedures to make a specialist plugin optimized for the functionality of a third-party translation plugin. For example, our BookingPress appointment scheduling software is tested to work with all major multilingual plugins.
Some WordPress translation plugins have integration with WooCommerce, so if you run a shop, this type of utility can be a necessity to simplify the translation process.
So let's highlight the most prominent features of each solution.
5 Best WordPress Translation Plugins (Free and Premium)
As we've already mentioned, these plugins are made to help you smoother and easier add human-made translations to your site pages.
Polylang
We put Polylang top in our list because it's the simplest and most powerful, trustworthy, and free WordPress multilingual plugin. It will suit any basic needs, even if you are on a very small budget. You can use it for adding unlimited languages.
The free version of Polylang has a wide range of post types and taxonomies you can translate and adds a good level of flexibility as to where you can locate the language switcher widget.
Pricing: free to €99.00 per website.
Key Features:
A set-up wizard that helps you get started and understand the interface of the plugin faster.
The ability to use different sub-domain or domains per language.
For better compatibility with WooCommerce, you'll need to purchase an extra addon.
WPML
WPML is one of the most comprehensive premium plugins for building a multilingual website. It is unlikely a shortage of features you can experience since the plugin combines both automatic and human translations.
You can choose a format of an URL for different languages to make your site SEO-friendly. Not that some important features, such as automatic & string translations, and page builder support are available only in more expensive plans.
Pricing: prices start at $39.
Key Features:
One of the most established and powerful plugins for multilingual websites.
There is a third-party integration plugin for easier WooCommerce products translation: WPML WooCommerce.
Makes it easy to access any area of your WordPress site for translation, including tags, categories and custom post types.
Weglot
The Weglot WordPress translator plugin is another popular option with very quick and simple set-up and configuration process. Unlike other standard WordPress translation plugins, Weglot asks you to create a cloud translator account, where all your translations are stored.
The plugin is smooth at helping you to translate custom post types, widgets, taxonomies, and custom fields. It also supports machine translation by DeepL, Google, Microsoft, and Yandex.
Pricing: free to €15 for the cheapest plan (limited to 10K words).
Key Features:
A powerful in-context editor that makes it easy to translate directly within the site page.
Multiple design options for the language switcher.
A free version of Weglot gets you started with a good bunch of solutions.
TranslatePress
The TranslatePress plugin is another popular solution for creating a multilingual website. When working with the plugin, you'll see both the backend editor and the frontend one too.
There are translator accounts you can add to help you speed up the process of the translation. The plugin also supports automatic user language detection based on the browser or IP settings.
Pricing: free to prices start at €7 per month.
Key Features:
Flexible in terms of accessing pages, posts and custom post types.
Customizable language switcher.
Easily integrated with Google Translate and DeepL.
WPGlobus
It's a nice free WordPress multilingual plugin with paid extensions. It works only for manually-added translations and helps you access posts, pages, categories, tags, menus, and widgets. The plugin has lots of features and adds a top-bar selector for switching a language.
Pricing: free.
Key Features:
Support for WordPress page builder plugins.
Incorporated SEO features.
They have a dedicated addon for WooCommerce (paid).
Automate your scheduling needs with BookingPress
Don't do it by hand, automate your appointment bookings today!
Automate your availability and bookings to streamline your business management on WordPress with BookingPress. Easily organize your clients, transactions, email notifications, reservations, schedules, and more to keep it all centralized and up to date.
Browse the BookingPress features to see how you can boost your service business!
3 Best Translation WordPress Plugins
As we've already mentioned, this type of plugin allows you to translate website pages automatically into the needed language, to be more precise, they make this feature a center of attention.
Google Website Translator
As the name suggests, this plugin adds features of the Google Translate service and helps you automatically translate WordPress with ease.
Pricing: free to prices start at $10 per month.
Key Features:
Highly rated and used by 10K+ people.
Use it as a widget or shortcode.
Smooth import and export settings to easily transfer configurations.
GTranslate
It's another decent WordPress translator plugin that smoothly integrates Google services into your WordPress website, works and looks well, also offering multiple important tools in a premium version.
Pricing: free.
Key Features:
Google Analytics for insights pre-integrated.
Free automatic translation is created upon installation.
In paid versions, you get more SEO tools, WooCommerce and AMP support.
Loco Translate
Loco Translate is a popular WordPress translator plugin that also adds automatic translations to your site with Google Translate, as well as supports APIs for DeepL, Microsoft, and Lecto AI.
Pricing: free.
Key Features:
Deep access to theme and plugin language files and source code.
Suitable for developers and beginners.
PO translation files backups.
Conclusion: What is the best WordPress translation plugin?
We've just listed a few best WordPress translation and multilingual plugins that help you translate your site with human or machine translators.
If you want to stick to an affordable and feature-rich plugin, Polylang and Loco Translate are trustworthy choices. For a premium all-around and comprehensive tool, you'll experience no limitations with WPML.
If you want to keep your translations maximum save in an external account and focus on both human and automatic transitions, you'd want to learn more about Weglot. In any case, all these plugins have proved their expertise and are ready to meet various needs.