Free Appointment Scheduling WordPress Plugin for Effortless Bookings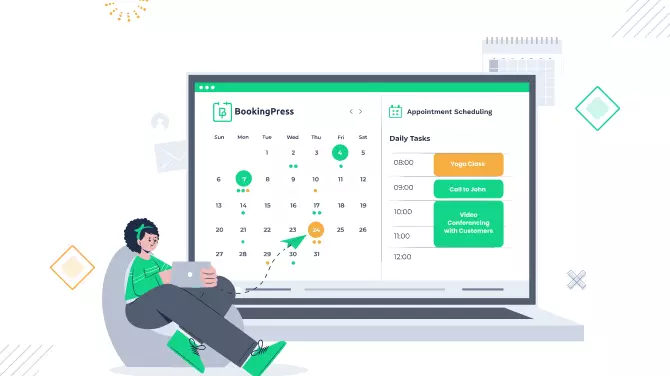 In the oversaturated WordPress market, it's hard to imagine a great appointment scheduling plugin that would deliver the ultimate kit of the common industry features for free.
We're looking to challenge this stereotyped image of that low value that businesses usually get using free WordPress solutions.
Our fresh plugin, BookingPress, is developed to become the sole appointment booking plugin for WordPress you can use for free without that many constraints.
The BookingPress plugin has all you need to jumpstart your service business website that aims to sell time, ranging from barbershops and beauty salons to education foundations.
Sports centers, recording studios, private tutors and coaches will find our appointments plugin a pretty good fit for automating their reservations and schedules,
Developing our other WordPress products loved by thousands of people worldwide (Form Builder, Membership WordPress plugin, WordPress Pricing Table plugin), we've got years and years of expertise under our belt and feel pretty sure that with BookingPress we've managed to deliver an intelligent, forward-thinking plugin for your scheduling business.
This detailed and exemplified BookingPress review will cover the specifics of its features, design and the booking widget customization process.
Jump to the BookingPress docs to get acquainted with the plugin step by step.
Key concepts of BookingPress: is it a good fit for you?
The BookingPress plugin delivers loads of tools, including online bookings, appointment calendar, tailored booking widget, customer base management, payments and more.
To make a long story shorter, we'd also like to highlight the key concepts that underlie our new WordPress booking plugin.
Key concepts
The center of attention in BookingPress are the following things
Easily operated settings for non-techs, 100% human-friendly (you'll virtually work from one screen)
Flawless, clean and modern UI of the booking wizard, aka, design-first approach to encourage a higher-touch customer experience
Customization flexibility for robust, secure and good-looking software.
Who is it suitable to?
It all depends on your business size, aims and a working time schedule according to which you want to operate. We'd say the current free version of BookingPress is in the first place suitable to:
one-person operated businesses (e.g. tutors, beauty salon owners, coaches)
single-entity businesses with more than one employee if there is one schedule for the entity and it doesn't matter who of your staff members provides the service.
But who knows how much further you can adjust it!
Monetization, including free PayPal integration
We promised comprehensive features at no cost, here we go. The BookingPress plugin allows you to monetize your site using online payment processing services from PayPal, already integrated for free. A few clicks in the settings and your clients can securely pay you on your website.
Optionally, though, you can allow them to pay at your salon/studio/office.
Flexibility & versatility
Custom appointment duration
Works smoothly on mobile and tablet devices for bookings on the go
Customers can submit bookings on the frontend or you can add them from the admin's side manually
Appointments are organized in a list and calendar view in the dashboard
Loads of productivity tools, stats and analytical data.
Let's now take you through the plugin features, at the same time showing you how the BookingPress plugin works in a real-life scenario.
In all plugin menus, we're guiding you with shortcuts to the docs so that you can get the right piece of information immediately. We also allow you to leave a feature request so that we can collect your valuable ideas for the next plugin updates.
Dashboard links screen

For the demo purposes, we'll also show you how we created a booking page and set the appointment scheduling system for sample music and recording studio website that allows your customer to book a recording studio space for the preferable time and date.
Add limitless bookable services based on your business industry
What's the business of the appointment about?
It's all grounded in services – so first of all, you need to add those services that you will sell as timeslots. The whole list of services can contain unlimited items.
Services screen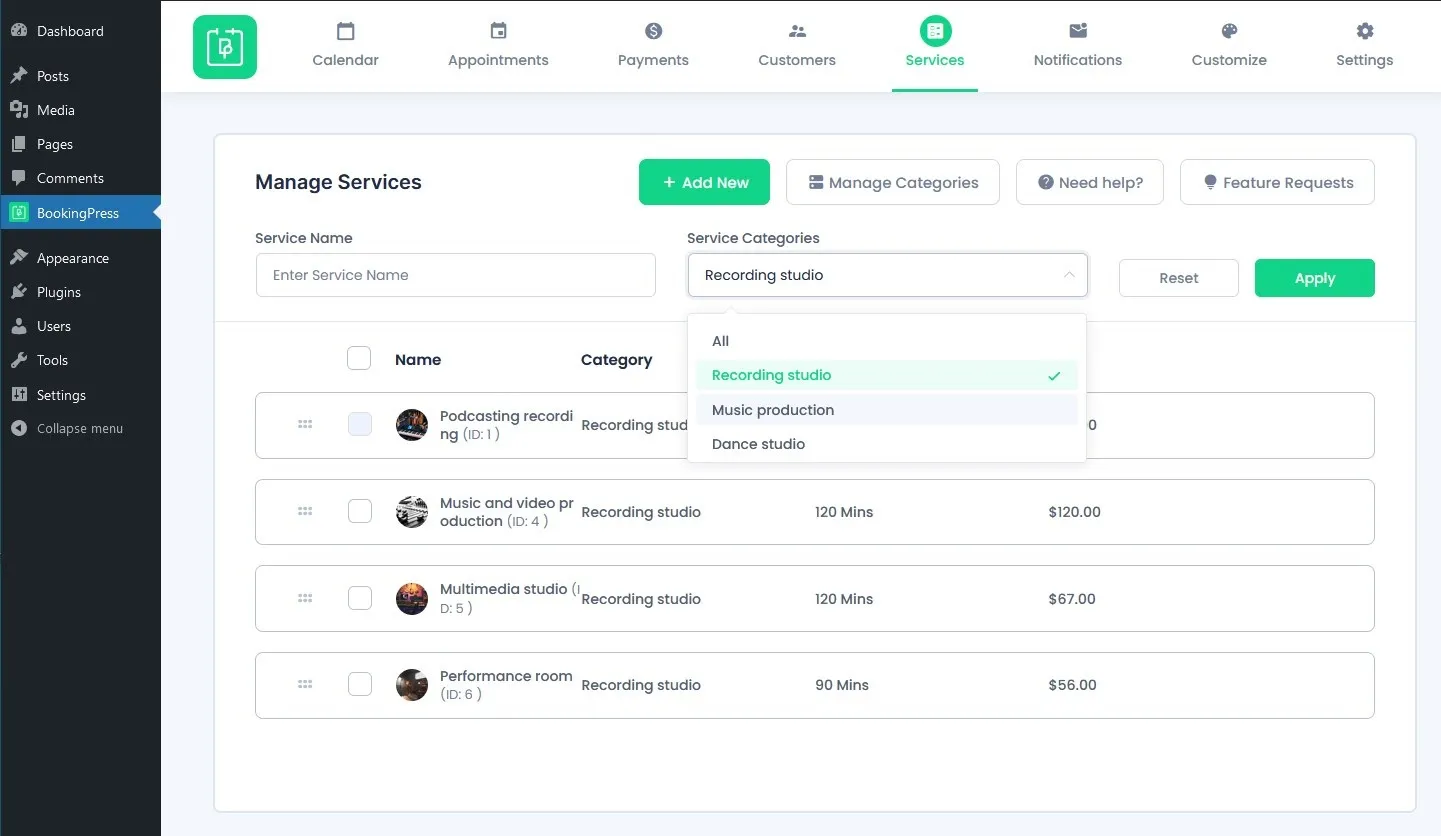 These services, for your and your customer's comfort, can be assigned to various categories.
Each service can contain an image, duration (any custom time), cost and an optional description.
Single service customization screen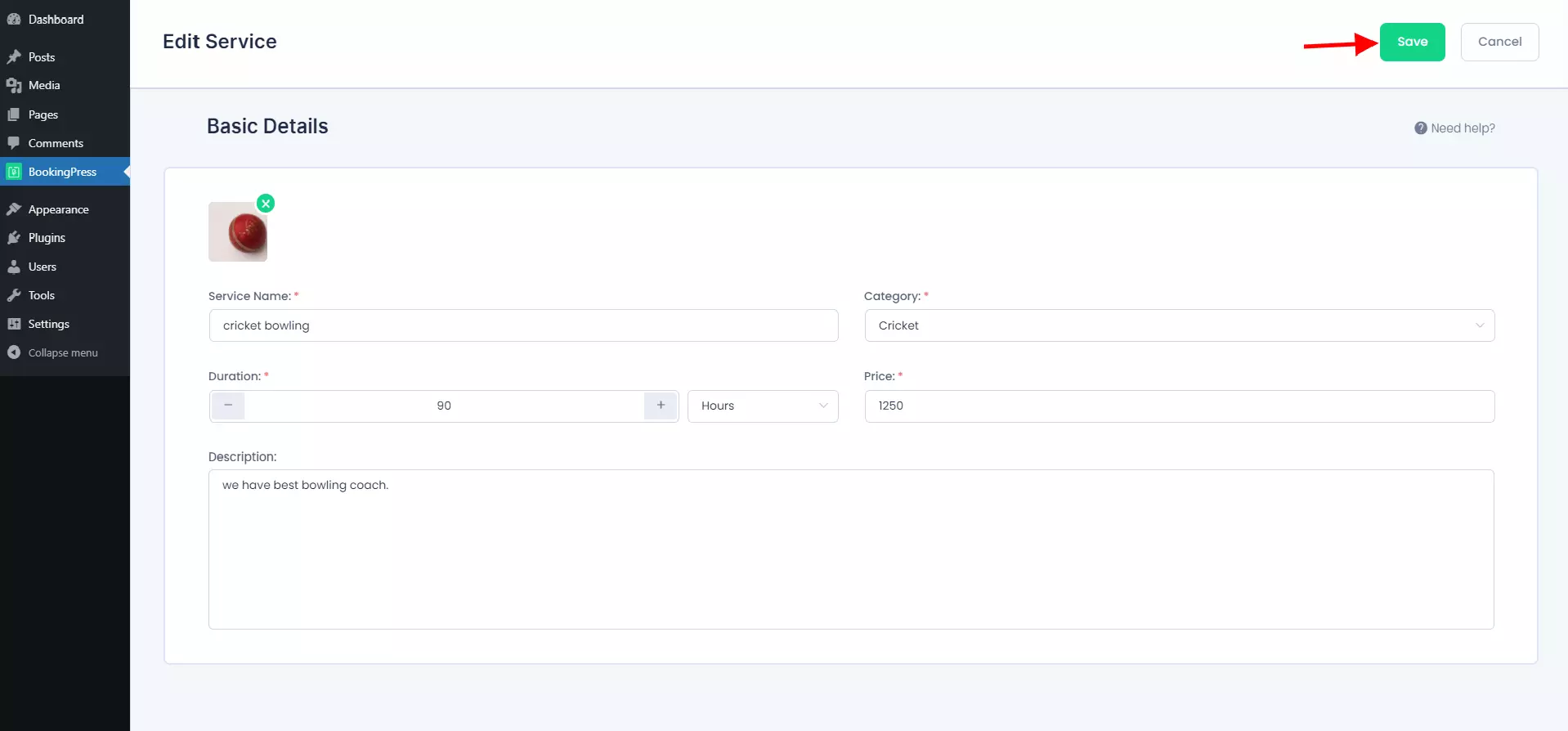 The BookingPress plugin makes it handy to manage services and their assigned categories – add, delete and search for services.
In our example scenario with a recording studio, we can have several dedicated spaces in our establishment, for instance, for the music and video recording, podcasting and performing. It doesn't matter who of your staff members will be at the studio, clients book the needed spaces for the chosen time.
That means you can have several people working in your studio and clients booking different appointments with different service providers – because the booking is made based on the space/service.
Once we've added the needed services, it's time to take a closer look at the schedule, payments, email notifications and general settings.
Create tailored schedules: days off, breaks and working hours
Another important step for setting up your appointment booking system is creating a schedule that will include all the regular working hours and days off.
You can find a configuration panel for this in the Settings menu, Working Hours and Days off tabs.
A general schedule is created by weekdays and can be tailored with breaks. For each of them you set the particular time:
BookingPress schedule screen
Navigate to the Days off menu to specify days when bookings are unavailable, e.g. holidays or vacation days. To better automate this process, the plugin also allows you to repeat a chosen days off each year:
BookingPress days off screen
Pre-configure the appointment booking wizard your way
First of all, we need to set up the appointment booking general configurations.
Those again relate to two menus: General Settings and Customize, the latter relates to the booking form appearance.
In General Settings, you can set the default booking status that a booking is assigned once it's placed on your website – it can be either pending or confirmed right away.
Booking statuses BookingPress screen
If you choose 'confirmed', that's the way to completely automate your bookings and spend less time on processing them manually.
You can also decide on what page your clients will land once their booking is submitted by adding custom redirection URLs for these pages.
In the same menu, you can pre-select the needed phone country code to accelerate the process of submitting a booking for your client.
As you see, the BookingPress plugin comes with loads of productivity tools to simplify your tasks as a website administrator, as well as creates a great UX for your customers.
BookingPress settings screen
There is a separate menu for validation notifications that you can show customers at checkout in response to incorrect actions. This will help you guide your clients through the entire process and make them feel supported all the way long.
Messages appointment plugin BookingPress screen
Automate appointment email reminders
No need to spend that much time on communication with customers. There is a great Notifications menu, which gives you tools to automate email notifications for both sides, you and your customer.
There are templates you can adjust for approved, pending, rejected and canceled bookings. If they all are set, the system will send event-driven emails on autopilot!
Email notifications screen
Payment processing on the website with PayPal or pay at the office methods
It's optional, but the BookingPress plugin allows you to easily set up a few payment methods at checkout – On-site (pay at the office) or PayPal.
We actually offer free PayPal integration for the booking plugin as an exclusive feature you won't find in the vast majority of other similar plugins.
Setting up these methods is a rather usual process; if you want to integrate PayPal, you just need to connect your business account details that can easily be generated in your PayPal account.
What's more, our WordPress appointment booking plugin also allows for a sandbox mode, meaning you can test how the payments work before going live.
Payment processing screen
All the payments made through the site are stored under the Payments menu where you can view the entire list of payments in a handy list:
BookingPress payments screen
For your further testing convenience, we've also added debugging tools that are going to be helpful in test-driving the plugin.
Tailor the appointment booking wizard: edit colors, fonts, layout and more
It's probably the most enjoyable process of tailoring your BookingPress online booking form to become a great website fit in terms of the color scheme, page width, background type and the rest of things.
With such a range of tools, it's going to look good no matter a WordPress theme you use!
Navigating to the Customize menu, you can find a super handy visual editor for your booking wizard that provides tools for the style, layout and field settings.
Styling
Here you can change a background color, accent colors, font size and type – and see your changes applied immediately in the WYSIWYG way. If you are familiar with CSS, feel free to also apply tailor-made styles.
Form settings
You can choose to hide the needed form parts and steps, such as the service & category selection step, show or hide the Previous/Next buttons, opt for hiding already booked slots, customize button labels and even pick a date format.
Booking wizard BookingPress screen
My bookings page for customers
You can also decide how the bookings table should look for a customer – just as for the form fields, there are settings for colors, layouts and specific info bars.
My booking customization screen
Each time you make changes, don't forget to save them!
Let's now see how to add our completely customized widget to the website page.
Since it's a very simple shortcode, it's pretty flexible and will work on any site page no matter a page builder you prefer. For example, the default WordPress block editor and Elementor make it a breeze to add the BookingPress widget.
We're adding our block for a test in Gutenberg (the block editor).
BookingPress shortcode screen
You can customize the page where you put a shortcode, for example, we're adding a thematic background image.
Booking wizard screen
The wizard will resize automatically to fit the screen of your customer.
Booking widget tablet view screen
Creating a booking, after selecting a needed service, customers choose available slots
Choose date and time screen
After that, a client provides their customer info and an optional note to you, then proceeds to confirm their reservation on the final step – with or without an instant payment
Submit details booking screen
Voila – their reservation is secured and you received a booking! The booking is created with the default status you set for it in the settings.
Thank you page screen
Manage the bookings calendar, customers and appointments
Well, testing the booking process gives us a few good reasons to refer to the appointments and the bookings calendar to see how it looks for you, a business owner.
Those are located under the Appointments and Calendar menus respectively.
Bookings calendar
You can search for appointments by statuses, services or even customers. It also takes a few clicks to change the calendar view to a month, week or day for easier surfing through bookings.
Appointments screen
By clicking on each booking, you can view all the details on the customer and a booking.
Heading to the Appointments menu, you'll see appointments organized in a list view – and do more operations, such as change the status of an appointment or delete it.
Appointments listing screen
But if you also take calls or answer emails, you can still record new appointments manually by clicking 'Add new'.
The Payments menu shows you more details on a gateway used and the amount paid.
Payments menu screen
In the Customers menu, the information is structured around customer details and the total number of appointments, if there are returning customers.
Customers screen
In the Overview section that provides real-life stats, you can view how much you earned lately
Overview screen
To keep yourself in the loop, there is also the upcoming bookings listing
Upcoming appointments screen
So it looks like we're successful at creating a working recording studio website that accepts online appointments and looks good, needless to say!
These are some of the paramount tools – of course you'll discover more when trying it out yourself.
Wrapping up – Get the comprehensive Appointment Booking WordPress plugin with PayPal integrated for free
Manage your own schedule, save time and money, share your availability calendar information and get paid right away via PayPal with our BookingPress appointment booking plugin that you can download for free, like now.
You can see for yourself that comprehensive booking plugins can be free and can deliver value, thus covering the whole circle or business operations, at no cost.
The BookingPress plugin ships with loads of multi-role tools ready to save you time and effort! At least you'd want to give it a try. Should you have any questions – let us know!