Payments Settings Available in BookingPress
You can set currency format and payment gateways you want to use from the payment settings. The format you select for the currency will be used everywhere in the front-end and back-end.
Currency
This option will allow you to set the currency that will be used for all prices.
Price Symbol Position
This option will allow you to set where you want to display currency symbols for the price. You will get four options :
Before the value
Before the value, separated with space
After the value
After the value, separated with space
Price Separator
This option will allow you to set the separator format. You can decide which symbol to want for thousands of separators, and which for the integer and fractional part separator (decimal separator).
For the thousand separators, three options are available:
comma
dot
space
For the decimal separator, two options are available:
comma
dot
Price Number Of Decimals
This option will allow you to decide how many digits you want after the decimal separator.
On-Site
The on-site payment gateway allows your customers to pay in cash when they come for booked appointments. This payment method will be enabled by default.
PayPal
This option will allow your customer to pay with PayPal for the booked appointments. You need to turn ON the switch to make this payment option enabled at the front-end.
To start with, you need to select the "Payment mode" which is sandbox mode or Live mode.
"Sandbox Mode" is a testing environment that will be used for testing purposes.
"Live Mode" is for the actual PayPal production environment and it accepts real payments. To use the Live mode, you need to add "Live Client ID" and "Live Secret" from your PayPal account.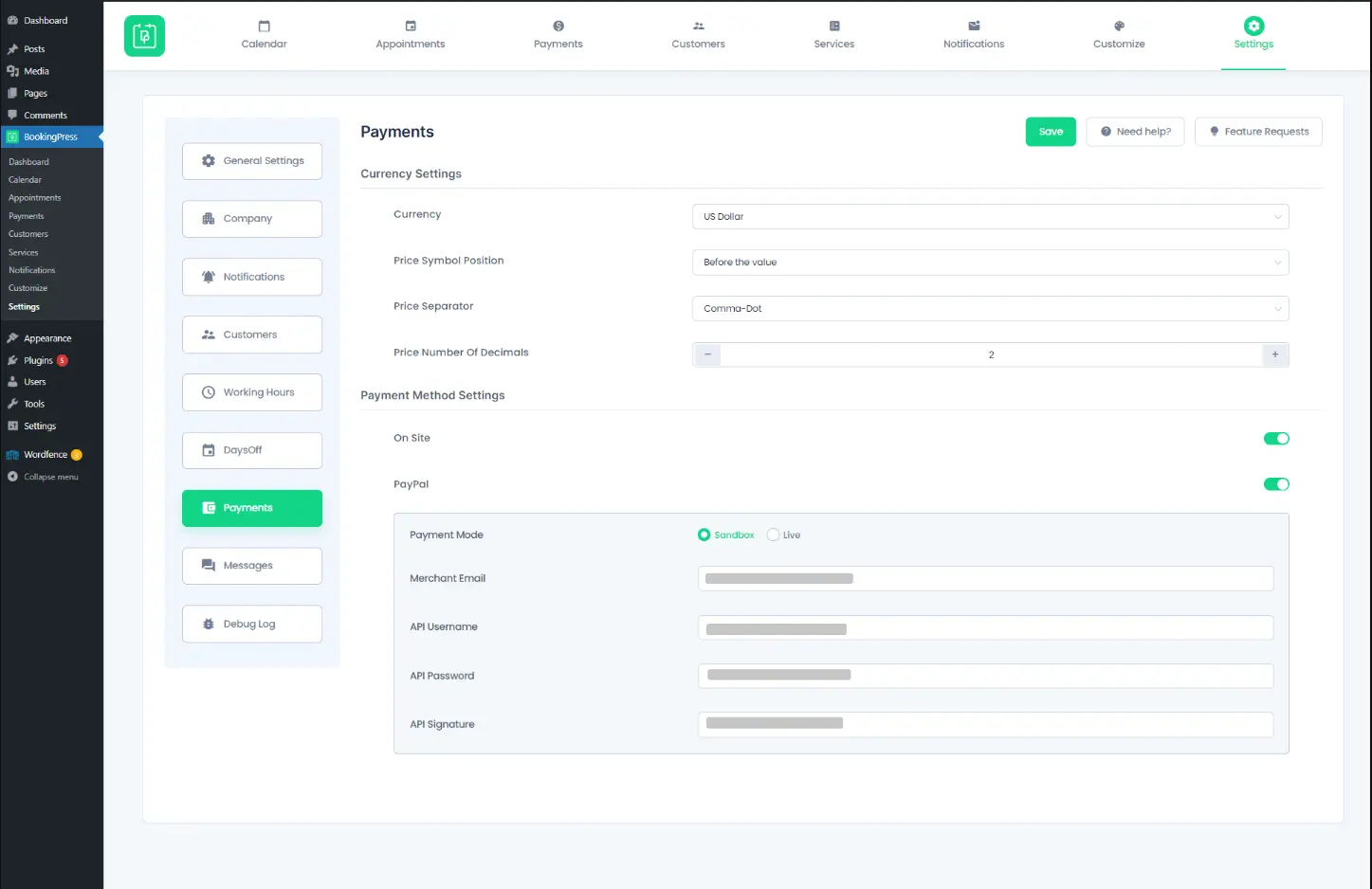 Follow the below steps to get API Keys:
Log in to your PayPal Premier or Business account.
Click the Profile sub-tab located in the top navigation area.

Click the My selling preferences sub-option in the left sidebar.
Click the API Access link under the Account Information header.
Click the Get Started link under the Request API Credentials heading.

Click the Update option for the API access item.
Complete the API Credential Request form by clicking the agreement checkbox and clicking Submit.
You will now get the API username, password and signature.