Customize Custom Fields
You can be able to customize and add the custom fields in the Booking Form by going to BookingPress -> Customize -> Custom Field
Following are some options for the pre-defined fields which won't be able to get deleted from the booking form:
Fullname
Firstname
Lastname
Email Address
Phone Number
Note
You can also select the priority requirement for any of the fields. If you click on the "Star" like button above the field, then that field will become the required field, meaning that the form will not be submitted until and unless the required field is filled with the appropriate details.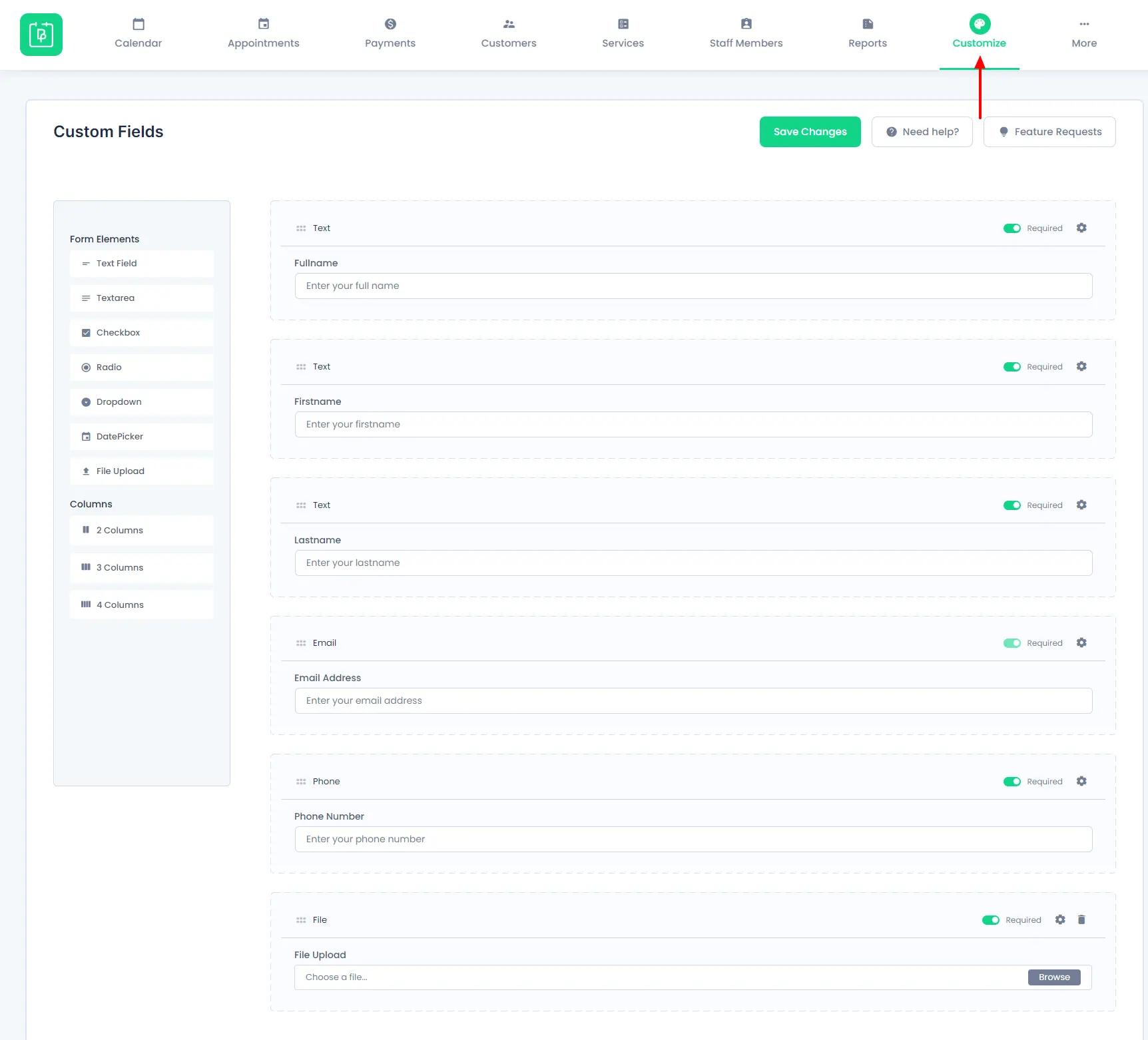 If you have added any Customer Fields from "BookingPress -> Settings -> Customers", then those fields will also be displayed here making it parted in the "Customer" section, which you can add as the Custom Fields according to your requirement.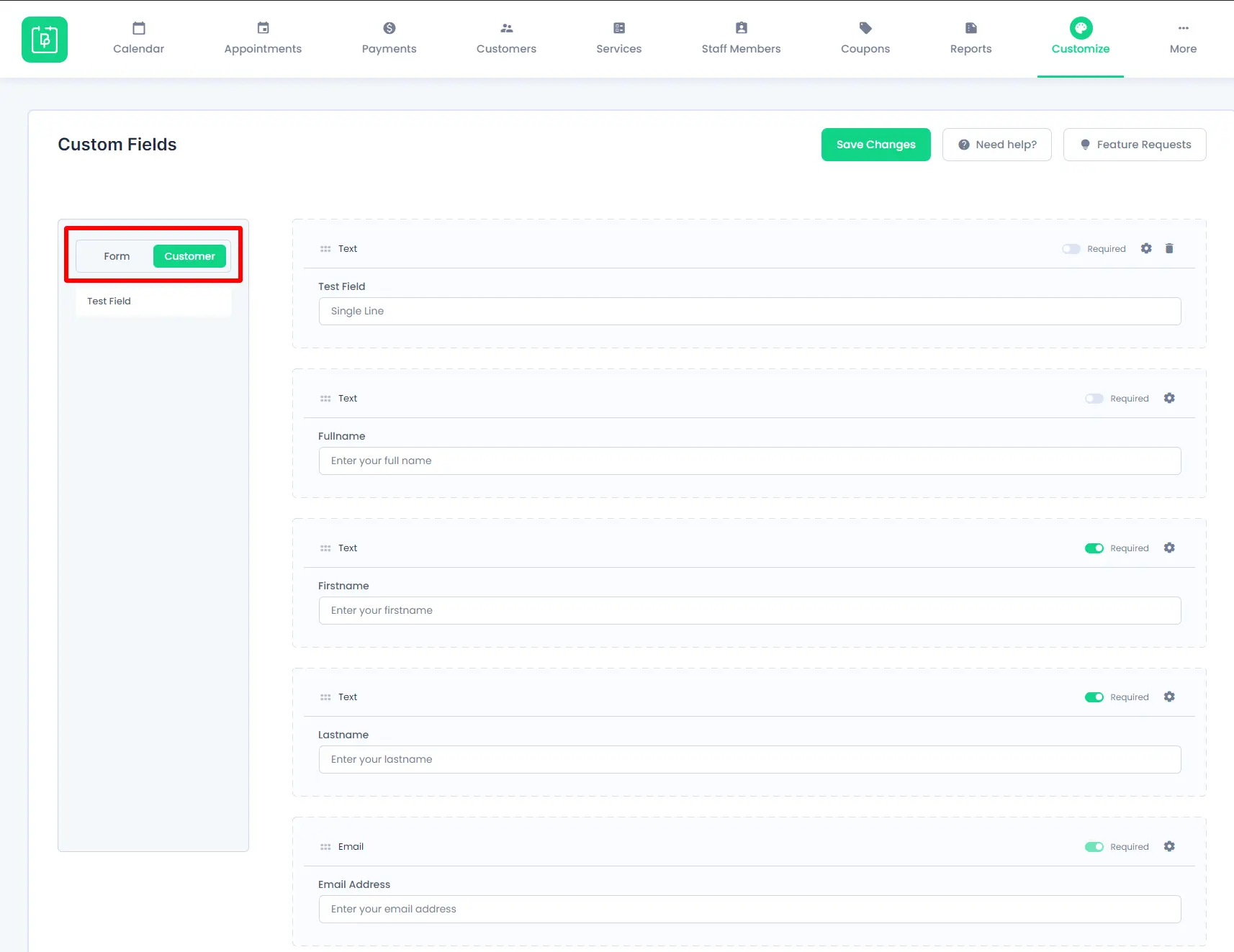 Pre-defined Fields Visibility :
BookingPress also gives you the facility to set the visibility of the pre-defined field.
Suppose you don't want to show a predefined field "Full Name" on the form, at that time, you won't be able to delete that field, as that field is pre-defined and can't be deleted. You can simply click on the setting icon set above the specific field and after you can set the visibility in three different options:
Always
Show conditionally on specific service
Hidden
Always:
This option will be set as default and the particular field will always be shown
2. Show conditionally on specific service:
With this option, you will be able to show a particular field based on the service selected from the booking.
3. Hidden:
If this option is selected, then the field will not be shown in the booking form.
Basic Fields :
BookingPress provides various custom fields with unique functionalities.
Text Fields
Textarea
Checkbox
Radio
Dropdown
DatePicker
File Upload
You can Drag & Drop any of the fields unlimited times according to your requirement.
1. Text Fields: If you want any information in a single line, for example, the firm's name, then you can drag & drop this custom field, and can ask your clients to add their firm's name in a single line.
2. Textarea: If you are going to need information that is more than one line or let's say about a paragraph, then this field will help you to get that. In short, it's a multiline text area field.
3. Checkbox: This option will help you to provide a list of options from which the user may select any number of choices, including zero, one, or several.
4. Radio: This option will help you to provide a list of options from where the user will be able to select only one option from the number of choices the admin provided.
5. Dropdown: The dropdown helps to allow the users to choose one value from a list of options at a time.
6. DatePicker: A DatePicker works as a pop-up calendar from which the user can select a date from a calendar from any past event or upcoming event.
7. File Upload: Through the file upload field, the customers will be allowed to upload the required files while booking an appointment. For example, an ID proof, or a CV, etc… Files can be uploaded based on the extensions set by the admin such as .jpg, .png, .gif, .jpeg, .ico, .txt, .doc, .docx, .pdf, .csv, .xls, .xlsx, .ods, .odt, etc… You can set different extensions to upload various file which is supported by the WordPress.
Columns :
With columns, you can add and divide the fields into different sections.
You can divide the section by:
2 Columns
3 Columns
4 Columns