Appointment Booking Plugin for Home Repair Services Website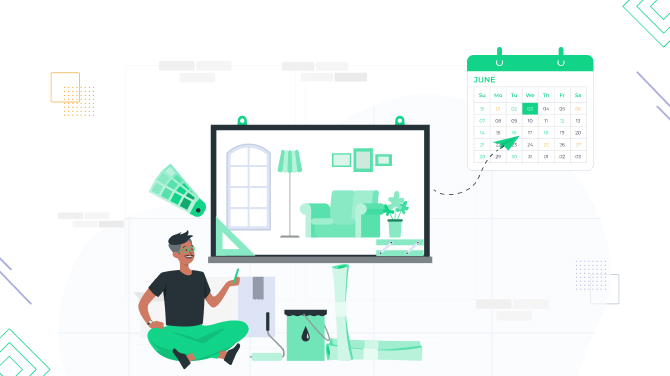 Home Repair Services are in great demand nowadays. People are striving from time to time to ensure their home appliances and fittings remain in good working condition. There is stiff competition among businesses that are offering Home Repair Services. You need to go digital to make your Home Repair Service business popular and accessible to everyone.
You can start by creating or developing a home repair service website in WordPress. It is the most popular tool that can be used to create a website. The next thing would be on installing a BookingPress Plugin for appointment booking and scheduling.
Getting an appointment booking plugin on board will boost your business and bring new horizons to your business in no time. Let us see how a WordPress appointment booking plugin can help you.
Save Time and Cost
Managing time is critical for any business. It can hinder the performance of the business. Answering Calls is an essential part of a daily task. These activities require more human intervention.
It may also happen that your phone line may remain busy due to client inquiries and service bookings. You may need a dedicated front desk person who can do this task. Getting new staff will only increase your expenses.
You can save time and cost by getting a booking plugin to do the above tasks. Also, it would be more convenient for clients too. No calls from the client's side and the scheduling would be done without human intervention.
Effective Solution for Client Appointments
Clients get the freedom to check the schedule of the business at any time using a booking plugin. Instead of calling the business, they can go through the home repair services website and schedule a date and time to book an appointment at their convenience. Once an appointment is reserved for a specific date and time, no other client can book an appointment unless you reschedule the appointment.
Facility for making payments online
You can further decrease your workload by including an option of online payments for your services. As for the manual method of payment, you would like a staff who would need to get details of the amount received and record it in the system again, and this might take some time and can also interfere with the other core tasks of the business.
Whenever clients make payment in advance, it would make them take their appointment seriously. Thus avoiding the chances of cancellations indirectly increases the business's productivity. Again the Business can opt for an option where the clients need to make partial payment while booking an appointment.
Automate the Schedule for Different Services
Home Repair services may include different services. A booking plugin can significantly help in this scenario as it can automate the whole process within a few clicks. It will display the availability of different services along with its schedule.
When any client books an appointment, only that specific employee will receive a notification when the client books an appointment. A shared calendar for the services can let the employees know the date and time for their scheduled appointments, as well as they will learn about the client for whom they would be working.
Multi-language Support
Irrespective of the language you understand or speak, your clients can book appointments easily using booking plugins. The booking plugin comes with predefined support for different languages. The client must choose the preferred language of communication while booking the service.
Increase in the Client Retention
Happy Customers are the most loyal customers. Booking an appointment and delivering excellent services are two things that can make clients happy. They will review your services online. New Clients who visit your website for the first time will read the reviews posted by these clients and will book an appointment. Therefore you must choose an online booking plugin to make the appointment booking process simple and quick.
Getting it right
How clients feel when they visit your website is the most important thing. Installing a booking plugin will make it easy for your clients to do business with you. They can know about your services, check your availability, book appointments, and make payments. Nowadays, clients want more than efficient service from the booking process. Giving everything in one go is more important.
Conclusion
Booking an appointment is an integral part of any service business. Businesses that have a more straightforward booking process for clients will succeed. Add an appointment booking plugin to your business to make your work easier and increase productivity.
If you enjoyed reading this article, you should check out these ones: