7 WordPress Appointment Booking Plugins with Invoice Tools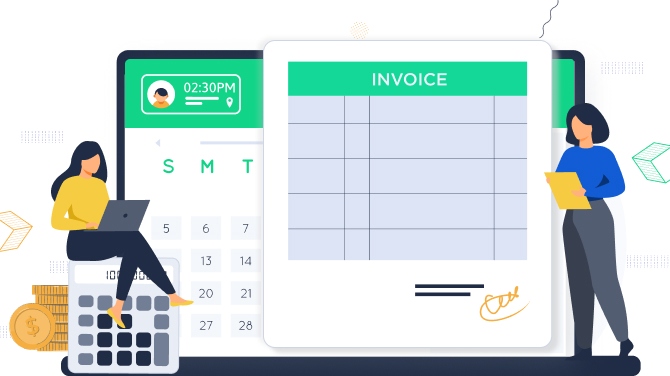 Want to integrate a simple booking plugin for WordPress, with the availability calendar and proper invoicing tools? We've decided to take a look at the plugins with a focus on the invoice feature.
It's important to send your clients an invoice about the services they paid for on your website, right?
Of course, the payment processors themselves (PayPal, Stripe, etc.), which are normally supported by the booking plugins, integrate invoices, but normally that process is not automated. You have to fill in the data in invoices manually.
So, today, we are interested in reviewing WordPress plugins that can create automatic invoices for you and send them to clients. The best way to do that is by using the custom integration provided by the plugin you use.
Strangely enough, not every plugin comes with a built-in invoicing solution (or even an extra extension), and very often customers are forced to use e-commerce integrations like WooCommerce to enable the invoicing functionality. Some booking plugins offer it as an optional extension or feature you can connect without a need to resort to extra paid solutions or integrations. In some such way, you can save time by sending automatic invoices.
Let's now list the WordPress scheduling plugins that provide invoices.
Read also:
BookingPress
The BookingPress plugin is a robust and comprehensive solution for WordPress sites that want to take appointments online and allow customers to make instant payments.
To further widen this functionality, the plugin is feature-packed to help you, for instance, hold virtual appointments, integrate with marketing solutions, customize the schedule and pricing, upsell services, and overall create a profitable booking page on the internet.
The plugin comes with the invoicing add-on, developed specifically to work with BookingPress. This add-on is available for free download within any premium plan. You can easily set up the add-on to send invoices directly with email notifications.
WP Booking System
WP Booking System is an all-around booking plugin that you can use for different needs, including accommodation booking, vehicle rentals, equipment rental, and so forth.
This WordPress plugin integrates invoices with a straightforward add-on. There is a good bunch of invoicing and invoice template settings, such as for which types of emails you want to attach invoices, add notes, and seller details.
There are multiple 'dynamic tags', which means you can include what customer and payment data you want to be automatically generated for the invoice.
WooCommerce Bookings
WooCommerce Bookings is a popular booking plugin for those who want to use a WooCommerce-based solution.
There is one big advantage in doing so: WooCommerce is one of the most developed, popular, and powerful e-commerce plugins, so you can safely use it even for your appointment scheduling website with this bookings extension. It's a multipurpose plugin that allows bookings for different types of businesses, such as equipment rental, property reservations, and service businesses.
The invoice option comes pre-integrated with the core WooCommerce plugin and you can easily set it up to send branded automated invoices on WordPress.
Bookly
Bookly is one of the best sellers in the WordPress booking plugins world. It's created for scheduling hourly-based appointments.
However, Bookly's pricing model is known for its extension-centric approach, meaning quite often you need to purchase an add-on to get the piece of functionality you need. The invoicing tools are not an exception.
To be able to send out automated invoices upon ordered appointments to your clients, you need to purchase the Automatic Invoices add-on. It's a powerful solution that enables you to set the invoice due date and customize fonts and dynamic data, such as the company's name, client name, etc. It automatically generates invoice dates and numbers to track your invoices.
MotoPress Hotel Booking
This plugin is most suited for rental houses and hotel room bookings when you can sell properties with per-night pricing. It offers a vast array of solutions for this purpose, including add-ons and designs.
With the MotoPress hotel booking plugin, you can accept payments online via PayPal, Stripe, and the WooCommerce-integrated extension.
This plugin sends invoices in PDFs, but note that to enable this functionality, you need to purchase either this add-on specifically or get it for free by subscribing to the membership plan of your choice.
When editing your invoice templates, you can add your company info, upload a logo, include legal info, etc. Furthermore, it's easy to view, download, and print invoices straight from the admin dashboard.
Booknetic
Using the Booknetic plugin, you can add a step-by-step booking form to your WordPress website. It can boast tons of features for streamlining your workflow and creating the proper booking experience for your customers.
To integrate invoices, you need to purchase a premium Invoices extension. The invoice includes the customer and seller information, the total due, items rendered, and the date of purchase.
Additionally, it allows you to build a custom invoice template and brand its design, content, and style. Overall, it's an affordable and lightweight add-on that makes building invoices a breeze.
Webba Booking
Webba Bookings is another appointment booking WordPress plugin alternative. It's a well-rounded plugin that supports form customization, online payments, group bookings, automated emails, helpful integrations for marketing, virtual meetings, and more.
The Webba Bookings plugin offers invoice sending as a built-in feature. You can designate at what step of the booking to send it, customize an email template and optionally send copies of each invoice to the admin's email address.
Which WordPress booking plugin with invoices to choose?
We encourage you to use WordPress booking plugins with built-in invoice features or add-ons since it's usually a money-saving deal: you don't need to pay extra and can seamlessly set up the add-on without extra integrations.
At the same time, remember that the way a booking plugin sends invoices is less essential than its core functionality. The most important factor is whether the core plugin meets your business needs overall.