3 Ways to Get Paid for Appointments Online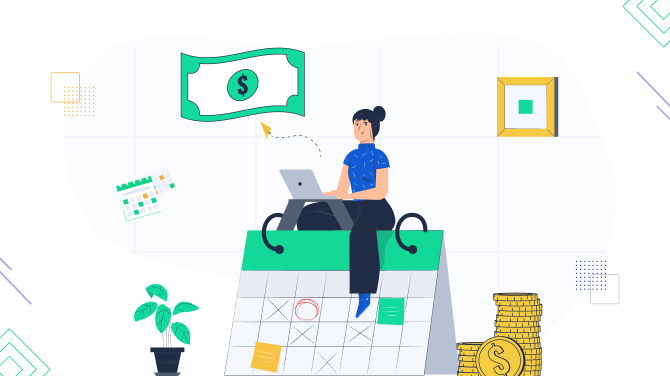 Are you selling services and still stuck with the 'cash only' payment method? It's not a great motivation for your customers or you as a service provider.
That's why we're here to tell you all about getting paid for appointments online. No matter what method you choose, there's always going to be a middleman involved.
But don't worry, we've got you covered with the three main ways to get paid for appointments online – with or without a website.
We'll also discuss the advantages and disadvantages of each approach to help you navigate these methods with ease and choose the best that suits your needs.
Get paid without a website
If you're a service provider and you don't have a website, no worries. You can still get paid for your services online.
Whether you're seeing clients at home, in the office, or virtually through meeting software, you can request payments using a variety of secure methods.
We list some of them below.
Use PayPal, Stripe, or other online payment platforms
There are some awesome online payment platforms out there like PayPal, Stripe, Payoneer, and Square that are easy to use and provide a secure and intuitive interface for both you and your customers to make and receive payments online.
All you have to do is create an account with one of these platforms, and then share your payment link with your customers however you like – via email, social media, or messaging apps.
Send online invoices
The payment platforms we mentioned above, as well as other ones, allow you to also create professional invoices, send them to clients, and receive money directly to your account.
For example, platforms like Payoneer allow you to manage international payments, bill or request payments from clients, and receive payments through popular marketplaces with ease, no matter where you are.
Create direct payment links
Online payment platforms also allow you to create a direct payment link and send it to clients. It's especially useful when you don't need to deal with formalities and just need to quickly get a payment. Once again, you can share it without clients using any preferable means of communication.
Use P2P (peer-to-peer) payment apps
P2P apps, such as Zelle, Venmo, Apple Pay, and others are very common for money transfers, and service providers can surely use them to accept payments from customers. All you need to do is to share your username or phone number associated with your account to enable customers to send you the money directly via the app.
+ Pros of this approach:
Quick and easy payment link or invoice generation, without a need to deal with your own website.
Multiple standardized invoicing tools that allow you to bill clients with all the taxes and fees taken into account.
Automated notifications to keep you in the loop with translations.
Reduced costs of managing payments.
– Cons of this approach:
There is a lot of manual work involved in communicating with clients and saving and managing invoices or links.
Small mistakes in person-to-person money transfers, like misspelling a name or entering the wrong account number, can be costly.
Not having a website might not contribute to your brand's professional image in the long run or even scare away some customers.
Use a third-party platform dedicated to your business
Whether you're a coach, hair stylist, or running a recording studio, utilizing third-party listing platforms can help showcase your business and make it easy for potential customers to book and pay for your services online.
Payment gateways of PayPal, Stripe, and others usually come pre-integrated with the platforms.
We are sure you know which platform is best for your needs since there are regional and other differences. Here are just a few examples:
Yelp for hair salons, spas, well-being centers, cafes, and more.
Zocdoc for practitioners looking to accept patient bookings online.
MusicWise allows you to list your recording studio and accept appointments.
+ Pros of this approach:
Business-optimized tools and interfaces.
Popularity among regular customers.
High search engine optimization, results in greater visibility when people search for various services.
– Cons of this approach:
Third-party platforms often charge a flexible or fixed commission on bookings or listings.
High competition, as hundreds and thousands of businesses like yours are also listed on these platforms.
Limited ability to brand your booking page the way you want, as there may be few tools available for customization.
Get paid for appointments on your own website
While having a business website may not be a necessity nowadays, creating one can provide many benefits, such as a professional online presence, optimization and automation tools that save time, and the ability to customize your booking page.
Creating your own website is the only way to receive direct bookings and avoid paying commissions to third-party platforms. Moreover, with a website, you have full control over the design and functionality of your booking page.
Using WordPress, there are numerous ways to create a converting service website, including integrating affordable appointment scheduling software like the BookingPress booking plugin, which has 15+ payment gateways integrated.
+ Pros of this approach:
A website with integrated booking software allows you to do more than just accept payments; it provides centralized control over your clients, invoices, staff, analytics, and more.
Automated real-time bookings and availability streamline your payment process and eliminate the need to manage every client, transaction, and invoice by hand.
More tools and opportunities are available to scale and grow your business through automation.
Easier deal with cancellations, refunds, no-shows, and other downsides.
It's easy to add a "Book now" button to your social media accounts, allowing customers to easily jump to your booking page from Instagram or Facebook.
– Cons of this approach:
Creating and running a website with scheduling software can be costly.
Additional effort is required for website SEO optimization and service marketing.
Conclusion: What is the easiest way to get paid for appointments online?
Thanks to fast and secure online banking and payment software, service providers can easily get paid online for appointments, with or without a website.
Here are takeaways on different ways to accept appointment payments online:
If you need a fast, low-maintenance way to accept payments online for your services, create an account with a preferred payment platform like Stripe.
Accepting appointment payments on your own website is a solid, forward-looking, and professional way to do business.
Accepting payments through third-party apps instead of having your own website is possible, but it may harm your brand's professional image in the long run.
We have many helpful tutorials about appointment scheduling software solutions, ways to integrate it, and key benefits for service providers and appointment businesses: