How to Deal with Last-Minute Appointment Cancellations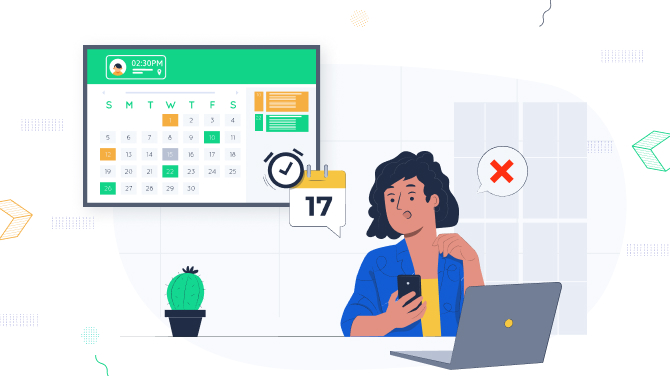 Dealing with last-minute cancellations and no-shows can be a frustrating challenge for service and appointment-scheduling businesses. But don't worry, we've got you covered.
We've gathered some practical tips that have already proven to be effective for many successful service businesses like yours.
So, keep reading and learn how to tackle these common obstacles head-on.
Legal aspect of dealing with appointment cancellations
Setting clear appointment cancellation rules and making your clients aware of them should be your top priority.
This ensures that everyone is on the same page and that there are no misunderstandings about the process for canceling and rescheduling appointments.
Protect yourself: create a cancellation policy
Protect your business and ensure its success by implementing a clear and transparent cancellation policy. Not only will it reduce the impact of last-minute cancellations and no-shows, but it will also protect your relationship with your clients.
Whether they're new customers or loyal regulars, they may need to cancel their appointments for valid reasons.
By establishing clear rules and guidelines, you can provide them with the flexibility they need while also preserving your business's bottom line. So, take the time to create a fair and balanced cancellation policy. The following things are usually included.
Set a time frame
'Last minute' can be a vague term, so it's important to provide a specific timeframe for cancellations to give your customers a clear understanding of when they can and cannot cancel their appointments.
This not only helps regulate the process but also allows your clients to plan accordingly.
Set penalties (optional)
To further discourage last-minute appointment cancellations, you may want to consider implementing small fees as penalties.
This solution should be approached wisely, as the goal is not to alienate your clients but to encourage timely cancellations.
Ensure customer agreement to your cancellation policies
Having a comprehensive cancellation policy is one thing, but making sure your customers are aware of and agree to the policy is just as important.
Before booking an appointment, provide your clients with a clear statement of your cancellation policy and include a consent checkbox to ensure their informed agreement.
This will help you deal with any misunderstandings.
Technological tips
It's essential to have automated appointment scheduling software in place on your website.
This software will bring a new level of automation to your booking, notification, and rescheduling process, ultimately reducing the number of last-minute cancellations (your goal!).
Send automated appointment reminders
It's common for clients to forget about appointments in today's fast-paced world. Your job is to make sure they don't miss a beat.
The good news is, with the right technology, you can have peace of mind that your clients will never miss an appointment again.
Consider utilizing an automated appointment scheduling software that comes equipped with reminders and notifications.
This way, you won't have to manually keep track of everything and can rest assured that your clients are always in the loop.
Require deposits in advance
Minimize last-minute cancellations by requiring clients to pay a small deposit fee in advance. This incentivizes them to keep their appointments and helps ensure that your schedule is not disrupted.
You can also give clients the option to pay the full cost in advance, but this may not be feasible for everyone, especially new clients. A deposit provides a win-win solution, satisfying both you and your clients.
With solutions like the BookingPress WordPress booking plugin, you can do just that, requiring clients to pay only a deposit online via various payment gateways, such as PayPal, 2Checkout, or any other.
Simplify the rescheduling process
Technology can also make it easy for clients to reschedule their appointments if they need to cancel.
Make sure your clients have access to real-time availability and can easily choose their preferred service provider and reschedule their appointment with just a few clicks.
With the right solution in place, clients will appreciate the convenience and flexibility, and you'll have one less thing to worry about when it comes to managing appointments.
Blacklist customers who book but never appear
Some software types allow you to blacklist customers who repeatedly book appointments and then cancel without showing up.
Don't waste your time and availability slots on unreliable customers.
Marketing and strategic aspects
So you have a cancellation policy and the technological convenience in place, but how do you learn more about why people cancel?
Improve communication with clients
Improve communication with your clients to reduce last-minute cancellations and ensure that your cancellation policy is clearly understood.
There are many ways to achieve this, from having a conversation with clients to using social networks, email marketing, and more.
Ask about a reason for cancellation
Dealing with last-minute cancellations also means gaining a deeper understanding of why people are canceling.
Are they experiencing changes in their plans, or do they find your business or policies confusing or difficult to use?
Get to the root of the problem by reaching out directly to your clients and asking questions or conducting surveys about the reasons for cancellations. This information will help you identify areas for improvement and reduce the number of cancellations in the future.
Create a waitlist
Be prepared with a plan B. When last-minute cancellations occur, have a strategy in place to fill up your schedule. This can be as simple as maintaining a waitlist, or you can leverage technology to automate the process.
Having a waitlist means you'll always have a pool of potential clients ready to fill any canceled appointments, keeping your schedule full and your business running smoothly.
Conclusions: Handling last-minute appointment cancellations involves multiple steps
Effectively handling last-minute appointment cancellations requires a multi-step approach.
This includes setting clear cancellation rules, improving communication with clients, gaining insights into why people cancel, having a backup plan with a waitlist, and utilizing technology to streamline the process.
By taking these steps, you can reduce the number of cancellations and ensure a more organized and predictable schedule for your appointment scheduling business. It all won't only help you save time and reduce frustration, but it can also improve the customer experience, building a more loyal client base in the long run.
If you enjoyed this article, you may also find these articles informative: