8 Benefits of Automated Scheduling for Appointment Business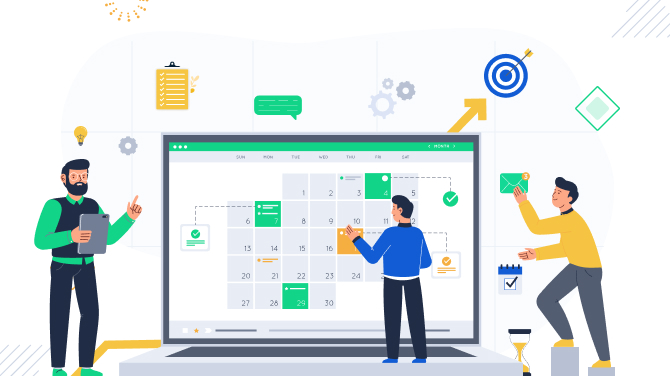 Doing less helps you achieve more.
This is exactly the result you can have by integrating automated scheduling into your business website and transforming it with the magic of automation.
How is that possible?
Automated labor planning, flexible and powerful schedules, improved email marketing and more benefits are waiting for you once you embrace the power of automated scheduling for your service business.
No matter if you are a private school, personal coach, or beauty salon, it's gonna work for you.
Before we get down to smaller details, here are three big aspects we can outline, where you can expect significant improvements:
Improvement in employee and client satisfaction.
Better understanding of your business performance.
Boost in revenue.
Time to learn more about the benefits!
Don't Neglect the 8 Benefits of Automated Scheduling for Appointment Business
1. Deliver convenient booking experiences to clients
By offering automated appointment scheduling online you with no doubts create a better service for customers, delivering convenient booking experiences.
With just a few clicks, your clients can easily schedule appointments at their convenience, without the hassle of back-and-forth communication or wait time.
Needless to say, quick and intuitive appointment booking via a website is what modern customers are expecting from you.
So, this not only saves time for both parties but also elevates the level of customer service you offer.
By integrating this technology into your business, you are demonstrating a commitment to delivering exceptional experiences for your clients.
2. Spend less time on scheduling bookings and managing labor as an admin
As a service business administrator or manager, you wear many hats and have a lot of responsibilities.
However, scheduling appointments and managing labor can take up a significant amount of your time. That's where automation comes in.
Going automatic helps you manage your business in a less-focused way and saving your energy, while doing more creative and important business tasks that require a focused state of work.
This will not only increase your productivity but also allow you to manage your business in a less stressful and more focused manner.
Let scheduling technology do the heavy lifting and free up your time to focus on what truly matters – growing your business.
3. Empower your employees to be more productive
Sometimes workforce management for a scheduling and service business is no easier than client management.
If you have employees in your salon, clinic or studio, with automated scheduling, you remove a burden on manual work for them.
Empower your employees to manage their schedules with ease in personal accounts, such as update a schedule, manage working hours, add days off, and handle clients.
By allowing staff members to manage their workflow more effectively, you help them be more productive and satisfied in the long run.
4. Accept payments online to reduce no-shows
It's a matter of a few clicks to integrate the payment methods you are looking for but those yield tremendous benefits.
By requiring payment in advance, you can reduce the number of no-shows and ensure that you are fully compensated for your time and services.
With online payment processing, you can simply and securely collect payment in advance. Some software even allow you to collect only deposits first, with the rest paid on arrival. This not only saves you time and hassle, but also helps to build trust with your clients and demonstrates your professional approach to doing business.
Additionally, having a record of payments in one place can simplify your financial tracking and make it easier to manage your cash flow.
And the more payment methods you can offer your clients, the wider range of clients and payment preferences you can accommodate.
5. Keep track of your business records automatically
When you utilize appointment scheduling software, you are doing much more than just streamlining client self-scheduling.
The power of such tools help you simplify and automate many key aspects of your business, making it easier for you to manage and grow your operation.
For example, with such software, you can track payments, manage your client database, and even keep tabs on your staff schedules with ease.
6. Improve communication with clients
The appointment scheduling software can be integrated with a variety of apps and tools, making it easier to improve your email marketing, send notifications, host online meetings, and more, therefore, get closer to your customers.
With the ability to integrate with multiple platforms, you can streamline your marketing efforts and communicate with clients in the way that works best for them. Whether it's through email, in-app notifications, or text messages, you'll be able to reach your clients and keep them in the loop about their appointments and other important information.
Online video conferencing apps can also be integrated with the software, making it easy to host virtual appointments and meetings. This is especially important in today's digital age, where remote work and virtual interactions are becoming more common.
7. Analyze your performance to stay on budget and make informed decisions
Enable yourself to do better forecasting for your business and make better decisions on scheduling employees and understanding if you really spend less than earn.
Solutions like BookingPress Plugin give you 360-degree data-driven conclusions on how well your business is at a certain period of time.
Having this data on hand, you'll be able to analyze how to increase customer lifetime value, track employee performance, and determine periods when your business experiences the biggest demand.
Usually, quality scheduling software for appointment bookings comes with an integrated analytics dashboard that helps you stay up-to-date with your business.
8. Improve local search of your business in search engines
Last but not least, an official website with contemporary appointment booking options is a great sign to Google and other search engines, as it shows that you are a trustworthy and reliable service provider.
This can help you to attract new clients and increase your visibility in search engines, which can ultimately lead to more business and growth.
Conclusion
Some benefits of scheduling for your business might be crystal clear while others are not so transparent but still of high importance.
By implementing smart scheduling software, your business will for sure experience a transformation.
This not only leads to increased satisfaction among both staff and customers, but also allows for more effective control over all the business expenses.
The result is a perfectly optimized workforce, happy customers, and reduced no-shows.