Popular Booking Software for Personal Trainers in 2023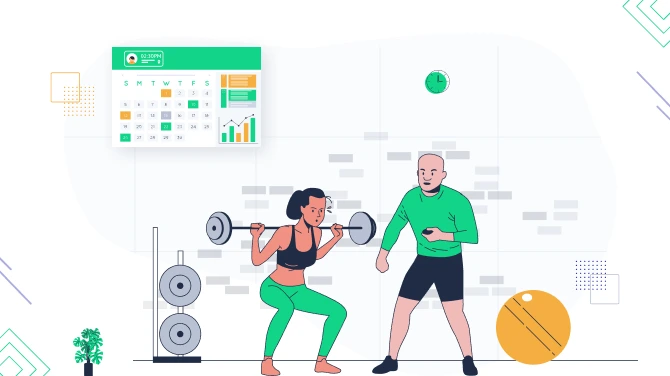 A gym studio business or independent trainer? Are you searching for the best trainer booking system?
Awesome.
We are here to help you compare the most recognizable and trusted solutions in the area of booking software for personal trainers.
In simple words, such software will allow you to put a booking widget to your site, automate availability, and get paid online.
In this list, we put together booking software for personal trainers solutions that you can use on WordPress or without it by registering an external account with the platform you find suitable.
We are specializing in WordPress, so we'll be talking about WordPress plugins for personal trainers as well.
In the past, we even shared a few ideas on how gym and fitness websites on WordPress can significantly cut down expenses and simplify the workflow of the business owner.
It should be noted that solutions presented in the article are multiformat and can be easily optimized for use in a different niche, such as for beauty salons, teachers, coaches, and other types of services businesses where hourly appointments take place.
WordPress Booking Software for Personal Trainers
No shortage of plugins for personal trainers in WordPress, so we are sure you'll find something to your needs.
In this article, we'll shorten our list to three customizable and feature-rich tools that are popular with businesses and individuals.
BookingPress
The BookingPress booking software is designed specifically for WordPress, fitness scheduling software being one of its focal points.
As a coach or trainer, you can hold one-to-one or group sessions, send out automated notifications, and manage all bookings and students in one account.
This sessions scheduling plugin will be of good use if you need an affordable solution with tons of payment integrations, SMS and WhatsApp notifications, and other powerful tools.
Pricing: $69
Key Benefits:
A secure and reliable solution, perfect for personal trainers with a single schedule.
A user-friendly session booking wizard you can add to your WordPress.
33+ premium extensions for multiformat needs for free.
Simply Schedule Appointments
It's a nice plugin for automated appointment scheduling for trainers and other practitioners. It eliminates the manual work of registering clients or checking available slots.
This WordPress plugin is known for its huge line of integrations with various WordPress and external services, such as Zapier, Gravity Forms, Elementor, Mailchimp, The Events calendar and more tools that will help you run your business online easier.
Pricing: prices start at $99
Key Benefits:
Quick and easy bookings for one-to-one appointments.
Get paid via PayPal, Stripe and other gateways.
Trusted by 20K+ WordPress sites.
WP Amelia
WP Amelia is another popular name in the niche of appointment scheduling software on WordPress, and is perfectly suitable for personal trainers too.
In addition to all the range of common tools, such as a booking wizard or automated emails, you can integrate Google and Zoom for virtual sessions, add recurring appointments, and more.
Pricing: $59
Key Benefits:
Automated personal or group training.
PayPal, Stripe, iDeal, and Apple Pay are gateways to choose from.
Sync to Google and Outlook calendars.
Standalone Booking Software for Personal Trainers
Quite a lot of businesses and personal trainers who work independently choose cloud-based software providers for a few simple reasons: no need to be attached to your website platform and competitive features.
Compared to WordPress plugins for personal trainers, however, cloud-based apps are, on the cons side, more expensive, and on the pros side, more multi-dimensional.
Setmore
Setmore personal training scheduling software is a good choice if you need all the range of tools of powerful software ready to pay a monthly cost per user.
The more advanced versions support recurring appointments, calendar synchronization, SMS, and email reminders.
Pricing: paid plans start at $5 per user per month
Key Benefits:
Limited features are available even for free (with Square payments supported).
iOS and Android apps.
Integrations with leading apps.
Appointy
It's a widely held opinion that Appointy is one of the best booking software for personal trainers and many other types of businesses.
It makes it easy to automate trainer scheduling & management, payments, marketing, and other operational processes in an external account. It's perfectly suitable for group and individual appointments.
Pricing: paid plans start at $20 per month (billed annually)
Key Benefits:
Accept payments through Stripe, Paypal, and Authorize.NET.
Supports time zone conversions and client verifications.
14-day free trial for any premium plan.
Paperbell
Paperbell is a nice, easy-to-understand software for coaches, consultants and trainers. Personal training scheduling software offers you many flexible features, such as limit how last-minute clients can book with you, sell single or multi-training sessions, apply custom branding to checkout, sell digital downloads and more.
You can even test it for two months for free.
Pricing: $47.50 per month
Key Benefits:
Support for all popular integrations, including Google Calendar, Zoom, and PayPal.
Capable of using e-signatures.
Detailed client management dashboard.
Calendly
Calendly is one of those trainer booking software solutions that everyone heard about. It has proven to deliver top-notch tools for simplified scheduling for millions of people worldwide.
It's unlikely you'll find any tool, which is not supported in this software; calendar connections, meeting polls, seamless integrations with multiple apps are all offered, etc.
Pricing: premium plans start at 8 per seat/month
Key Benefits:
One of the most popular scheduling automation platforms.
For personal trainers and teams.
Protected and secure Calendly usage.
YouCanBook.me
Using this software, you can in no time create a personalized booking page, enable SMS reminders and notifications, turn on online payments, use dozens of apps via Zapier and more.
The solution also supports tentative bookings, which means you can manually approve the requested time for a booking before it's added to your calendar.
Pricing: $10 per calendar per month
Key Benefits:
The ability to use password-protected booking pages.
Fully configurable booking form.
14-day free trial of paid plans.
To conclude: How to choose a personal trainer booking software?
We know that it might be a tricky task to choose a booking software that would fully satisfy your needs, but we can at least make a small summary:
WordPress personal booking trainer software as a rule offers more affordable solutions, although they can lack some flexibility.
The benefit of using cloud solutions is that they are independent of the website CMS but can get rather expensive, especially when you need to scale your business and use more than one calendar/schedule.
Both options can be completely suitable, just get your checklist and see whether you can get that with the solution you like.