8 Best WordPress Form Builder Plugins 2023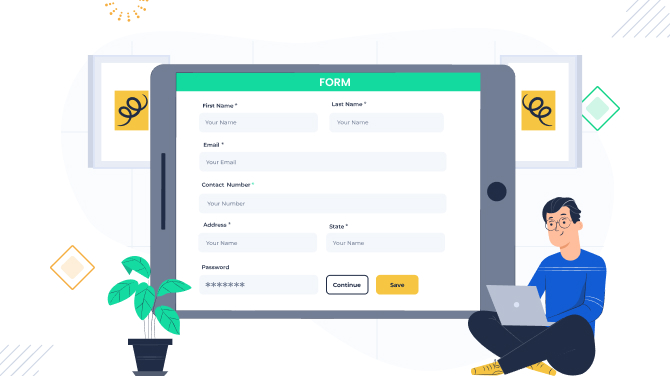 WordPress Form builder plugins are designed to assist you in creating functional and robust forms for whatever need. Whether it's collecting client information or receiving feedback, or even setting up appointment booking functionalities or insurance claim forms, these plugins exist to solve these tasks.
But the trick is that WordPress forms are not that easy.
Developers have a hard task: to provide users with an intuitive and neat workflow for a 'monster', which means under the hood forms are a super complex thing. And it's art and science to combine usability and power to deliver smooth WordPress forms. So who has a good solution here?
In this round-up of the best form builder tools for WordPress, we have curated popular and feature-rich plugins that can help you create plain or complex website forms with maximum usability. You'll hear some popular names as well as learn about smaller yet extremely helpful options!
Our lists for appointment booking forms and plugins:
Let's begin.
ARForms WordPress Form Builder Plugin
This popular form builder plugin for WordPress provides you with a user-friendly environment for constructing contact forms, opt-ins, surveys, or any other types of plain or complex forms without a need to pay big money.
The valuable essence of ARFroms is its attention to detail in sleek material design, an unbeatable list of form fields, and multiple ready-to-go solutions for quick needs, including a pop-up builder.
Major features:
Powerful conditional logic rules for integrating any complex forms, supported by intuitive design.
Built-in support for all popular email marketing providers, which are usually sold as paid addon in the competitor plugins.
Support for multi-step forms and surveys.
Pricing: $39 once.
Gravity Forms
Gravity Forms one of the trailblazers in the world of form builders on the WordPress market. It's powerful and trustworthy; unfortunately, compared to the vast majority of form plugins in this post, you can't try it for free at first.
In addition to the core plugin's functionality, you can search for many add-ons to this plugin created by third-party companies and developers, such as Gravity Perks or Gravity Flow.
Major features:
Spam protection, payment gateways integration, 30+ form fields, and more.
A large developer community creates add-ons to enhance your workflow with Gravity Forms.
Integrates with Divi, Mailchimp, ConstantContact, and other on-demand services.
Pricing: $59 per year.
Ninja Forms
This is another longstanding representative in the world of the best form builder tools for WordPress.
Ninja Forms can boast a good level of conditional logic, various pre-styled form layouts, multi-step forms, file uploads, payment integrations, and more. But you should be careful that all these key features are offered as paid add-ons, and the membership pricing plans differ based on what add-ons are included.
Major features:
Unlimited submissions, forms, and emails are offered within all plans.
Addons for any form building need: payment gateways, user management, user analytics, etc.
Support for SMS notifications, webhooks, and more.
Pricing: plans start at $49 per year.
Formidable Forms
Formidable Forms is another trustworthy form builder plugin for WordPress you can start using today and feel no limitations. Just as it must be with a user-oriented form plugin, this solution provides ready-made form types, including surveys and polls, registration forms, and more lightweight and beautiful designs.
To edit these forms, you can easily use drag-and-drop tools, employ a visual styler to change the form look, apply conditional logic, add images and graphs, etc. All you need is packed with Formidable Forms.
Major features:
Dynamic fields to speed up the submission process for guests.
Statistics and visualized graph form submissions.
No need to purchase addons separately, just choose a pricing plan with the set of addons integrated.
Pricing: start at $40 per year.
WS Form
At the time of writing this, this WordPress plugin is not that well advertised but we are sure it's one of the top contenders in the list of the best solutions.
This WordPress form builder plugin is actively used and highly praised by developers in the first place, but can also cater to the needs of regular WordPress users. Relying on draggable form elements, 30+ field types (including advanced ones), and Google Analytics tracking code integration, you can easily build the needed form in no time and track its performance.
Major features:
Hierarchical and flexible form structure.
Many pre-made form templates for a plain start (newsletter, request a quote, etc.).
Helpful tools developers will enjoy: debug console, custom styles, edits history, breakpoint selector, automatic framework detection, and more.
Pricing: $59 per year.
Quform
Quform is one of the best-selling form builder tools for WordPress on the CodeCanyon platform. It's a user-friendly, powerful, and regularly updated plugin that you can use to build a form of any kind.
It supports all the basics you might be looking for in a form plugin for WordPress, including exporting form entries to any file formats, passwords and checkboxes, custom column layouts, and more.
Major features:
Build any type of form, including multi-page using 19 field types and drag-and-drop functionalities.
Customizable designs with buttons, labels, and loader preset.
Attractively priced, giving the same power tools to small business owners as well as developers and enterprises.
Pricing: $29 once.
WPForms
It's one of the most well-known form builder tools for WordPress, it's truly beginner-friendly and very feature-rich.
It delivers high-performance and beautifully designed forms with any type of conditional logic; what's more, you can use this plugin even for free and still have a generous pack of tools.
Major features:
One of the biggest libraries of pre-made templates for various forms.
Easily integrates with Divi and popular payment gateways.
Super handy to use even for beginners.
Pricing: prices start at $50 per year.
Gutenberg Forms
Even though this WordPress form plugin is not super popular but rather a new kid on the block, we decided to include it in our round-up for two reasons: it was developed specifically for the new era of WordPress editing, and secondly, it shows a great development perspective.
Needless to say, it's already pretty functional and, just like other plugins in the list, allows you to use multiple field types, conditional login, accept file uploads, spam protection, and more. All for no cost.
Major features:
Build WordPress forms visually in the block editor.
Support for conditional logic and spam protection.
A pre-designed template library of forms.
Pricing: free.
Conclusion: How to choose the best WordPress form builder plugin?
Our list presents all the best WordPress form builder plugins that are reliable, longstanding solutions you can trust.
However, when selecting a form builder plugin for WordPress, you should consider multiple factors, such as the type of form you need to create, the essential form fields, the external tools you want to integrate, and of course, your budget. We recommend creating a checklist first and then evaluating the plugins accordingly.
Automate your scheduling needs with BookingPress
Don't do it by hand, automate your appointment bookings today!
Automate your availability and bookings to streamline your business management on WordPress with BookingPress. Easily organize your clients, transactions, email notifications, reservations, schedules, and more to keep it all centralized and up to date.
Browse the BookingPress features to see how you can boost your service business!