Content Strategy for a Beauty Salon Website Blog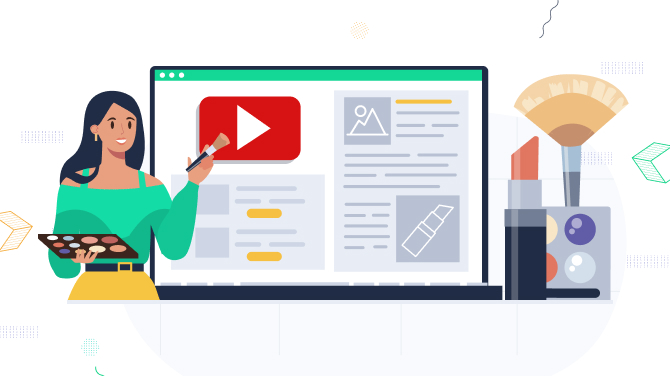 In the area of social media on the rise, businesses, particularly those in the beauty industry, may mistakenly believe that content can solely enhance engagement on social media platforms, considering website blogs as a thing of the past.
To remove the burden of guessing, we are here to assure you that all channels have their unique benefits and it's crucial to optimize both.
In this tutorial, however, we want to focus on the salon content blog strategy to help you see where you can improve and how you can get the most out of your blog.
Why keep your salon's blog updated?
The most obvious answer is – to get new clients in an organic way.
A keyword-optimized content on a regularly updated blog is one of the most effective methods to get your website found better by specific search intentions.
Here are a few more striking benefits:
You have complete independence with your own website. This means while it might be easy to get canceled by people or banned by the platform itself on social media, you're the boss on your own website. You can always get leads (potential clients) by optimizing your website.
You have more styling freedom and can organize the content the way you want on your own website, with image galleries, videos, and more to make it stand out.
Send more traffic to your website to automate appointment bookings in your salon and decrease the operational costs on processing every client request manually. For this, of course, you need to have a running scheduling software installed.
Educate and engage people, increase trust into your brand, and keep it for the years to come.
Content strategy for a beauty salon website blog: Five key steps
Let's see what it takes to build a working content strategy for a salon blog step by step.
1. Set your goals & define your customers.
Realizing your goals will help you create a better and more sustainable content plan that will deliver results you expect.
We recommend considering the following question when trying to define your goals and target audience:
Do you want to find new customers or retain the current ones?
What salon services do you want to increase the demand for?
What image do you want to establish for your salon brand?
What customer actions do you want to increase on your website?
What are the current pain points or challenges that your target audience is facing in your industry?
Based on the goals you want to achieve, your choice of post topics will be more productive.
2. Choose topics for your salon blog.
How many topics you can cover per month on your blog in the first place depends on your budget and human resources. The more quality content you can afford, the better.
But how to choose content topics?
There are a few methods and the most optimal way to harmonize your content strategy is to combine them:
Choose headlines around the salon services you provide. This will help you not just educate customers but also promote your offerings. Get creative but not too pushy!
Create headlines around the ingredients or brands you use in your salon to catch the eye of health-conscious people.
Optimize blog headlines to follow the current beauty trends. Use Google Trends (or word of mouth on your local needs!) to find out what's on the rise.
Write opinion-based, lifestyle, or day-in-the-life stories to boost the curiosity of customers and add a touch of personality to your brand. Product reviews by experts are also one of the most wanted types of articles.
Feature your clients in blog posts: showcase hairstyles, nail design, make-up style, and more daily work of your staff. This type of post should be media-rich, so make sure to pepper it with videos and images.
Play with the topics but make sure they are linked through a common semantic core. It will help you make the steps to build your website as an authoritative source within the beauty niche.
3. Optimize your posts for SEO.
Don't write your content for the sake of SEO, but make sure to optimize it for SEO to make the most out of it.
SEO is of a very changing nature, the rules and algorithms of the most well-known search engines are tweaked constantly
Especially today, in the era of AI technologies and promised AI-empowered web search, we don't know what to expect, but one thing is for sure – quality, well-researched, human-written content will always be trusted by customers and search engines.
Below are some crucial technical things you should do:
Organically incorporate local or headline-based keywords just to make sure you send quality traffic to your website.
Ensure meticulous attention is given to internal linking, that is, include suitable links to the other website pages or posts.
Optimize media files: compress images and write readable ALT tags for them, and add video with so-called structured markup.
There are multiple more tips we've previously covered in this SEO for a salon blog article, make sure to check it out!
4. Create an editorial plan.
It's also important to create a schedule, when and which topic would be most appropriate based on the day of the week, season, or current events in your salon.
You can do this manually or use dedicated editorial calendar solutions, such as Strive for WordPress or CoSchedule for any other CMS.
Sticking to the plan will help you keep yourself organized and achieve the goals you set.
5. Spread the content via multiple channels.
Once the article is published, it's just a part of the job! Do your best to spread it further via all the resources accessible in the marketing department of our beauty or hairdressing salon.
Below we list traditional and not-so-known methods:
Your articles should appear across social networks, you surely know that. Even if you have a small follower base, social networks are still indexed by search engines, so grab a few keywords and promote your blog posts. If there are brand names or people covered in the post, make sure to mention them in the posts. Keep your voice open and transparent.
Post links to your articles across various dedicated forums (Reddit, Quora, MakeupAlley, Specktra). It's easy to get banned on forums, so keep a happy medium in your tone.
Submit guest posts on external websites with the links to your articles.
Promote your posts on the homepage of your website.
Create dedicated banners with links to your posts on other website pages.
Create Youtube shorts or TikTok videos based on the content of your posts.
Grow engagement with your content through further collaborations with other salons or partner websites.
Final word: What makes a productive content strategy for a beauty salon blog?
Let's now make a few conclusions on creating a content strategy that will boost your website's visibility and will, hopefully, help you find new clients:
Set up your goals and objectives: what do you want to achieve with the content?
Create a harmonized content plan that would include headlines from different areas: educational, promotional, entertaining, and more.
Promote every published article through a variety of channels.