How to Increase Retention Rate for Appointment Business?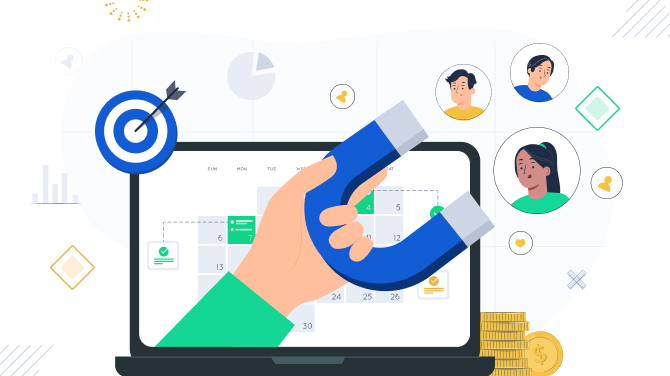 The first contact with customers is just one part of your job as a service business.
But what approaches and resources can you use to re-engage customers and improve the retention rate? In simple words, to entice them to stay with you in the long run?
In essence, the retention rate is a measure of customer loyalty. However, it's important to understand that your relationship with customers or the quality of service is not the only factor that adds to increasing the retention rate.
Even though we understand that it's hard to apply some of the 'general' tactics to each and every appointment business, let's try to highlight a few working directions that can help you stay afloat and define strategies that can work for you.
Let's get started.
Run a membership & loyalty program
This might seem obvious but how to do that smartly for your appointment business?
We have a few suggestions:
Get straightforward and clear about the benefits your clients will get.
Try to provide maximum personalized experiences for every client.
Build your reward strategy based on milestones.
Put referral incentives into focus, this way you won't just get new clients, but will also make your current clients more connected to your business.
Add gamification elements to the program when possible.
To get you even more in the mood of serving your customers, we have a lot of marketing and advertising strategies for your beauty establishment, nail, or hair salon.
Get the best out of your social media engagement
Bring your brand to life with a video, inspiring story, or workshop. It's easy to do so with social media capabilities.
Social media is a very specific environment that lives by its own rules, but one thing is undeniable: they are able to spur people into action, particularly when they feel influenced by peer pressure or motivated by other triggers.
You can get really creative here to entice people to come to your salon or book a course with you. Just add some trustworthy data, publish behind-the-scenes videos or stories, showcase the modern type of hairstyle you can create, or think of other engaging elements to captivate the interest of your customers (and prospects!).
It's much easier to do so when you already have a client base that follows you on various social media channels.
Collect customer feedback
You need to understand customer needs and behaviors. Hear the opinion of your customers, run regular surveys, and act upon the feedback you get.
Ask them directly what they are looking for in your salon/school/clinic, and what they like and don't like. It's one of the most organic and easiest ways to get the feedback of your customers and think of the strategies that will entice customers to stay with you.
Offer your clients webinars, e-books, and personal training plans
You should be able to constantly generate new creative ideas to entertain your customers and enhance interest in your business.
Add value to your efforts by providing client resources that are free, educational, or entertaining.
Here are a few ideas we find to be very on-demand for clients:
Teacher entrepreneurs: productivity and time management tips for traditional and online learning.
Gym and fitness business: personal training and dieting plans.
Beauty salons: online beauty webinars on different topics, personal consultations; offer take-home hair care kits.
Clinics: personalized invitation for a free health consultation.
Barbershops: free hands-on workshops for clients and their kids.
Discover more tips for appointment business:
Invest in the happiness of your staff
Sometimes it's enough to make your staff happier and more valued to help them perform better in their jobs, as a result, improve the retention rate of your entire business.
Do they have enough tools and resources to do their work properly? Do they feel overwhelmed by communicating with clients? How would they like to be engaged with clients? Or do they simply want longer breaks or better company culture? You should know the answers!
Find a way to motivate your staff to feel a deeper personal responsibility for their work and better understand the possible outcomes of their work.
Measure your website performance
How this might be related to the retention rate, you ask?
Very simple: it helps you understand how bookings are happening on your website or via external platforms, what are potential barriers for clients, and other insights. When you measure traffic and engagement on your site, you can get this sort of data as well.
Even your regular clients refer to the booking channel they are used to (e.g. your website), and you can identify potentially problematic areas in the whole booking and payment cycle.
Google Analytics is one of the best ways to measure this performance. Are you sure you've already got a hang of it? Do your best to befriend with the solution, at least because its latest version GA4 that replaces the current one takes a learning curve!
Still, choosing the booking software for your service business? We are here to help with many curated lists:
Implement ongoing consultations
Keep track of the needs of the most valued clients by scheduling regular check-in appointments to reassess their needs. This will help you maintain a stronger connection with every client and adjust their personalized prescriptions as necessary.
It's a great method to track the progress of your clients, address new concerns, and meet the needs of every person.
Conclusion: Key takeaways on the retention marketing for appointment business
While it might seem you should put all your energy into making your clients happy to boost your retention rate, it's not all so one-sided.
There is much more to it, and here are our main takeaways:
Offer your clients value-added educational resources, and free consultations, and engage them in online and offline activities.
Don't just focus on your customers – improve the well-being of your staff. The more valued and productive your staff feels, the better results they can deliver to your customers.
Measure the performance of your website to understand what stops customers from making bookings or purchases on your site or via other channels.