7 Best Booking Software for Cosmetic Consultant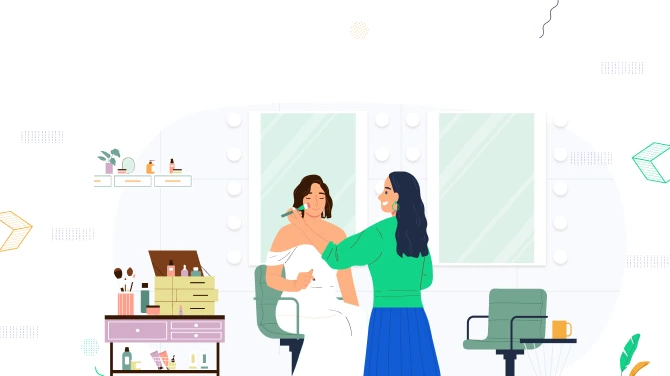 Cosmetic consultations might be part of your business life whether you work as a beauty coach or operate a full-scale salon that provides beauty services.
In either case, you want to automate meetings and appointments with your clients, that's why you are here looking for the booking software, right?
While for studios and clinics, it might be harder to plan duration-specific appointments since there are cases when you can decide what procedures are required only when a client arrives, scheduling consultations alone is easier.
In this round-up for the best booking software for a cosmetic consultant, we are looking into truly robust options that will allow you to schedule your time for both virtual meetings and walk-in clients. All is unveiled below.
BookingPress
BookingPress is an appointment scheduling software designed to work on WordPress websites only. So if you are an owner of the latter, consider it as one of the most affordable and suitable solutions for cosmetic consultants.
It allows you to plan consultations for clients with an automated scheduler: simply add your working hours, available conclusion durations, price, and other essentials – and you are all set.
Having configured the BookingPress plugin on your site, you add a user-friendly and mobile-optimized booking widget that helps clients to self-book a consultation in a matter of clicks. If you are working with a team, you can also set up a schedule for everyone.
With BookingPress, you can accept booking payments via PayPal, PayStack, Mollie, and 10+ other gateways, so no matter where you are located, it's easy to grow appointment sales with this software.
Pricing: $69 per year
Square Appointments
Square Appointments is a popular booking software that works for any website regardless of the platform, WordPress, Wix, Squarespace, or any other.
One of the most prominent features of this scheduling software is client profile and team management tools that put people first. It helps you show that you respect the preferences and the unique circumstances of the relationship with your clients and team.
So if you have team members and many clients, this software is what you need.
Besides that, Square Appointments delivers all the tools for a plain start – a free online booking website builder, automated appointment reminders via SMS or email, point of sale (including contactless and chip payments), retail and inventory management, and many more features professional beauty salons and beauty coaches might need.
Pricing: 29/month/location.
Bookedin
Bookedin is a simple scheduling software that is perfect for any consultation business. It makes it easy to customize your availability calendar and enable clients to book in different ways: via your custom website, a manually generated link, or even social media (Facebook and Instagram).
It has widely recognized and understood features, such as appointment reminders automatically sent to clients, online payment processing via credit/debit card and PayPal, and powerful schedulers.
It's easy to set up recurring appointments, integrate in-depth tracking to have powerful analytics about your clients, and have all the needed tools at hand to manage your cosmetic brand.
Pricing: start at $24/month.
Goldie
Goldie is a powerful scheduling app for beauty professionals, with all the tools you need to operate cosmetic consultations. For example, online bookings, scheduling availability management, and payment processing are seamlessly integrated.
Your cosmetic conclusion services can be offered at different durations and prices. Thanks to the built-in intelligent financial reporting tool, you can maximize your income and at the same time simplify your taxing chores.
Moreover, it's got lots of tools you'd like to experiment with to boost your performance: target specific customers with tailored messages, send specific seasonal offers or discounts in bulk SMS, send direct messages to clients with the handy Goldie's app and do even more with the integrated marketing software.
Pricing: pro plans start at €29,99/month.
10to8
The 10to8 software is another well-known scheduling solution for businesses like yours. It allows you to streamline the appointment booking process by enabling clients to easily make bookings online via your own website, using full freedom to view available services, locations, times, and staff. There is even a free plan for 10 appointments per month, so feel free to give it a go.
Moreover, 10to8 offers you comprehensive appointment control, which means you can view all your bookings, add restrictions, set up cancellation policies, and change notice periods. Clients can pay online via PayPal and Stripe.
What may also sound attractive to many businesses, this software is designed to work across multiple devices and integrates with a wide range of applications, which will help you easily integrate external tools or your favorite apps.
Pricing: premium plans start at $7.20 per seat/per month.
WellnessLiving
This WellnessLiving booking software is made for big and mid-size businesses, allowing clients to conveniently book classes, appointments, services, and equipment instantly, whether it's through their mobile device or online.
It has all you need, including client and staff mobile apps, POS for payments on-site, advanced reporting tools to keep your finances under one roof, and even an AI assistant, which will help you track your key metrics and performance indicators to help you plan your activities.
It's a perfect tool to foster your communication with clients and accept booking online without restrictions.
Pricing: plans start at 89/month.
Booksteam
It is ideal for your needs if you work in fitness, beauty, health, or any other industry and want to power your business with a scalable and easy-to-use bookings calendar.
Booksteam ships with a customizable platform that allows you to create your online consultation booking page the way you need, including customization of fonts, languages, etc. 
The powerful app offered by the software allows you to control inventory management, invoice tracking, client history, and more by simply navigating the handy interface.
Pricing: prices start at 19.95/month.
Conclusions: What is the best booking software for a cosmetic consultant?
To success in the digital age as a cosmetic consultant, you can't get by without the powerful booking software. It helps you boost your reach, brand suitability, sales, and scale your business over time, whether you are working solo or with a team.
The booking solutions we've just listed can solve your daily needs, but you need to carefully choose the pricing model suitable to your budget, design preferences, and power features.