A Great List of Beauty Salon Names to Use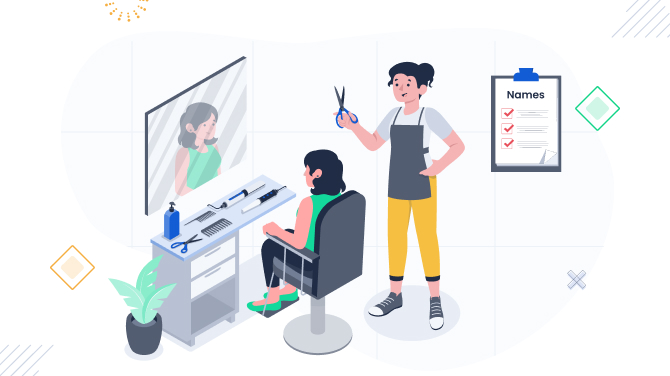 You're in the process of starting your own beauty salon. You've likely already dealt with the financial and property issues, but now you're faced with seemingly the simplest task of choosing a name for your new business. But it's not that easy. Sounds like you?
Don't worry though, we're here to help. We have compiled some useful tips and advice to help you choose a salon name that's memorable and appropriate for your beauty salon.
We hope our guide will prove valuable to you and assist you in selecting a memorable beauty salon business name that endures for years to come.
How to name a beauty salon: Three important things to remember
We've identified three keystones to keep in mind when naming your beauty salon.
1. Express beauty and harmony
Your salon is all about making people look and feel their best, so the name should reflect that. Choose a name that's beautiful, melodious, and pleasing to the ear. Avoid names that are difficult to pronounce or remember, like "Brobdingnag" (the name of the country of giants in "Gulliver's Travels" by Swift) – unless you're catering exclusively to giants, of course!
2. Stick to an optimal name length
The perfect name is neither too long nor too short. A name that's too long is hard to remember, but a name that's too short can be forgettable or confusing.
Here's an example to illustrate the importance of a good salon name: imagine a beauty business with three co-owners who decided to name their salon "Jiv" by combining the first letters of their names. While it may seem like a clever idea, it's likely that customers will confuse it with other words like "Giv," "Give," "Jeeves," "Jam," and so on. A name like this can make it difficult for customers to remember your salon and find it online, which could hurt your business in the long run.
3. Keep adequacy
It goes without saying that your salon's name should be appropriate and not resemble any obscene or derogatory words. You want your customers to feel welcome and excited to visit your salon, not offended or put off.
Actionable tips for naming your beauty salon
In addition to the fundamental factors mentioned above, there are some practical tips you can use to help create a unique and memorable name for your beauty or spa salon.
Don't be afraid to alter the spelling
One useful tip is to consider changing the spelling of words. If you discover that the name you came up with is already being used by another company, don't worry. You can simply change one or more letters in the name to make it distinct and free for your use. By doing so, you'll still maintain the original sound or similar to it, but with a unique and different spelling that sets it apart from the other business.
Examples:
BeautyGlore > BeautyGlor or BeauteeGlore
Smilery > Smileri or Smilary
Flowa > Flova or Flovva
Combine two or more words or parts of words
Another helpful tip is to create a name by combining two or more words or parts of words. Perhaps there are specific words that perfectly capture the essence of your beauty salon, but they feel too lengthy or cumbersome. In that case, feel free to abbreviate, "trim," or recombine those words to create a unique and memorable name. This technique can also help you to come up with a name that's easy to remember and has a strong visual appeal.
Examples:
Fairy + Good = Fairood
Spring + Happy + Hair = Happy Sprair
Magic + Nice = Magnice
Use words 'beauty', 'salon' or make up new names
You can also consider using elements of the words "Beauty" and "Salon" in your name. While this is a common practice, don't be afraid to get creative and come up with something entirely new and fresh.
Examples:
Lidia's Salon
Beausa
Beaty's Masters
Smilon
Use repeating words/sounds/syllables in the title
Another strategy you can employ is to use repeating words, sounds, or syllables in your salon name. The human brain tends to remember repeated words or sounds more easily, and they can create strong associative connections.
Examples:
Floflower
Prettatano
Salon Lon
Mirror Mirror Salon
AI to the rescue
If you're finding it challenging or tedious to come up with a name for your beauty salon, don't worry. You can always turn to various name generators and AI tools to help you out. Even if they won't create the name you need, at least they will help you encourage your inspiration.
Examples:
Art Beauty
Golden Hands
Ideal Harmony
A great list of examples of beauty salon names
We've compiled several dozen names for beauty salons that were created using various creative and practical approaches. These names can serve as inspiration as you work towards finding the perfect name for your own salon.
Catchy names with general words
Studinail
Hairoe
Skincare Beauty
HaireeStudio
Pretty Nail
Female names
The Skin Room by Sarah
Bella Lash Studio
The Beauty Room by Tiffany
The Beauty Studio by Hannah Rose
The Nail Garden by Suzie
Health & Wellbeing oriented names
The Face & Body Shop
Radiant Skin Clinic
Elite Nails & Spa
Rejuve Med-Spa
The Nail Lounge
Location-based names
The Spa at the Corner
Chicago Nail Salon
The Beauty Cave
Beauty on Park Street
New York Street Spa & Studio
The Beauty Room at LA Academy
Short and memorable names
Beauty Box
The Nail Bar
Waxperts
Brown Sugar
The Lash Lab
Latin based names
Aqua Terra Spa
Fortuna Esthetics
Vita Nova Salon
Aurum Salon
Caelum Beauty
Names with the luxury vibe
Luxury Hair Salon in Parker CO
The Hair Loft
The Glam Room
The Lash Boutique
The Beauty Chef
Floral names
Lavender Beauty Spa
Cherry Blossom Salon
Orchid Oasis
Lotus House of Beauty
Hibiscus Haven
French-based names
Belle Beauty
Le Charme Salon
L'Amour Beauty Lounge
Mon Ami Salon
Fleur de Lis Spa
Final word
When choosing a name for your beauty salon, keep in mind its appeal and charm, aim for an optimal length of words, and don't hesitate to combine and experiment with spelling.
You can also consider using beautiful foreign words to add a touch of uniqueness. All of these elements can help you create a distinct and captivating name for your beauty salon that will attract both you and your future customers.
If you enjoyed this article about a list of beauty salon names examples, you may also find these related articles informative: