How to Start a Wellness Business: A Step-By-Step Guide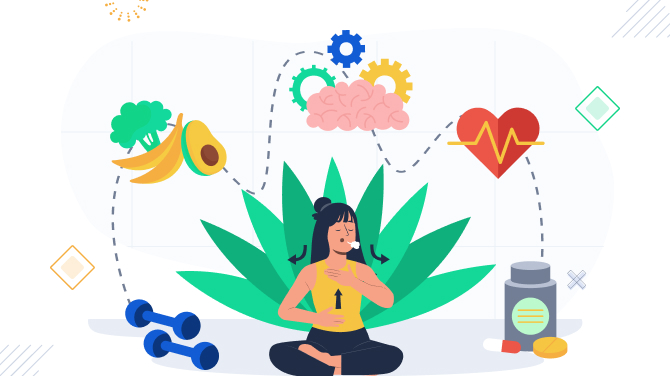 The world of wellness, spa, and health professionals has coined a term for self-identification – wellpreneurs (wellness + entrepreneurs).
It's a dynamic industry that's continuously growing, and if you're ready to embark on an exciting journey and join this world, we've got you covered with a tutorial on starting your own wellness business.
No matter what stage you're at in starting your wellness business, whether you're still in the process of creating a business plan or trying to pick a niche, we've got a few ideas to get you started.
7 Steps to start a Wellness Business
1. Start with wellness business ideas: which ones align with your passion?
Where do you start? We have a few suggestions on popular wellness business niches:
Health and wellness coaches are professionals who specialize in guiding individuals towards developing healthy habits, improving their relationship with food, managing stress, and achieving optimal well-being. This includes a diverse range of experts such as yoga teachers, massage therapists, retreat planners, and other seasoned professionals.
Fitness instructors and personal trainers are dedicated to helping individuals maintain a consistent and healthy exercise routine.
Health and wellness establishments are expertly managed by a team of experienced beauty and health consultants.
The development of apps and platforms dedicated to fitness, yoga, step counting, and other services has become increasingly popular in recent years, making it a highly lucrative niche to explore. If you've got a super interesting idea, you may consider finding people who would help you fulfill your ambitions.
Healthy restaurants include cafes and juice bars that you can run for health-conscious people.
So first of all, it is crucial to establish a clear focus in order to gain a comprehensive understanding of how to conduct further competitor research, create a solid business plan, and determine the most effective marketing strategies for your venture.
2. Ensure appropriate certification and qualifications to support your chosen niche
This is especially important if you are providing services directly to clients. However, if you are involved in wellness app development, the need for specific qualifications may not be as critical.
Nonetheless, having the appropriate credentials can help establish your credibility and increase your clients' trust in your expertise and abilities.
There are various ways you can showcase your qualifications:
Printed and digital certificates.
Client testimonials.
E-books and video lessons.
Documented workshops.
Articles and blogs.
3. Determine your ideal client
Who is your target audience is the question.
To get more insights about your clients, you should start with asking yourself questions and getting data-driven insights, documenting them, and making conclusions.
Those questions about your clients include the following in particular:
Where do they live and how will they reach you?
What is their income?
For what reason do they need you?
How much are they going to spend a month on your service/product?
Answer these questions and set yourself even more tasks to find out more about your prospects.
4. Determine the amount of money you need to get started & create a business plan
One crucial aspect of starting a wellness business is determining the amount of money needed to launch it successfully. This is the backbone of your venture and requires careful consideration based on the information gathered from the previous steps we've listed in this article.
You need to consider various factors, such as costs, equipment and supplies, marketing, rent, and personnel expenses.
Before launching your business, it is essential to identify the amount of money you will need to cover all these costs and have a clear understanding of how you plan to finance your venture.
This will help you to avoid any unexpected financial burdens and ensure that you can run your business effectively without facing any significant financial setbacks.
Although you may find multiple mockups and strategies for building an adequate business plan for a wellness business, we suggest remembering the main things that will help you understand where you'll need to spend the money.
Are you going to develop a specific software?
Are there staff members you need to hire?
What raw material/equipment do you need to buy?
Are you going to perform marketing yourself or hire someone?
When you have identified your niche, budget, and location, you can have other crucial tasks at the front of your mind.
5. Start a website and automate things like bookings, email marketing, and online payments
You need an online presence to promote your key offerings, and while social media will do in many cases, an independent website is usually associated with a stronger, more secure and stable online presence, which you can scale and make maximum flexible to your needs.
Here are a few key elements of website of professional studios, coaches and wellness studios:
Automated WordPress Booking Plugin to accept bookings online easier and provide technological conveniences to your clients, as well as help you deal with last-minute cancellations.
Free resources to educate clients.
Clear categorized offerings and pricing.
Location and opening hours.
Real images and videos of your business.
6. Find ways to grow a client base (leads)
Where to find your clients, how to keep the current ones, and continue growing your client list?
We have a few working ideas to generate more leads on your site:
Give away an e-book or guide in exchange for the email address.
Grow your followers list on social media.
Provide free consultations to establish the first connection and encourage word of mouth.
Run promo campaigns.
Launch a video series with your expert advice.
7. Stay updated: Podcasts and resources for wellness business owners 
Looking to learn more about the experiences of others? Still need to do more research? What to stay in the loop of the wellness and health business trends?
If you are just starting and looking for motivation and more ideas, we recommend various podcasts, which is a super handy format for the life on the go to keep yourself motivated and updated:
Wellpreneur Podcast: Wellness Marketing & Mindset
The Wellpreneur podcast is an excellent resource for beginners looking to gain a better understanding of the ins and outs of the wellness industry. 
The Wellness Entrepreneur Podcast
The Wellness Entrepreneur Podcast is a valuable resource for gaining insights on accelerating and improving your health and wellness business from multiple perspectives.
The Wellness Business Podcast
With over 300 episodes, The Wellness Business Podcast provides a comprehensive guide to navigating the wellness industry, covering everything from basic questions to more in-depth insights.
Conclusion: Essential steps to starting a wellness business
It's easy to conclude that starting a wellness business requires a clear understanding of your niche, target audience, appropriate certification and qualifications, initial budget, and effective marketing strategies. By conducting thorough research and taking the time to develop a well-structured business plan, you can launch a successful venture with a clear and authentic wellness brand.
When you have a clear focus, passion, and understanding of your role in the wellness business, it's worth trying to fulfill your ambition and earn the money.
Here are some related articles you might find informative if you enjoyed this one.