Top 10 Doctor Appointment Reminder Software Growing in Popularity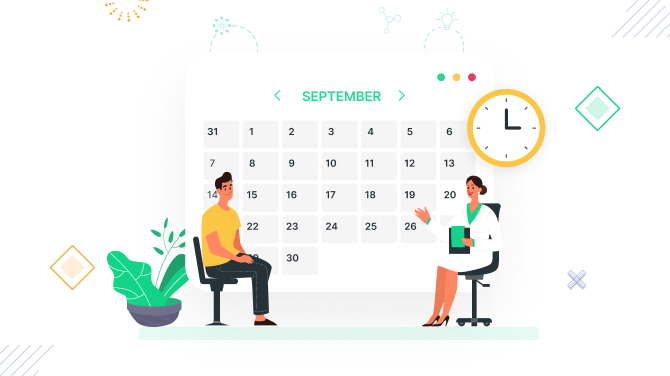 The number of clinics and individual practitioners using medical software is clearly growing year by year.
In addition to medical devices that healthcare professionals use to improve the quality of their treatments, client communication and appointment reminder software are definitely capable of improving the business side of things.
If you are now tasked with choosing the most suitable software for appointment scheduling and reminder automation, our list of top doctor software is a brief description of tools growing in popularity.
BookingPress – Doctor Appointment Reminder Software
BookingPress is a booking plugin made for websites on WordPress, including for clinics and healthcare providers. Its polished back office design and a range of tools for managing bookings and staff accounts have absolutely all the modern online instruments you would need to improve the efficiency of your institution.
Key features:
The plugin is purposefully optimized appointment management software for doctors and dental clinics.
17+ payment gateways to simplify online bookings and reduce no-shows.
Appointment reminders via SMS, WhatsApp, and email, as well as the ability to add events to calendars (Google Calendar, etc.).
Pricing: $79/year.
Want to learn more about this solution? Dive into the latest BookingPress review.
SolutionReach
Being popular for more than 20 years in the industry, this doctor scheduling software puts communication with clients at the center of attention. It has built-in tools to significantly improve patient retention and engagement by using text appointment reminders and follow-up with post-appointment education. Of course, users of this doctor appointment reminder software can automate these types of communication with branded texts and designs.
Key features:
Solutions for appointment scheduling and improved staff efficiency.
Communicate with patients in real time.
Brand your patient reminders with appointment time, office location, pre-visit instructions, etc.
Deliver reminders via text messages, emails, or voice calls.
Pricing: get a quote.
Weave
It's a popular software for healthcare professionals that encompasses all your tasks: from managing reminders and messages to scheduling, payments, reviews, and more. Weave's creators promise your clinic will boost revenue by automating and improving daily tasks, making things smoother for both your staff and patients.
Key features:
Fully automated and customized appointment reminders via text messages and emails.
Complete payment solution with support for terminals and payment analytics.
Support for multi-location practices, making it suitable for clinics.
Pricing: variable based on features.
Reminder Call
ReminderCall is a bit different type of software which enables you to send 2-way text messages, and schedule appointment reminder calls, with an option to get your dedicated phone number. It makes it easy to customize customer responses via email or on your dashboard and receive live delivery status updates. Unlike some other solutions, it sends longer text messages up to 1600 characters.
Key features:
Use various existing software to send reminders: Google Calendar, Outlook Live, and more.
Automated reminder calls text reminders, and email reminders.
Integrated features to fight spam.
Pricing: starting from $15.50 per month.
TimeTap
TimeTap is created to help you automatically send appointment confirmations and reminders, as well as set up custom emails to send instructions to clients. TimeTap also offers numerous tools that scale with your business, such as multiple time zones, enhanced security, multiple locations, client management tools, and more.
Key features:
Send appointment text and email notifications using triggers.
Automate waitlists and sync calendars.
Shared room scheduling.
Pricing: professional plan starts at $22.45 /month.
AdvancedMD
Medical centers regularly use this software to improve patient communication and retention rates. It's a comprehensive suite of tools for medical offices, which, thanks to its cloud-based infrastructure, ensures accessibility from anywhere, anytime, on any device. AdvancedMD is made to automate every stage of the care journey, from pre-visit to post-visit.
Key features:
Robust self-service features that empower patients.
Hosted on Amazon Web Services (AWS) for unmatched stability and security.
Smart electronic health records.
Pricing: get a quote.
KiviCare
KiviCare is a WordPress-based clinic management solution that hosts online appointment bookings, patient records management, encounter management, billing, and online payments. Above that, it supports doctor notes, multi-clinic support, and multiple languages.
Key features:
Self-hosted software to give you more control over your data.
Patient records and medical history.
Payments and invoices.
Pricing: $59.
Appointible
Appointibe is a growing multipurpose scheduling software. It comes with a powerful business calendar app that enables clients to book appointments online. It updates with every new booking, cancellation, or edit, which means your clinic will always have the real-time availability displayed.
Key features:
Analytics dashboard.
Timely appointment reminders using text messages and emails.
Recover missed appointments with re-engagement tools.
Pricing: premium plans start from $5 per month.
DemandForce
DemandForce is a full-scale medical management software that seamlessly integrates doctor reminders as well. Among other powerful features, it supports two-way texting: clients can reply "C" to confirm appointments and text your business in case they are running late or need to reschedule.
Key features:
Email, text, and voice reminders.
The ability to limit waiting room capacity with mobile check-in.
Choose from pre-designed appointment reminder email and text templates or create your own.
Pricing: get a quote.
SimplyMeet.me
SimplyMeet.me is a meeting scheduler suitable for doctor appointment reminders as well, which also comes with a free version. It syncs with most calendars and allows you to send automated reminders. Other notable features that we'd like to highlight include the ability to accept payments, group bookings, and time slots in emails.
Key features:
Send email reminders and follow-ups with Nexmo or Twilio.
Handle online payments via multiple processors.
A dedicated mobile app.
Pricing: professional plans start at $9.99 /user/month.
Conclusions on clinic and doctor appointment reminder software
The software solutions for medical institutions often include multiple appointment scheduling, payment, and other tools. And automated reminders are perfect to reduce no-shows and boosting customer engagement. Today you have a choice of the doctor appointment reminder software that can be connected to your processes in multiple ways, for example:
Self-hosted solutions: BookingPress, KiviCare.
Full-scale appointment scheduling software solutions: AdvancedMD, Weave, DemandForce.
Reminders that integrate with your current software: Reminder Call.