6 Best WordPress Calendar Plugins in 2023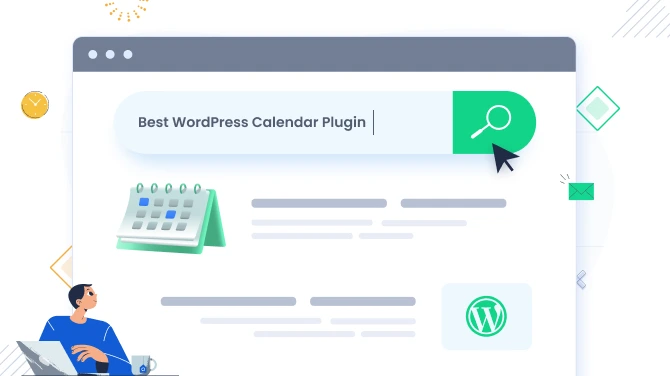 WordPress calendar plugins usually refer to solutions that allow you to create available calendars with available and unavailable slots. Customers can either simply view these slots or even book available ones right away, sometimes simply by clicking on dates in the calendar.
But does that mean that you can grab literally any WordPress calendar plugin and start working with it on your website? For most cases, the answer is no.
The specifics of every business differ, which means that selling concert tickets is not the same as selling barbershop appointments from a technical point of view.
So in this post, we aim to draw the line between different types of WordPress calendar plugins and to introduce you to decent solutions in key industries, including appointments, events, hotels, rentals, tours, and multipurpose solutions.
Let's choose the best ones in each category and explain their function principles, power features and also list a few known alternatives for every solution.
Appointment Availability Calendar: BookingPress
BookingPress is specifically made for selling hourly appointments, such as meetings, consultations, sessions, visits, etc. So if you are a salon or clinic, this WordPress booking plugin is 100% perfect for your needs.
On the website, it works as a guided reservation wizard, which allows your clients to start with choosing the service, location, and optionally a staff member. Next, they are taken to the availability calendar and are offered to choose a suitable time for the appointment. It's all automated. On the final page, clients can choose to pay online for their appointment.
It gives you an easy way to fine-tune the booking widget in terms of colors and layouts. Thanks to multiple integrations, you can SMS or WhatsApp messages to clients about appointments, connect marketing tools, add reminders, integrate external calendar apps, and fully streamline the process of bookings. If you are looking for the best value, this is the right plugin.
Event Booking: The Events Calendar
The Events Calendar is one of the most powerful and well-qualified WordPress calendar plugins for selling and managing events. Thanks to multiple design variations, a sleek user interface, and optimal functionality, the plugin makes it easy to integrate a professional events calendar. Some businesses even stay on a free version while it's rather generous.
It supports such highly important features for the events business as automated recurring events, event photos, and more. Additionally, this provider offers a huge bunch of very specific add-ons that might solve specific tasks for managers, and music bands or help you run better virtual events (using Zoom, Webex, Google Meet, and Microsoft Teams).
People commonly mention that it's highly user-friendly and takes minutes to get launched. If you want to sell tickets with the plugin, the Event Tickets and Registration plugin is needed.
Rental Equipments Availability Calendar: Booqable
This solution wasn't originally created as a WordPress plugin; it's actually a third-party service that can be seamlessly integrated with WordPress. But we are listing it here because it's perfectly suited to the needs of equipment rental businesses, such as bike rentals, furniture storage, boats and kayaks for rent.
It's true that compared to WordPress per se, cloud solutions are more expensive and harder extendable, but often they are much better sharpened for the needs of the business.
With Booqable, pickup and return procedures are super easy for customers, as well as handy for you as a business to manage. You can place an availability calendar for every piece of equipment with a date picker, which allows customers to efficiently book the needed thing for an hour, half an hour, or any other duration. Orders, inventory, and documents are managed under one roof.
Accommodation Availability Calendar: MotoPress Hotel Booking
Unlike other plugins in this list, the choice of accommodation booking plugins is quite limited on the market, with only up to five plugins available, and of those, only three are regularly maintained and highly suitable for use in the hotels and vacation rental business.
The MotoPress Hotel Booking plugin is an all-around software to solve the need for per-night bookings, rate management, discount settings, online payments, and more tools that relate to the field.
Availability calendars for bookings can be featured individually on property pages, where guests can see prices per night as well as make a booking directly from the calendar. PayPal, Stripe, and many other gateways are supported to automate payment collection.
And one more bonus – this plugin also provides a library of WordPress templates designed specifically for hotels, inns, and bed and breakfasts. These templates ensure seamless integration of hotel availability calendars into websites and maintain a visually appealing design at the same time.
Tour Booking Availability WordPress Calendar: WP Yatra
WP Yatra is not that widely advertised plugin but it's well-rated and does its job well. It's a well-designed solution that gives you everything you need to successfully sell tours and activities.
You can add multiple sortable filters to the tour booking form, add different tour destination options, different rates and discounts, and of course, feature a tour availability in a calendar.
There is a free WordPress travel theme, Resa, designed by the same company, that comes with the core tour booking plugin pre-integrated.
Multipurpose Calendar: WooCommerce Bookings
We've decided to list the powerful WooCommerce Bookings plugin in the category of multipurpose ones, while it's flexible enough to handle a few fundamentally different types of businesses, for example, hotel, equipment rental, and appointment bookings alike.
This type of plugin focuses on the calendar itself and which features can be integrated via it, for example, offer special pricing for groups and individuals, set up reminders, connect to external calendar apps, etc. It features a color-coded availability calendar that allows customers to book the needed dates.
It's also a win-win solution for those of you who need diverse e-commerce features because it's based on the core free WooCommerce plugin. On the cons side, the plugin is relatively expensive and multiple really crucial add-ons require an extra monthly payment.
Conclusions: How to choose the best WordPress calendar plugins?
We really hope that we've given you a clear understanding of how different types of the best WordPress calendar plugins work, what you should keep in mind when choosing one, and which options are currently rocking the market. While it's smart to look for the best value, you should always be attentive to the specific features that meet the needs of your business, design, plugin performance, and, doubtless, integrations with other services.
If you enjoyed this article about Best WordPress Calendar Plugins, you may also find these related articles informative: