How to Start an Event Planning Business from Home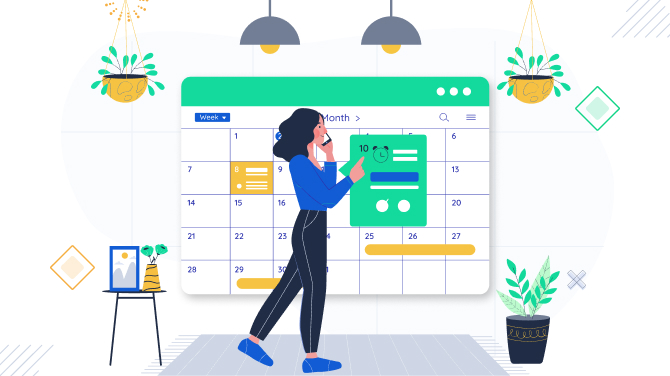 Are you someone who loves planning parties, festivals, birthdays, and all kinds of events? Do you want to take your skills to the next level and make your work look more professional?
Maybe you've been thinking about creating a website or automating your booking process, but you're not sure where to start?
Well, you're in luck. We're here to help you kickstart your holiday event business with our 10-step guide to starting an even business from home.
10 steps to start your event planning business from home
Working from home can save you a lot of money since you won't have to worry about renting an office space or commuting like a "regular" employee. Plus, being your own boss comes with some pretty huge perks.
You get to set your own schedule, make your own decisions, and chart your own path to success.
So let's help you ask yourself the right questions before you start an event planning business from home.
1. Perform market research (you should understand who to target)
It's crucial to determine what's in demand in your area. What are people looking for when it comes to events? What's not so popular? Take a peek at your competitors, too. What are they offering that you could improve on, and what unique spin can you put on your services to stand out?
It's also important to think about the types of events you want to cover. Are you going to be a jack-of-all-trades and tackle everything at once, or will you specialize in a certain segment? There are pros and cons to both approaches, so take some time to think about what works best for you.
2. Create a basic plan for your workflow
Your workflow plan should be step-by-step and detail what you'll do at each stage to achieve the best possible results.
You can start with the basics and then add more details as you expand your business. By the way, our 10-step advice plan can serve as a prototype for your own workflow plan!
3. Calculate your budget (identify the equipment you need)
It's important to know how much money you have in general. This includes any savings, investments, or assets you can use to fund your business.
Next, you need to determine how much money you have specifically for the event startup budget. This is the money you'll use to cover the initial costs of launching your business, such as purchasing equipment, marketing, and hiring employees.
Once your business starts to gain momentum, it's essential to think about how much money you're willing to invest in its development. This could include hiring more staff, expanding your product line, or investing in new technology. And, of course, it's always wise to have some money set aside in case of emergencies or unforeseen circumstances.
Lastly, don't forget to calculate the cost of equipment you'll need to get your business up and running. Knowing what equipment you need and how much it costs will help you determine your overall start-up costs.
4. Pick a business name and order branded materials (design, logo, etc.)
They say a good business name accounts for around a third of its success. It's true that sometimes you may shy away from purchasing a product or service simply because the brand, company, or supplier name is off-putting. That's why it's important to choose a name that truly reflects your business and appeals to your target audience.
When deciding on a name, don't hesitate to consult with family and friends as a fresh idea can come from anyone. Additionally, it's crucial not to skimp on your website's design, logo, and other visual elements.
5. Start a professional website (it's not that expensive!)
Your event planning business's website is essentially the "face" of your brand. It's where your clients will go to learn more about your services and what sets you apart from the competition.
We highly recommend investing in the expertise of professionals when it comes to creating your website (unless, of course, you have the skills to do it yourself). Don't be afraid to allocate a reasonable budget for it, as it's often not as expensive as you might think.
6. Automate consultation booking with the dedicated software
Do you already have a website for your event planning business? If so, the next step is to streamline your customer consultations through dedicated appointment booking software.
By allowing clients to book consultations in real time through your site, you'll create a seamless and efficient experience for them. Be sure to prominently display a "Book Now" button on your website to make the process as easy as possible.
In addition, consider setting up an automated system that sends reminders to your customers through messaging platforms like email, SMS, and messengers.
7. Showcase your expertise and certificates
If you've completed specialized courses and have obtained certificates, make sure to showcase them on your event planning business's website.
If you plan to take similar courses in the future, make sure to promote them on your website as well. This can be a great way to attract more clients and establish yourself as an authority in your field.
Has your business received any awards or special recognition? Don't be shy about highlighting these achievements on your website too!
8. Create social media accounts
In today's society, social networks are an essential part of our daily lives. As we mentioned earlier, maintaining a strong online presence is crucial to the success of your event planning business.
To achieve this, it's important to create official pages for your business on several social media platforms and keep them updated regularly. Share news and updates about your business, showcase your successes, post photos of events you've organized, and encourage customers to leave reviews on your pages.
9. Outreach to relative blogs and team up with local businesses
Bloggers, influencers, local communities, and other businesses can all be potential allies for your event planning business.
By collaborating with them, you can create mutually beneficial partnerships that help promote each other's brands. So why not say "yes" to these possibilities and see where they take you?
10. Centralize your accounting, paperwork, and client information
Creating a centralized database for your event planning business is a great way to keep track of important information about your customers and their orders. By using specialized software, you can systematize data about their preferences and special requests.
With the help of these tools, you'll be able to track payments and manage your customer database more efficiently.
To conclude
In summary, we've shared 10 essential steps to help you start your own successful home-based event planning business.
First, research the market to identify potential customers and understand your competition. Then, create a basic plan that outlines how you will run your business and what equipment you'll need.
Creating a user-friendly website and automating consultation bookings are also important steps.
Be sure to showcase your achievements, experience, and certifications on your website and social media pages. Speaking of social media, it's crucial to create official pages on multiple platforms and make connections with bloggers and local businesses.
Finally, centralizing your accounting and customer base through specialized software can help you stay organized and manage your business more efficiently.
We hope these tips will help you launch and grow your event planning business from the comfort of your own home. Best of luck!