Online Reputation Management to Boost Barbershop Authority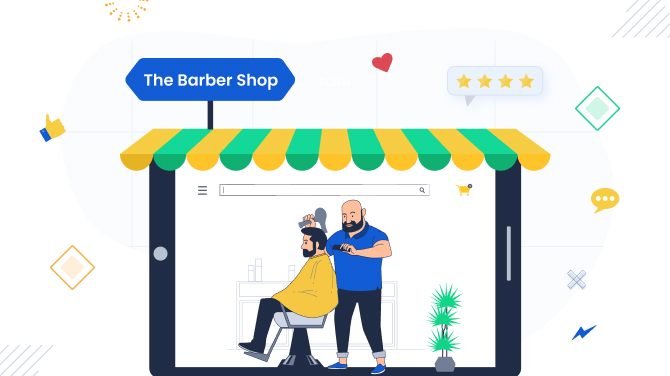 How do customers perceive your barbershop? How do they influence your online reputation? What can add to your reputation and credibility online? The quality of service and feedback from customers go hand in hand.
In this post, we're looking into creative and essential ways to manage the online reputation of your hair salon or barbershop.
But first of all, what are integral parts of online reputation management for a barbershop? Let's start with them:
Managing customer reviews on external platforms and your website.
Building a trustworthy image of your brand on your own website.
Consistently providing high-quality services to customers.
Having a visually appealing, technologically convenient, and user-friendly website.
Being transparent and professional about your staff, products, and equipment.
Let's now take a closer look into some techniques for online reputation management for barbershops.
Display site reviews in a more honest fashion
One of the easiest ways to do that is by integrating social media using so-called 'embeds'. It's when you display reviews on your site exactly how they appear on the source social media website, or with a touch of custom design.
When you include profile pictures and recognizable platform interfaces in reviews from past clients, potential customers tend to trust them more.
As a rule, it should not be difficult to do so, no matter which CMS you use to power your barbershop website. You can use tools such as Embed Social or any other.
Figures always add authority
Add some information about your business presented in digits and you won't just add trust to your website pages, but will also simplify the way people perceive information on your website.
Certain information can be easily presented in digits and might be of interest to curious clients. For example, you could include figures on:
How many clients have you already served?
How many clients do you have per day?
Since when have you been in the business?
In how many areas do you have representatives?
How many certified barbers are there in the salon?
How many different types of haircuts do you offer?
How many years of experience do your barbers have on average?
Fewer overages, more digits – and you're certain to provide a clearer and more concise representation of your barbershop.
List product brands and ingredients you use in your barbershop
This is about being maximum transparent with your clients.
It adds a lot to creating a positive online reputation for your barbershop. This way you serve eco-conscious people. This will help you build a reputation for sustainability and mindfulness. There are tons of advantages!
Furthermore, displaying any official badges from international services, such as payment gateways or service listing platforms, credit cards, etc. are also a good sign that other powerful companies work with your business.
Integrate software for self-booking appointments
Technological convenience adds a lot to the online authority of your barbershop. If a client makes a quick and easy reservation using the booking widget and is served well, then they will trust you, like forever.
A booking software takes care of everything from accepting payments online to sending appointment reminders to your clients, barbers, as well as being capable of doing targeted marketing. To name just a few benefits!
Needless to say, having such a software will optimize the client and appointment management in your salon, saving time and resources for your barbers and management staff.
There are multiple appointment booking software options that can handle it for specific platforms (e.g. WordPress) or can be employed independently as a cloud solution (meaning, you can run them in your internet browser).
Manage Google reviews on a regular basis
Have you created a Google Business Profile page but lost your password? Do you log in only once a month to see what's going on with your page? It won't serve your online reputation management for barbershops any good.
When clients only know your barbershop as a walk-in business and want to leave a review, they often refer to big-name platforms like Google reviews.
Even more so, prospects usually turn to these same reviews to assess local businesses – and trust these reviews more than what their friends say.
So, the process of managing reviews should be maximum streamlined so that you notice any negative feedback right away.
Here are three takeaways:
Encourage happy customers to leave a 5-star review on your Google Business Profile page.
Professionally respond to negative reviews and do your best to turn them into good ones.
Embed reviews natively into your website.
If you as a business have social media accounts, expect that customers want to reach out to you there more often than not! They can leave reviews, ask questions publicly or even contact you in a one-to-one chat.
You should be able to reply to personal messages as well as manage questions and reviews rather fast!
If you happen to receive negative reviews, don't leave it like that. Use all your knowledge and art of marketing to get the client on your side again.
Add real photos of your haircutters & clients
And not just them! Clients will appreciate it when they can learn more about receptionists, assistants, or other support staff that work in your barbershop. They want to know more about the individuals in your business.
While you can present your team on a separate page, it makes sense to build a dedicated salon gallery page and put your clients and their day-to-day grooming in some limelight.
It's very beneficial for the online reputation of your barbershop: demonstrate expertise, create a personal connection with customers, and differentiate yourself from competitors in the area.
Conclusion: A positive online reputation is key to the success of your barbershop
Let's make a few conclusions on the most essential aspects of online reputation management for barbershops:
As a barbershop, your online reputation is not complete without turning to third-party platforms and keeping an eye on the customer questions and reviews there.
Reviews on your Google Business Profile impact local ranking of your website so do your best to manage negative reviews.
Always respond promptly and professionally to customer inquiries and concerns across platforms.
Create a trustworthy, engaging and user-friendly website.
Automate the process of self-booking to help clients enjoy secure and efficient appointment reservations.