8 Ways to Boost Revenue of Your Music Recording Studio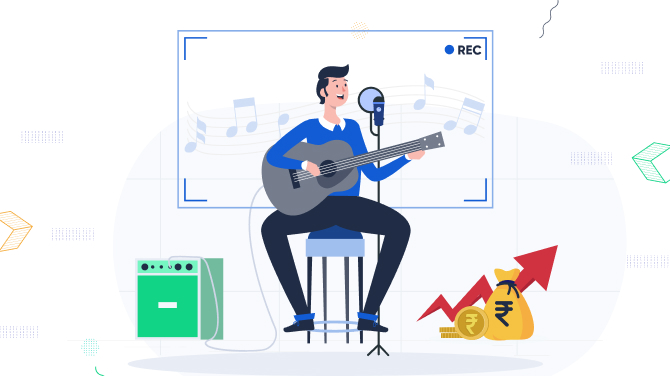 Have you finally opened your own recording studio and are looking to increase your income and attract more customers? Being long around but looking for new ways to earn money?
As a brick-and-mortar service business, there are multiple aspects to consider, including both your website and the studio itself, that can drive revenue growth.
We know eight effective ways to boost the revenue of your music recording studio business, and sometimes it's easier than you might think. Let's get started.
Invest in equipment and facilities to stand out from competitors
The more quality equipment you have, the better. Don't skimp on sound reinforcement equipment or high-quality, unique musical instruments. The simple truth is, by upgrading your music equipment you can boost revenue by enticing more customers with different needs.
Your studio should resemble a 'musical laboratory', complete with the most modern and advanced equipment you can afford. Your clients deserve to work in the most comfortable conditions possible.
The more clients you can attract over time, the more chances you have to scale your business in the long run. And you will probably need to search for a bigger space to rent out soon!
Diversify services to attract a wider range of customers
In addition to recording music, consider offering services such as mixing, podcasting, distributing, mastering, music creation, and audio post-production.
You can also build an extended team that includes not only sound engineers and their assistants, but also session musicians, video editors, videographers, and lighting specialists who can assist your clients in creating video clips for their music tracks.
This way, your clients can receive a full range of services, from the creation and arrangement of a musical composition to its professional presentation.
Using the language of marketers, create extra services/products to generate ancillary revenue and be helpful to your clients at the same time!
Create a website to build multiple revenue channels
If you haven't created your own website yet, it won't benefit your financial goals. Most importantly, it's where your clients get their first detailed impression of you and your services.
Your website is the central place where you can build multiple revenue funnels, attract new customers, and build your music studio brand in the long run.
In fact, we shouldn't have to explain why starting a site should be at the top of your priority list.
Add an appointment scheduling software to reduce operational costs
Automatic booking software allows clients to schedule hourly or other duration sessions, such as rehearsal or recording, that are available at your recording studio.
Music Studio Booking Software simplifies the process for both you and your clients by displaying all available services, staff, prices, and session durations.
This makes it easier and faster for customers to schedule a session at your studio. Adding a real-time availability schedule to your site can also help attract more clients to choose your business over others.
By automating your business routines and customer communications, you can significantly reduce operational costs. Get paid online to boost your revenue and provide technological conveniences to customers.
Attract new customers on social media
Creating official pages for your music recording studio on various social media platforms and advertising through them (using advertisements, etc.) can be time-consuming, so it's important to maintain regularity.
You can even ask a friend or hire someone to help with this task if you don't have enough time (or wish!) for this task.
Doing so can help attract more interested customers and expand your circle of friends and loyal customers. Building a community around your music recording studio through social media is highly beneficial, as this community can be the backbone of your business and help you in the future.
Run seasonal promo campaigns to boost slow periods
Is it time for popular seasonal holidays? Don't miss it. Got too slow? Make up a reason to celebrate.
Find a way to engage your community and promote holiday promotions, discounts, sales of name certificates, and more.
All this will help attract new customers, and therefore help increase the income of your music recording studio. Better focus on a customer = revenue. Don't forget about it.
Submit your studio to different platforms for more visibility
If you find it hard to attract new clients, that might make sense to boost the visibility of your studio via various dedicated third-party platforms, for example:
Host online and offline events to create a buzz around your recording studio brand
Attending or even organizing online and offline events like conferences, workshops, or even friendly BBQs should definitely be a regular part of your personal life, your music recording studio, and the community that forms around it.
After all, your most loyal customers are not just customers, but your true friends with the same interest.
When you work together with your customer-friends, the collaboration should be effortless, enjoyable, and laid-back. That way, everyone involved can benefit and have a good time.
It might make sense to invite your customers-turned-friends to join in next time, encourage more word of mouth, and spread the word about your recording studio.
Even more so, it's hard to captivate people's attention in a packed digital world so relying on your local community is a great way to find a strong foundation for your business.
Conclusion: How to boost the performance & revenue of a recording studio
So, let's briefly review our tips for boosting revenue at your music recording studio, and highlight the most important ones: investing in modern, high-quality equipment; creating an official website; using specialized software for automatic reservations on your site; and hosting various events to build a sense of community. We have no doubts that these strategies will help you in the long run, whether you're a new or seasonal business.
Implementing these tactics will make your studio more client-oriented, which is key for building a strong music studio brand identity over time.

If this article piqued your interest, you might also find these related articles helpful: