10 Best Scheduling Software for Small Business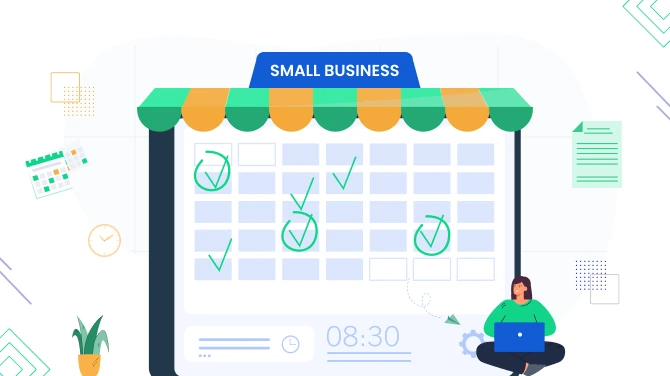 What is scheduling software for business? The answers can be different based on the task you are looking to solve: shift management for the internal workforce, online appointment bookings, event scheduling, and more. In our article, we are going to look into all of them.
Before we go on, why should you actually consider using any scheduling software?
Briefly, scheduling software offers several benefits for small businesses, including time savings, increased productivity, improved accuracy, and enhanced employee flexibility.
Since we're covering scheduling software from different categories, you can even use a few solutions at the same time – if they tackle various tasks.
Let's go.
List of Scheduling Software for Small Business
BookingPress
Ideal for: Self-scheduled client bookings on WordPress.
Cost: $69 per year.
BookingPress is the ultimate appointment scheduling software designed for WordPress websites. It enables any service business to create a list of bookable time slots, set up employee schedules, and assign the latter to perform suitable services.
Clients can then easily choose the needed service and time, pay online and even add the date of the appointment to their calendar.
Features:
Fully tunable booking widget (colors, fonts, custom checkout fields, etc.).
Value for money: the plugin price covers the cost of 35+ premium-like add-ons.
SMS, email, and WhatsApp reminders.
Book Like a Boss
Ideal for: Custom booking page and online appointment acceptance.
Cost: Starting at $9/mo.
This software allows you to create a powerful booking page with a well-designed calendar within any website.
You can sell time slots durations from 5 minutes to 12 hours and manage your employees, calendars, and availability easily with robust backend tools.
Features:
A range of powerful integrations for online payments, calendar syncs, analytics (e.g. Tag manager), and more, 38 solutions in total.
SMS and email reminders, cancellation and rescheduling options.
A powerful bookings management dashboard to manage clients and bookings.
Teamup
Ideal for: Organizing, scheduling, and coordinating events.
Cost: Starting at $10/month/calendar.
Teamup is in essence an event scheduler for concerts, sessions, or group meetings, which allows you to embed a live calendar on your site.
This scheduling software for small business has a lot of flexible features, for instance, it's easy to assign one event to multiple calendars, adjust time zones for virtual events, share individual events on mobile apps, and manage your events in many other ways.
Features:
Multiple ways to use it: coordinate activities inside your own team, organize multiple events, etc.
Scalable, color-coded sub-calendars for better micro-management.
Share member events by region.
Doodle
Ideal for: Scheduling team interactions.
Cost: Starting at $6.69/user/mo.
Doodle is a popular scheduling app highly used by businesses, non-profits, freelancers, and recruiters.
It gives really handy and powerful tools to schedule group and one-to-one meetings with your team, potential employees, customers, and more. One of its highly valued benefits is a beautiful design, perfect calendar UI, and extra tools, such as group polls.
Features:
Easily create a booking page and share your link.
Grant different access to the calendar based on the person's responsibilities.
Multiple integrations: Zoom meetings, Google Meet, Zapier, and more.
Hubstaff
Ideal for: Full-scale workforce management.
Cost: Starting at $5.83/user/mo.
Hubstaff is a full-scale team and productivity management software, with scheduling features being just one of the top features.
With Hubstaff, you can automate time-tracking processes, analyze productivity metrics and manage your team more effectively in multiple ways.
Features:
A complete solution to manage your team and schedule events.
Schedule shifts for the whole team.
Easy shift planning for part-time or full-time staff.
Calendly
Ideal for: Scheduling appointments directly from your website or via email.
Cost: Starting at $8/seat/mo.
Calendly is a popular scheduling tool for teams and companies in education, marketing, finance, and other niches.
This is one of the best scheduling software for small businesses that makes it easy to send automatic reminders and follow-ups, view analytics and insights about your performance, and more. Please note that multiple important tools are supported only in more expensive plans.
Features:
Support for surveys, customizable booking pages, and group events.
Manage bookings anywhere: via the web portal, iOS, and Android app.
Smooth integration with popular virtual meeting software (Zoom, Google Meet, Microsoft Teams, etc.).
Jet Appointment
Ideal for: Accepting client appointments on WordPress websites.
Cost: Starting from $19/year.
Jet Appointment is made specifically for WordPress. You will install it as a regular plugin and will be able to create a powerful appointment scheduler to place on the site.
It's a beautifully designed solution that makes it easy to sell customer services, accept online payments (with WooCommerce), and fully customize and track your performance.
Features:
You can allow customers to choose a fixed appointment duration or enable a custom time picker to choose the start and end time at their convenience.
Recurring options for appointments.
Clean-looking backed tools.
Lightning Scheduler by Salesforce
Ideal for: CRM for mature businesses.
Cost: 25/user/mo.
Lightning Scheduler by Salesforce is part of a bigger CRM software and can be just what your business is looking for.
It allows your business to simplify the scheduling process for both resources and customers, allowing effortless appointment management, editing, and cancellations. It makes it easy to book multiple resources and assets in a single appointment.
Features:
Customize locations and hours.
Integrates the Chronos chatbot to automate communication with customers.
Add time buffers before or after appointments to automatically block off availability.
Connecteam
Ideal for: Shift scheduler for employees.
Cost: $29/mo.
This team scheduling software comes with a simple interface yet powerful features for simplifying the scheduling process inside your team, non-desk and office employees alike.
The software includes all you need and the 'kitchen sink', such as a time clock with geofencing, in-app chats, and many more productivity tools.
Features:
Customizable scheduling with single or multiple shifts, duplicates, and personalized templates for easy repetition.
Shift-specific notes, tasks, forms and checklists, and documents for employees.
Automatic notifications for your employees.
Appointy
Ideal for: Integrating appointment scheduling processes with your clients.
Cost: Starting at $19.99/mo.
Appointy comes with a well-balanced classic calendar design for effectively scheduling appointments with your clients, for example, schools, clinics, or beauty salons.
You can show your availability and accept appointments online whether you have a website or not, or simply want to integrate it with Facebook.
Features:
Integrations with payment processing tools, POS, and over 1,000 Zapier instruments.
Mobile app.
Gift certificates and customizable deals & discounts.
How to choose scheduling software for small businesses?
Let's sum up how to choose the best scheduling software for small businesses:
Software type: ensure that the software you choose specifically addresses the scheduling challenge you need to solve in your business.
Integration and extendability: check how you can extend your software and whether you can integrate the needed types of external solutions.
Design and ease of use: test the software demo or view screenshots to ensure it's easy to understand for you, your team, and customers.